Shiba Inu (SHIB), the meme coin that is now making waves as the purveyor of Shibarium, the Ethereum-based Layer 2 protocol, is recording an immense jump in its burn rate today. According to data from Shibburn.com, this unique meme coin metric has jumped by a massive 721%, which has seen a total of 77,423,226 SHIB tokens incinerated overnight.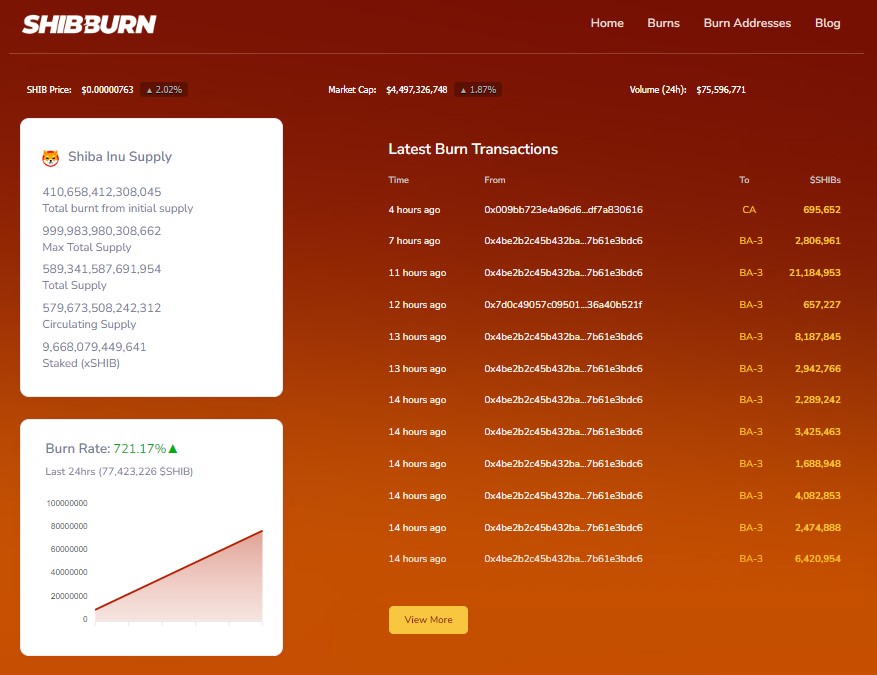 While it is not uncommon for Shiba Inu to record a massive jump in its deflationary token metric overall, what remains intriguing is the fact that the SHIB burn rate has been nosediving in recent times despite advances in Shibarium utilization. In the overnight session, the contributions of one wallet stood out as it was responsible for the majority of tokens that were sent to the dead wallet.
The current upshoot in the Shiba Inu burn rate appears to be achieving the most coveted aim across the board.
The SHIB price is notably responding to the upshot in the burn rate by jumping 2.11% to $0.000007643, per to data from CoinMarketCap. This overnight jump in SHIB's price is also marked by an improving trading volume, which has seen a total of $84.18 million SHIB tokens traded on secondary marketplaces overnight.
Hanging onto Shibarium promise
As far as Shiba Inu is concerned, Shibarium is now the hallmark of its ecosystem, and trends surrounding that scaling protocol are essential in determining how key growth markers will respond in the long term. This fact remains the same for the Shiba Inu burn rate, as the higher the usage of the Shibarium protocol, the more tokens are available for burning.
Shibarium lead developer Shytoshi Kusama has also confirmed the development of the burn portal, a channel that can further contribute to the acceleration of the SHIB token circulating supply crunch.