Shiba Inu (SHIB), the world's second largest meme coin, is seeing a sustained uptrend in its burn rate after a rout that shook the broader crypto ecosystem in the past week. The SHIB burn rate, according to data from Shibburn, is now up 2,452.51%, a figure that shows consistency in this particular metric as compared to a week ago.
While there is no direct correlation between Shiba Inu and the many bank failures that have upset the industry over the past week, the broader sentiment helped pull down the price of the meme coin. However, rather than push the token down, there has been subtle transaction growth in the Shiba Inu ecosystem, which is fueling the growing burn rate.
Per the data shared, a total of 602,508,566 SHIB has been burnt over the past 24 hours, reinforcing the deflationary stand of the digital currency.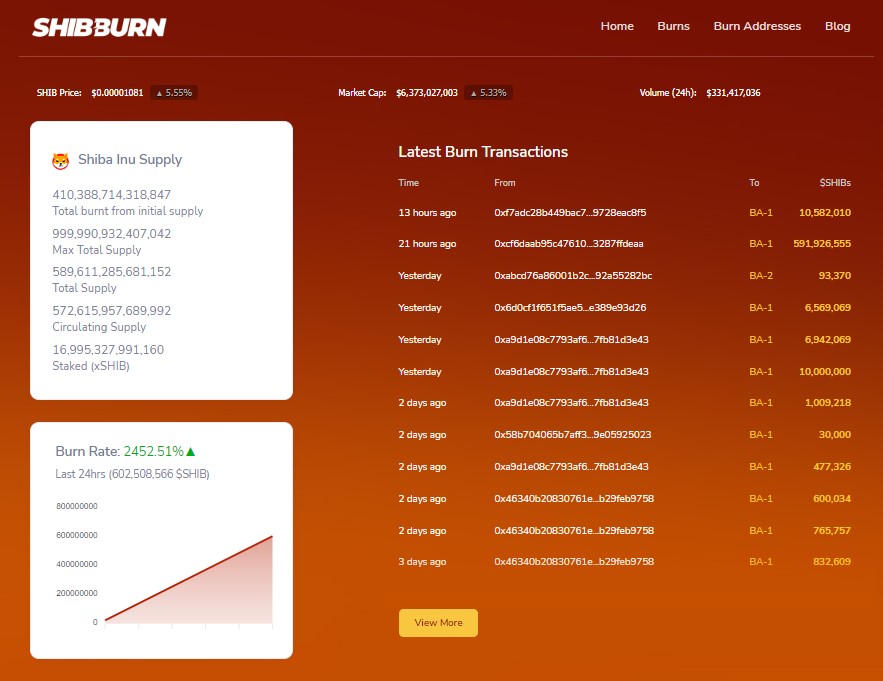 The burn rate has translated to growth in the price of the asset, which is now changing hands at a spot price of $0.0000109, up 5.71% over the past 24 hours. With the current recovery of its price valuation, Shiba Inu is billed to pare off the losses accrued in the WTD period.
Shibarium to complement SHIB burn rate
The much-anticipated beta of the Shibarium protocol, the Layer 2 blockchain protocol of Shiba Inu, launched over the weekend, stirring immense whale transaction activity on the network. The emergence of Shibarium is significant to the burn rate, as each transaction that occurs leads to a corresponding amount of SHIB that will be burnt.
The Shiba Inu ecosystem has a very complicated interconnection among many protocols; nonetheless, Shibarium will serve as the basis for bringing out the utility in all these tokens in the near future. With the new roadmap now at play, traders and investors will be keeping an eye on SHIB and its associated metrics.