Popular meme coin Shiba Inu (SHIB) is doing all it can to stay in the know following the minor overnight uptick in its burn rate feature. Data from Shibburn revealed that more than 179 million SHIB tokens have been sent to dead wallets, representing 113% growth over the past 24 hours.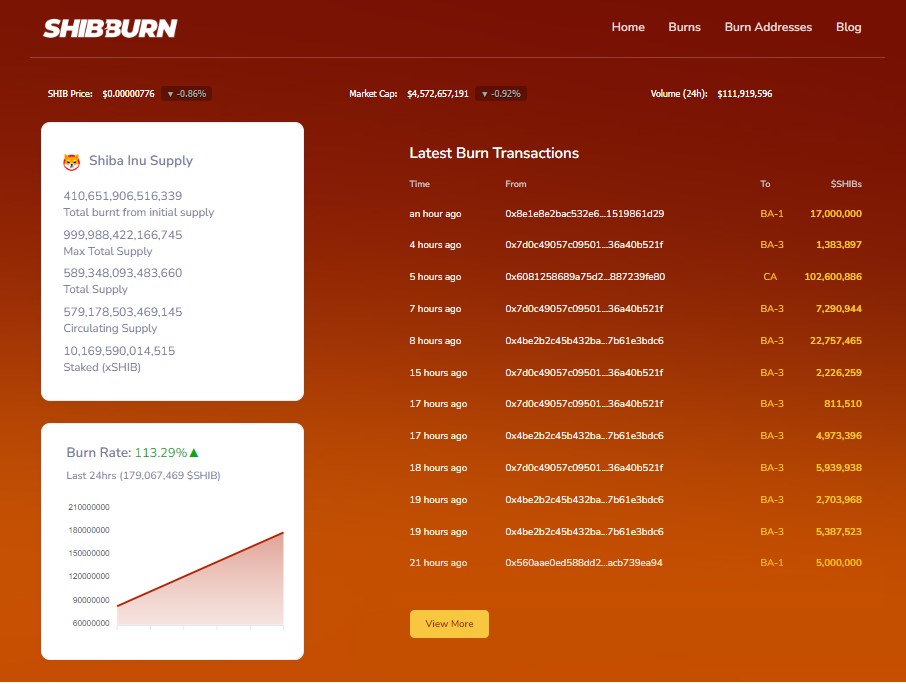 The Shiba Inu burn rate is arguably the most important metric for determining the deflationary status of the meme coin, whose circulating supply is currently pegged around 589 trillion, per data from CoinMarketCap. With the steadily growing burn rate, there are now a number of significant upsides to watch with respect to the meme coin ecosystem.
One of these upsides hinges on the price of the Shiba Inu token. Burn rate is a supply cushioning feature that can help send a price soaring should it be matched with a corresponding demand from buyers. Per the outlook of the Shiba Inu token, this upside is quite likely seeing the 24-hour trading volume of the token up by more than 21% to $105 million.
The price of Shiba Inu has showcased a bullish momentum to reflect growing sentiment thus far. The token has inched upward by 0.71% at the time of writing, pegging its price to $0.000007766.
Shiba Inu ecosystem trends
The Shiba Inu ecosystem has been recording an enormous amount of buzz lately. The lead developer of the ecosystem, Shytoshi Kusama, has just been listed as one of the speakers at the Blockchain Futurist Conference this year.
The recognition of Kusama translates to the recognition of the role of Shiba Inu in the evolution of blockchain and the broader Web3.0 ecosystem. With Shibarium set to be launched on mainnet at the conference, the Shiba Inu ecosystem is on track to duly compete as a force in the decentralized finance (DeFi) ecosystem.