The Shiba Inu (SHIB) meme coin is opening the week to a massive jump in its burn rate, according to data from Shibburn.com. The meme coin's burn rate has jumped as high as 6,546.26% over the past 24 hours, indicating a massive transaction volume in the Shiba Inu ecosystem.
Per the burn rate data, more than 82 million SHIB tokens have been sent to dead wallets, one of the largest lump sums that have been burnt since the start of the month. The Shiba Inu wallet with the largest burn activity recorded millions of tokens burnt in phases, with the largest coming in at 48,855,841, recorded about 15 hours from the time of writing.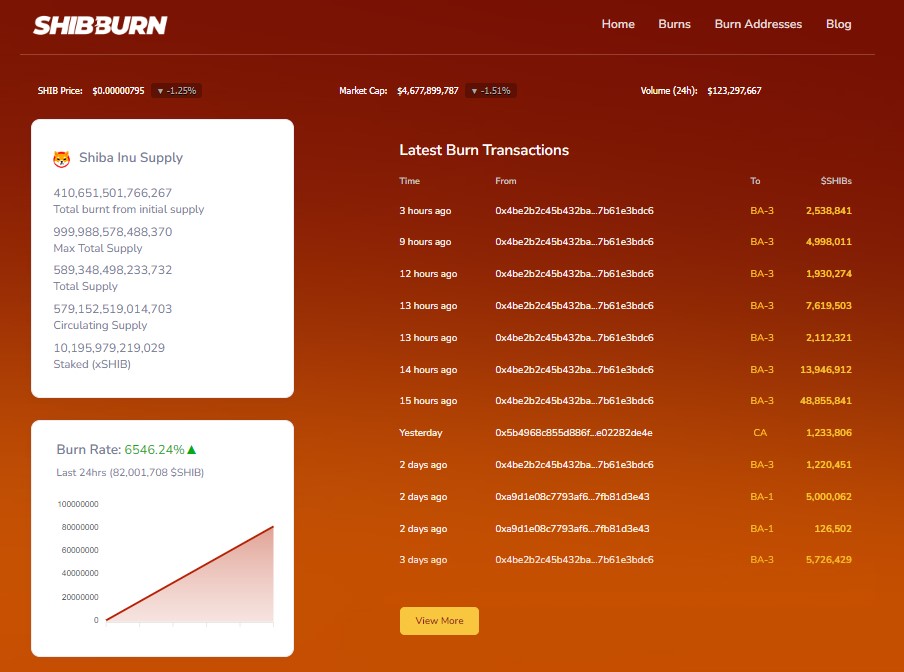 The burn rate is arguably the most important deflationary feature in the Shiba Inu ecosystem. The goal is to gradually reduce the overall supply of the meme coin, thereby creating value for its users in the long term. The burn rate comes with a sentiment that is often reactionary among community members.
This reaction typically fuels a massive buyup of SHIB, thus contributing to a positive surge in the price of the token in the near term.
Shiba Inu price reaction
Despite the massive burn rate recorded today, the price of Shiba Inu is down by 1.38% to $0.000007941. The digital currency's slump overnight is a function of the broader market sentiment, which is generally bearish at this time.
On the weekly front, Shiba Inu has retained its growth rate of 5%, an indication of sustained resilience amid dwindling market volatility. With the burn rate sentiment, investors may begin to price in this positivity in the near term, helping to reverse the losses accrued overnight.
Shiba Inu has a massive advantage to further drive its burn rate; the advantage lies in the advent of Shibarium, of which a portion of the transaction fees generated will also be burnt.