Shiba Inu (SHIB) has seen a remarkable spike in one of its key metrics, the burn rate. Per data from Shibburn, the burn rate has printed 3,808% growth over the past 24 hours. With this massive burn rate, a total of 508,958,446 SHIB tokens have been sent to dead wallets and taken out of circulation forever.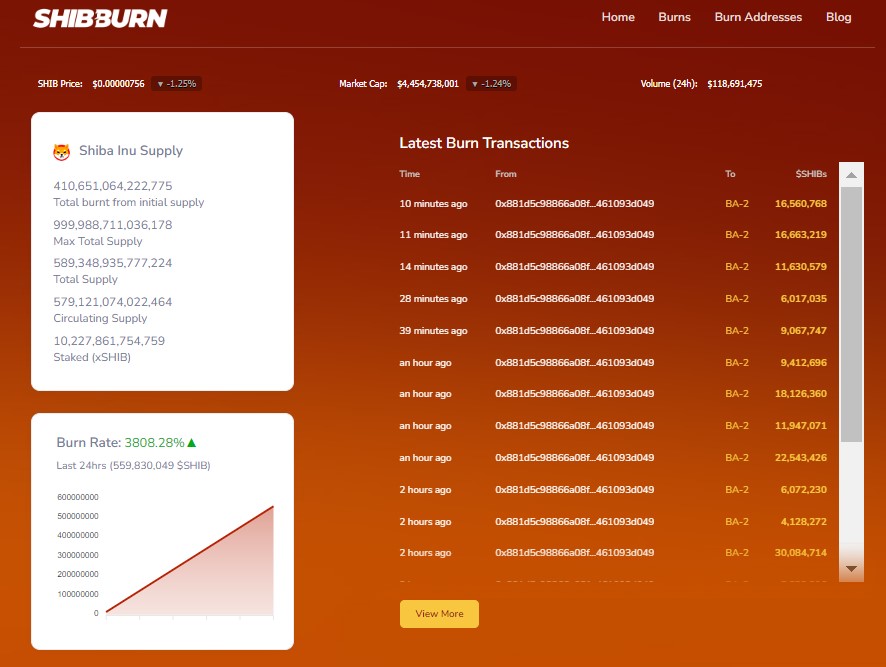 As a meme coin, Shiba Inu has so many tokens in circulation that an attempt is being made to decimate them as rapidly as possible. This SHIB burn campaign is designed to play this role, and while it has been quite effective for some time, the rate of burning has notably slowed down over the past week.
The resurgence in the burn rate recorded today is a testament that transactions in the Shiba Inu ecosystem are growing at a very sporadic rate, as measured by user count on Shibarium. As the new week unravels, there is an expectation that the momentum and the rate of burning will be sustained.
One of the solid prospects being projected for the week is the return to a positive trading price for the SHIB token, as well as every other associated token. The burn rate introduces scarcity which, if combined with the growing demand, can help elevate the price of the asset.
Impressive ecosystem milestones
Shiba Inu has a number of impressive ecosystem milestones to help bolster its propensity for growth in the mid- to long term. As reported earlier by U.Today, an August date has been confirmed for the launch of the Shibarium protocol, which many traders are likely to start pricing in the coming weeks.
At the time of writing, each SHIB token is priced at $0.00000757, atop a 1.42% slump in the past 24 hours. The growing burn rate and the hype generated by the ecosystem updates can help reverse this bearish trend in the short term.