Shibburn tracking service that traces burn transfers of the Shiba Inu dog-themed cryptocurrency has reported that it noticed a rise in the burn rate of SHIB since yesterday morning.
The SHIB burn rate continues to rise after the nearly 190% growth demonstrated by the community on Wednesday.
Burn rate shows positive figures
Shibburn shows that over the last 24 hours, SHIB burns have gone up by 48.54%, with a total of 52,651,272 SHIB meme coins transferred out of the circulating supply.
The largest transaction among the many spotted by Shibburn over the span of the last 24 hours carried 10,505,695 SHIB in total.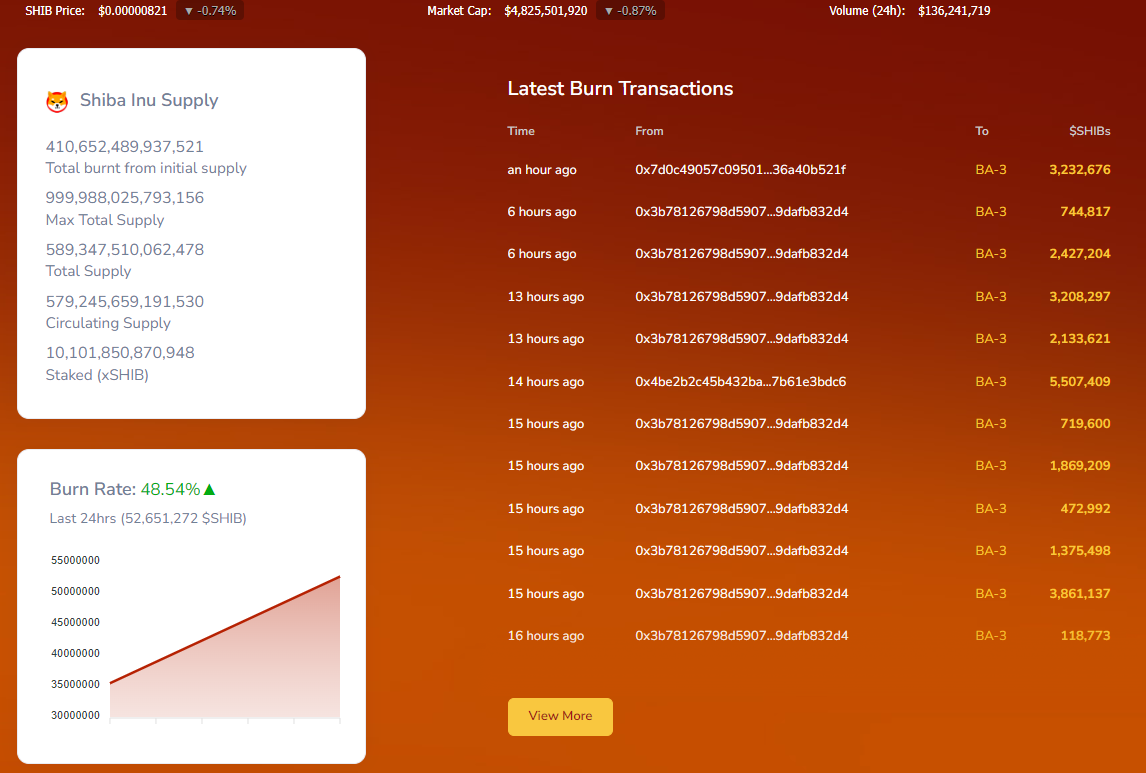 So far, according to the above-mentioned source, the Shiba Inu army has managed to burn 410,652,489,937,521 SHIB, while 579,245,659,191,530 Shiba Inu continue to circulate on the market.
SHIB smashes new adoption ATH
As reported by U.Today earlier, SHIB has reached a massive new all-time high in terms of addresses that hold this meme coin. Per data provided by IntoTheBlock analytics platform, SHIB now boasts an amazing 3.51 million wallets.
Last month, the count of SHIB-holding wallets rose by a staggering 115% per week, pushing the coin to a new historic peak eventually.
The same source reported the other day that a whopping 1.13 trillion SHIB were moved by whales in total transaction volume.
SHIB unable to surpass this level yet
Since Sunday, July 30, the second largest meme coin SHIB has been striving to break away from the $0.00000820 level, rising sometimes as high as 6% or 5%, but then still falling back.
Currently, SHIB is down 1.38% after the overnight growth of 1.87% and is changing hands at $0.00000820 on the Binance exchange.
The price is expected to jump a lot higher should Layer 2 blockchain Shibarium be launched during the Blockchain Futurist Conference in Toronto, Canada, on Aug. 15 and 16. The SHIB lead Shytoshi Kusama is going to deliver a speech via an AI app.
Besides, SHIB Metaverse advisor Marcie Jastrow is going to speak at the same event. Yesterday, she promised in a tweet that the SHIB Metaverse would be presented to the world at that conference, so the community is looking forward to that as well, and it is likely to trigger price growth if it indeed happens.