The Shibburn tracking service that watches SHIB "burn transactions" spreads the word on its website that within the last 24 hours, the burn rate of the second largest meme coin has jumped by nearly 190%.
With 56,353,945 Shiba Inu meme coins burned in total, the rate has jumped by 186.75% - this is more than double what the community saw on this site over the past two days.
Over the past hour, these burns have accelerated with more than 16.33 million transferred to dead wallets in four transactions. Before that burn transfers occurred every couple of hours, sometimes twice per hour, though, too.
A chunk of 10,505,695 SHIB remains the largest that has been burned since last morning, per Shibburn.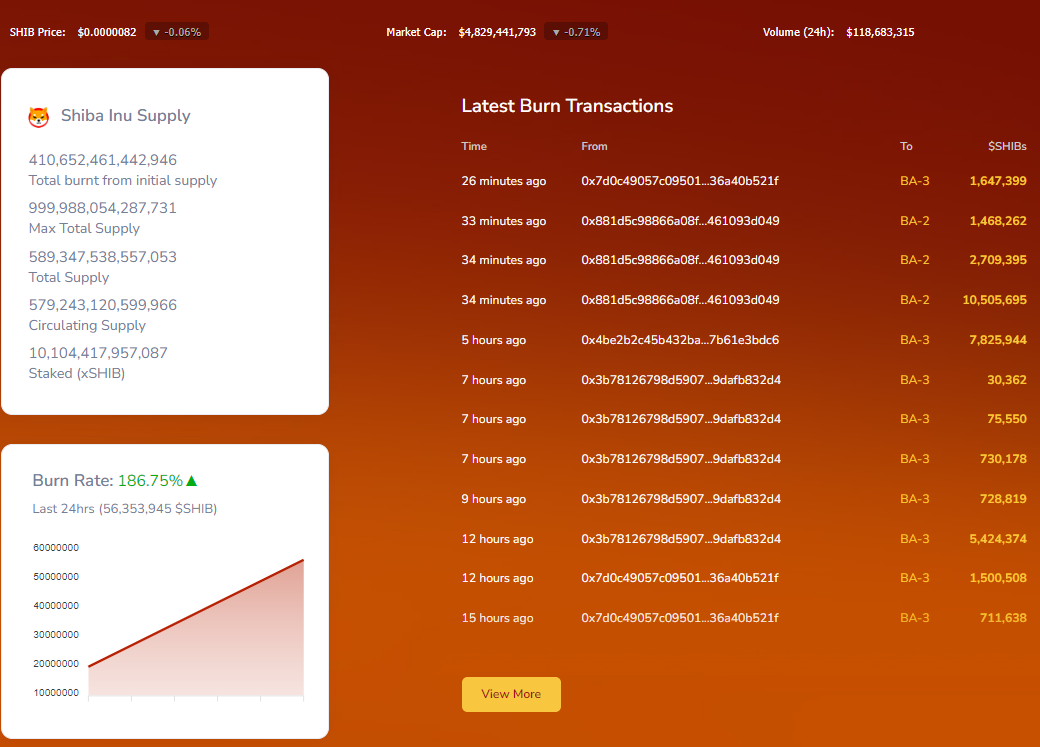 SHIB adoption expands every year
The official Shiba Inu Twitter account shared a post from the Wirex platform, which reminded the crypto community that it continues to successfully implement SHIB as 5.5 million of its customers have been able to buy goods from 81 million retailers on their platform since last year.
Hold on to your dog biscuits 🐾 Did you know you can use @wirexapp & pay with $SHIB at 81 million retailers worldwide 🌏Treat yourself to some amazing goodies and celebrate our birthday in style 🎁 #ShibaInuBirthday https://t.co/C5UQMtYasU

— Shib (@Shibtoken) August 1, 2023
Stating this, Wirex sent birthday greetings to Shiba Inu – the now popular meme cryptocurrency was launched on July 31, 2020.
Shytoshi Kusama announces "SHIB's next phase"
As reported by U.Today earlier, the lead of Shiba Inu known to the community as Shytoshi Kusama wrote on social media that after the ETH Toronto conference, SHIB's next phase is expected.
He did not specify what he meant by this, however, he mentioned that one of Shiba Inu partners, the Bad Idea AI (BAD) project, will have a major role in it.
As for major and long-expected SHIB updates, in two weeks, during the aforementioned conference in Canada, the Shiba Inu team may launch the Layer-2 Shibarium blockchain. Before September, which basically, means in August, several SHIB Metaverse hubs are expected to launch too.