As the year 2023 has begun, the Shiba Inu community seems to be full of energy and enthusiasm to exceed last year's burns. While daily burns of this popular meme token have been pretty low since the fall of last year, during the first two days of 2023 they were comparable to the big burns in 2022.
Here's how much SHIB has been destroyed so far over the last two days with the burn rate jumping high.
What are token burns about?
The so-called "burning" of crypto, in fact, means a permanent extraction of coins from the circulating supply. By reducing the amount of tokens that circulate in the market, communities try to make their beloved coins more scarce. This gives them a shade of a chance that the price of the asset they burn will spike in the future.
Burning is especially popular with meme coins — Shiba Inu, BabyDoge in particular, Floki Inu has also announced the start of upcoming massive burns via their recently launched NFT metaverse game Valhalla. The Binance exchange also regularly reduces their supply of BNB by burning those tokens, i.e., sending them to wallets from which any withdrawals are impossible. They are known as "dead" or "unspendable" wallets.
In the past 24 hours, there have been a total of 159,411,895 $SHIB tokens burned and 13 transactions. Visit https://t.co/t0eRMnyZel to view the overall total of #SHIB tokens burned, circulating supply, and more. #shibarmy

— Shibburn (@shibburn) January 2, 2023
Over 200 million tokens removed, burn rate spikes
According to the tracker of crypto burn transfers Shibburn, over the past two days, the SHIB army has removed around 250 million Shiba Inu. On Jan. 1, 90,098,748 meme coins was sent to "inferno" wallets, taking nine transactions to achieve that. On Jan. 2 so far, they have managed to remove a total of 159,411,895 SHIB from circulation, which took 13 transactions to dead wallets.
The majority of the latter amount of SHIB was burned in a single transfer as a total of 147,941,583 meme coins was burned by an anonymous address 0x0f10a3c90e73feaadd6d0d4bda302891160d0f24. This latest burn has pushed the overall SHIB burn rate up by 115.6%.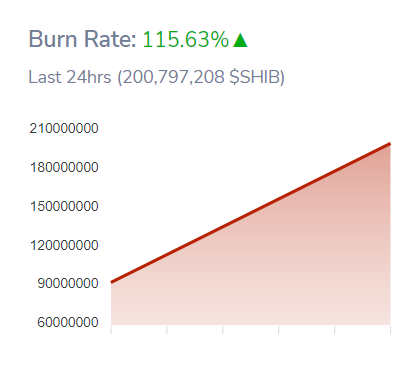 Overall, as reported by U.Today earlier, over the last year, the SHIB army destroyed 83,347,071,504 Shiba Inu in total.