Per a recent report by Shibburn platform that tracks down SHIB burn transactions, collecting data shared by Etherscan and publishing it on its website, over the past 24 hours, the burn rate of the leading doggy-themed SHIB token has remained well below the zero mark.
In the meantime, the price of SHIB has seen another drop today, following a similar decline on Monday, and the burn rate of Shiba Inu this week could be mirroring these negative price movements.
SHIB burn rate remains down, as does SHIB price
Shibburn has reported that over the last 24 hours, only 2,035,280 SHIB were transferred to "inferno" wallets in four transactions. However, as the day wore on, this amount dropped to as few as 520,639 meme tokens.
This has pushed the burn rate below zero, to the -95.44% mark. A similar picture was observed on Monday, and basically during the past week too, when slightly less than a hundred million Shiba Inu were moved to dead-end wallets and locked there for good.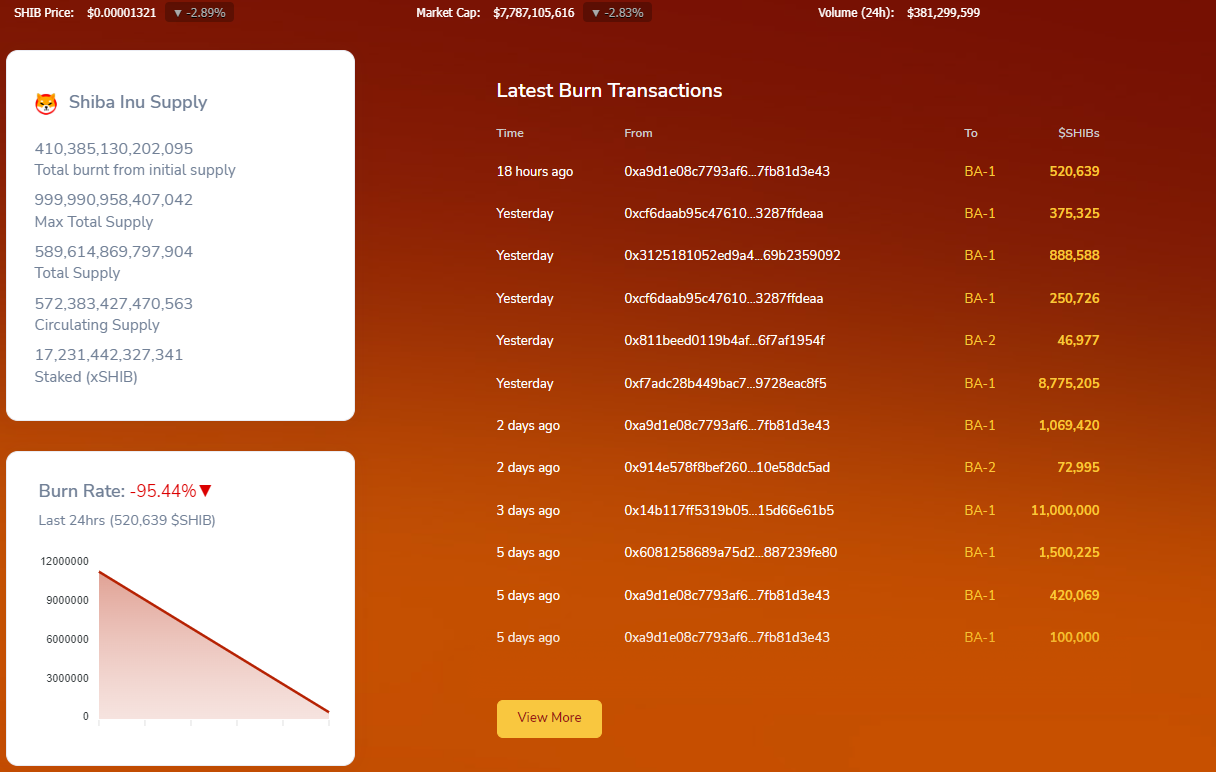 Last week, several big rises in the burn rate were noticed by Shibburn. However, a huge gap emerged between the percentage values going up and the actual burned amounts of Shiba Inu that were largely below the 10 million level.
The burn rate seems to be mirroring the price behavior of the second largest meme coin. After a big 7% drop on Friday, Feb. 17, Shiba Inu's price has been fluctuating. However, after a Sunday rise of nearly 5% as it hit the $0.00001377 level, it went down and has been unable so far to reach the same price mark.
Shibarium launch expected this week
As reported by U.Today earlier, during a Twitter debate on Sunday, lead Shibarium developer Shytoshi Kusama, who created the SHIB token together with the mysterious Ryoshi, confirmed that the Layer-2 protocol for the SHIB network is likely to be released this week - its beta version.
The launch has been delayed until now since the top developer under Shytoshi, known as Kaal, had been taking time to settle his personal family matters. Now that Kaal is back, Shibarium is going to be rolled out, Kusama confirmed.
In the meantime, the lead developer of SHIB has been posting Medium articles to tell the global community about Shibarium, how it works, what it signifies for him personally, and what it is meant to be for the global crypto community.
The SHIB army expects the release of Shibarium to push the price of SHIB up as tons of Shiba Inu tokens will be burned for every transaction. Here, BONE token will play an important role as it will be used as gas on the network, to pay for transactions. A portion of these fees will be converted by the developer team into SHIB and locked in unspendable wallets, i.e., burned for good.