As the cryptocurrency segment is recovering from another nine-digit hack of the bridge infrastructure, malefactors are already trying to scam its victims for the second time. Despite Elon Musk allegedly cracking down on Twitter bots, they managed to activate thousands of accounts to promote scams.
Do not try to claim "emergency" FTM airdrop
Starting yesterday, July 7, 2023, a fake "emergency distribution" campaign has been getting traction on crypto Twitter. Malefactors are impersonating representatives of Fantom Foundation, a non-profit behind Fantom (FTM), a high-performance blockchain protocol.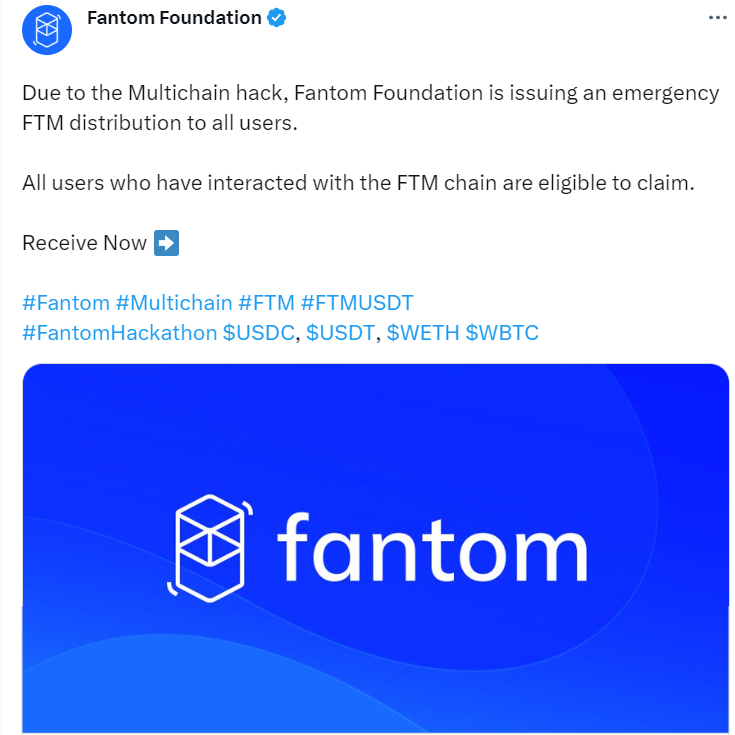 The scammers are pretending to be issuing FTM reserves to victims affected by the recent hack of the Multichain bridge infrastructure. Yesterday, due to malicious activity, the protocol asked all users of its Fantom-based mechanisms to withdraw all assets and revoke approvals.
The account created by scammers is designed to mimic the legitimate Twitter page of Fantom Foundation. Its promotion is aggressively supported by Twitter bots.
In the last few hours of this campaign, the announcement with a fake invitation to a reimbursement program and a phishing link was retweeted over 6,000 times.
Most suspicious crypto hack of 2023
Besides that, the announcement was viewed over 43,000 times and was even bookmarked by some users. Every message of the account is supported by bots with top NFTs as avatars.
Yesterday, "sketchy activity" was noticed on the Fantom-based element of the Multichain bridge infrastructure. Scammers managed to withdraw over $102 million in assets.
Multichain has already been hacked several times: After the last attack attempt, the team admitted that its CEO is missing and nobody can access infrastructure servers.