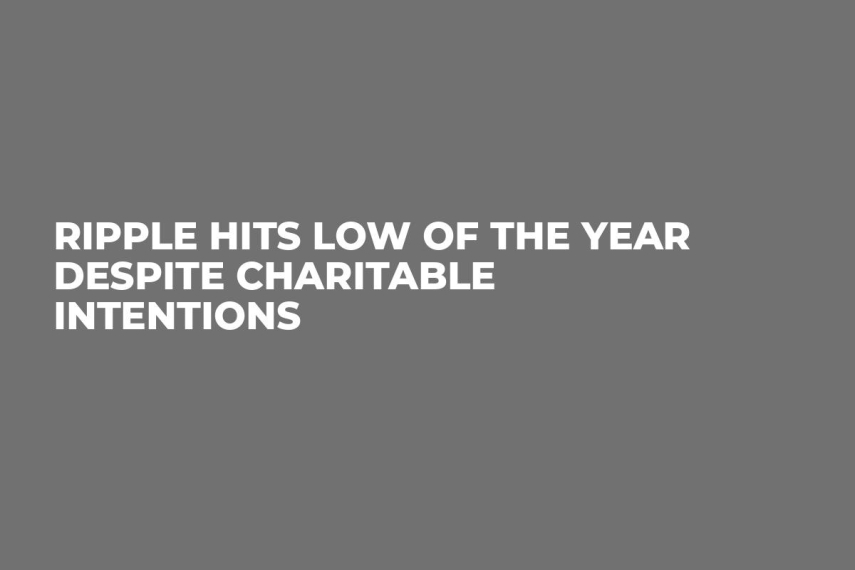 Cover image via U.Today
XRP, a cryptocurrency that has been building banking partnerships as per its mandate, is also suffering a 2018 low as its price lunged to $0.525 on Thursday. This comes a few days after the company behind the XRP token, Ripple, donated $29 mln of its own digital currency to support US public schools.
XRP was down as much as 7.8 percent on a day when most coins endured heavy losses. The last time it was at this price was in December 2017, before a massive spike in January which saw Ripple sitting at over $3.30.
Charitable giving
Ripple's $29 mln donation, which it claimed to be the biggest crypto donation ever to a single charity fulfilled thousands of requests from public school teachers on the crowdfunding site DonorsChoose.org.
The money will be used to buy classroom materials for more than 28,000 public school teachers across all 50 states, the company said in a statement.
Charles Best, founder and CEO of DonorsChoose.org, said he approached Ripple based on CEO Brad Garlinghouse's previous involvement with the foundation. He sent Ripple executives an email laying out the possible impact of fulfilling the teachers' requests.
"To my own shock, they said yes," said Best, who founded the charity 18 years ago. "It was mind-blowing that it would be the largest donation of cryptocurrency."
Ripple's all-time high
January this year was a good time for Ripple, and it was a time when the rest of the cryptocurrency economy was not doing great. The spike on Jan. 4 saw it up more than 1,300 percent since December and it made multimillionaires out of those who decided to invest in the banking cryptocurrency.
However, Ripple, on its own website indicates that the coin decided for cross-border banking transactions, should not be used as a speculative investment.
"Private exchanges and liquidity providers may choose to hold additional XRP for trading. Ripple (the company) does not promote XRP as a speculative investment," it's website reads.