Today we are going to talk about Quoine – a Japanese fintech company, which provides traders and investors with some interesting tools including Quoinex exchange. However, before I start, I would like to write some words about the main company, their goals and the team, which is behind the project.
Quoine name themselves a leading fintech company, providing their clients with up to date financial services, powered by the blockchain technology. One of the main goals of Quoine is to develop financial services, accessible to all.
Team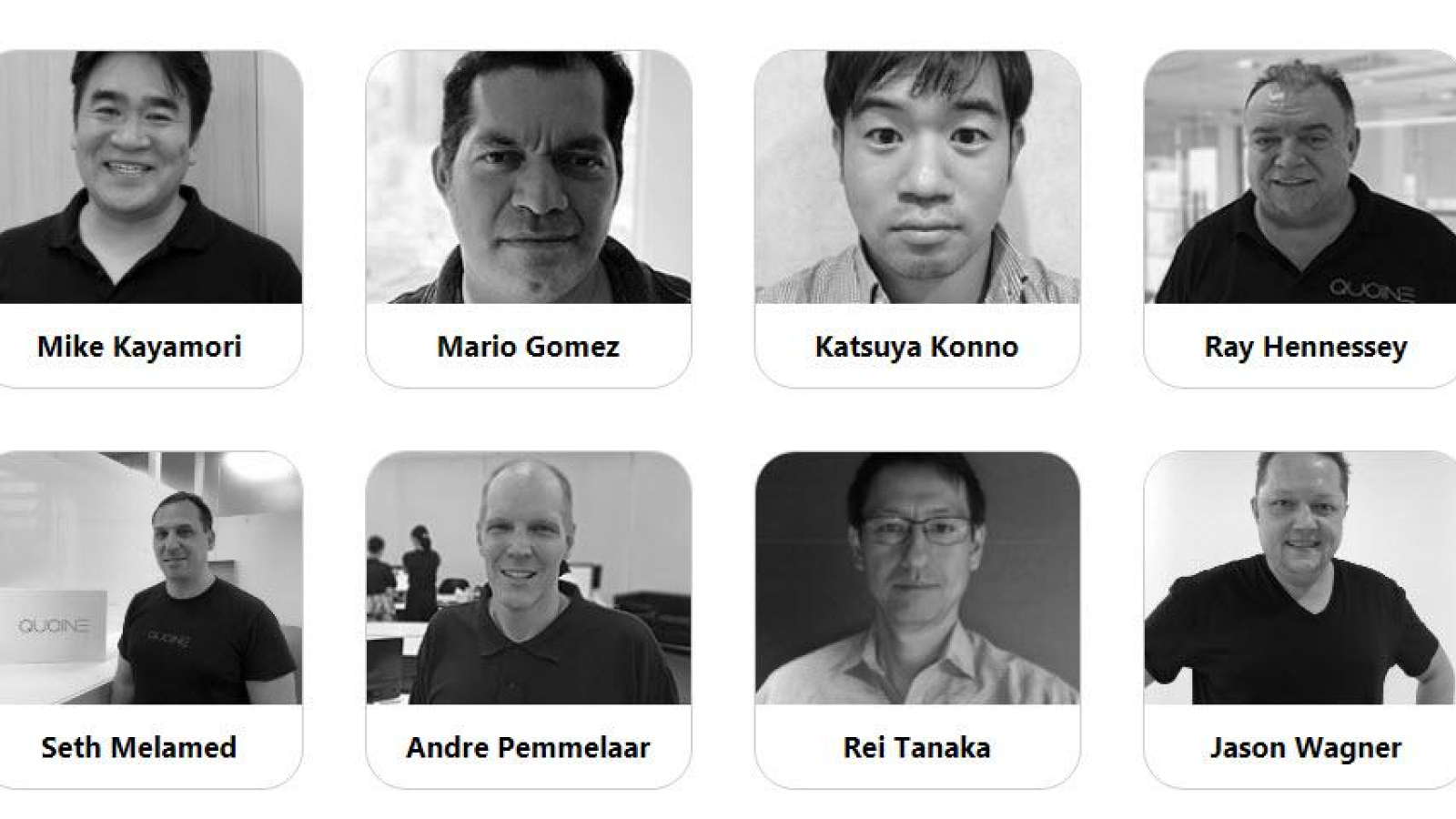 The first thing I would like you to pay attention to is the team of Quoine:
The CEO of this project is Mike Kayamori. He is the co-founder of Quoine, the company, established in 2014. Mike is famous for his investor's career. He has experience in IT and venture capital across Japan.

Mario Gomez-Lozada. Co-founder and CTO of the project. He was the Japan Chief Information Officer and the Head of Fixed Income IT Asia at Credit Suisse. He has and experience in working with local regulators.

Katsuya Konno. Project's CFO has rich experience in financial branch as he worked at SoftBank Group for almost eight years. He worked on many important venture deals with the volumes that exceeded $60,000,000,000.
Main Quoine products
The company offers three main services. Here they are: Quoinex, Liquid and Qryptos. I'm going to describe briefly all of them before diving into the Quoinex exchange to provide you with full review of this interesting trading platform.
Let's start with Liquid. This is the brand new platform aiming at creating a cutting edge trading marketplace with high liquidity. Liquid allow users to trade with both cryptos and fiat. It supports multiple currency pairs including QASH, Bitcoin, Ethereum and several other digital assets.
Liquid is a regulated marketplace meaning the platform has got a license from the FSA, Japan's Financial Services Agency. This platform provides clients with highly secure cold storage to prevent their digital assets from being stolen from their accounts.
Finally, Liquid is made for both beginners and professional traders. Both those categories can easily access the platform with low fees. Digital assets may be traded from different devices.
Another interesting service that Quoine offers to the clients is Qryptos. This is an all-in-one trading platform with one interesting feature. You can participate in ICOs by using this service in just a couple of clicks.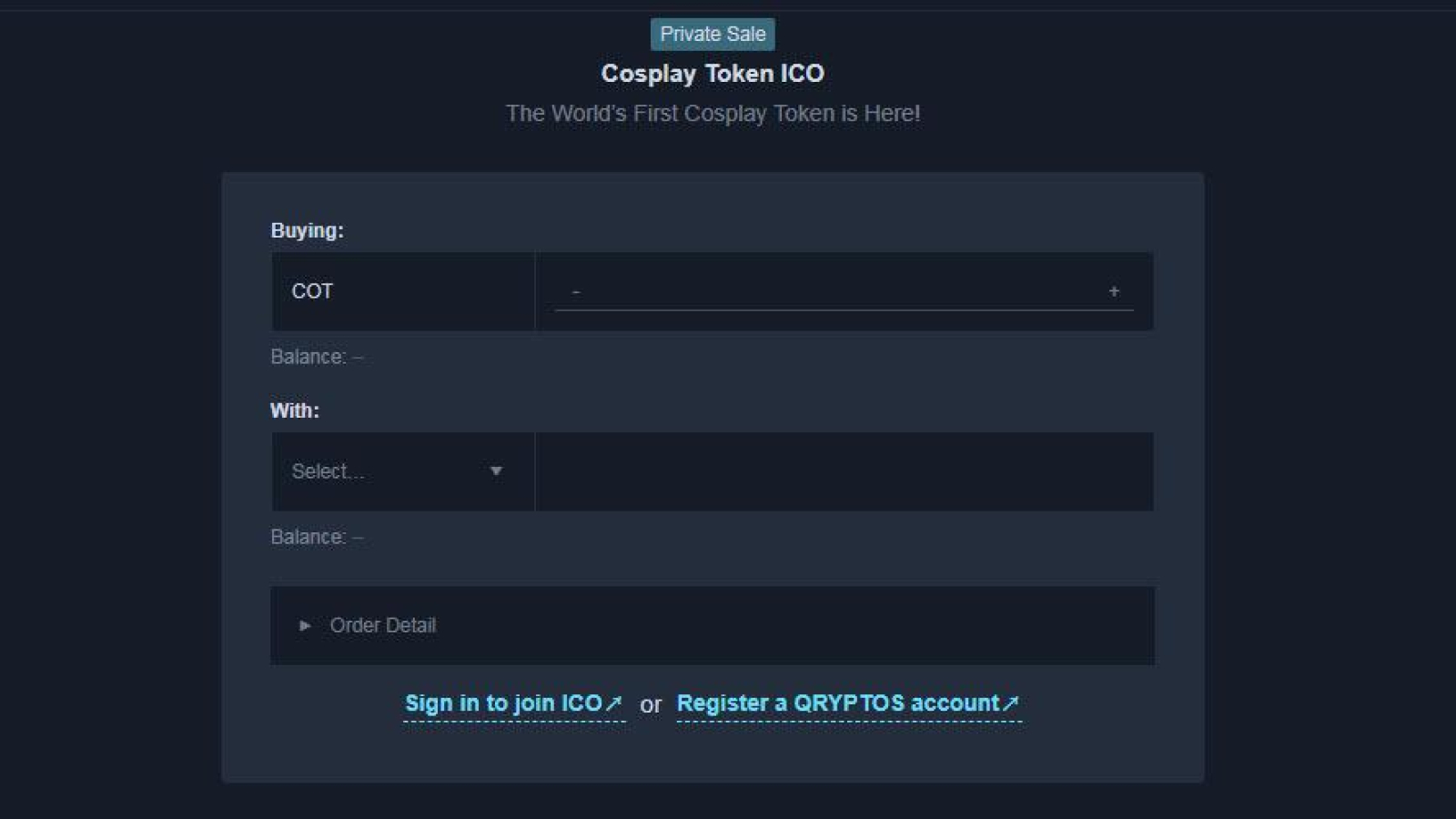 Take a look at the screenshot. Here you can see the registration form to fill in in order to join the ICO. This means that you don't need to find those ICOS somewhere else. They are all in one place. However, As far as I understand, you won't find all ICOs there. Only those verified by the team. I think this is one of the advantages of the project as the risks of investing in scams are reduced significantly.
Quoinex – compete guide to regulated Japanese cryptoexchange
As I have previously mentioned, this trading platform is a part of Quoine ecosystem. The main feature of this project is that all traditional financial products and transferred into blockchain system. Quoinex has a wide range of partners that operate in different branches.
How to create an account with Quoinex
Before you get access to the Quoinex platform, you need to create an account there. It is a simple procedure. The first step is to provide your country of residence. Being a regulated exchange, Quoinex is not able to accept traders from all countries all over the world.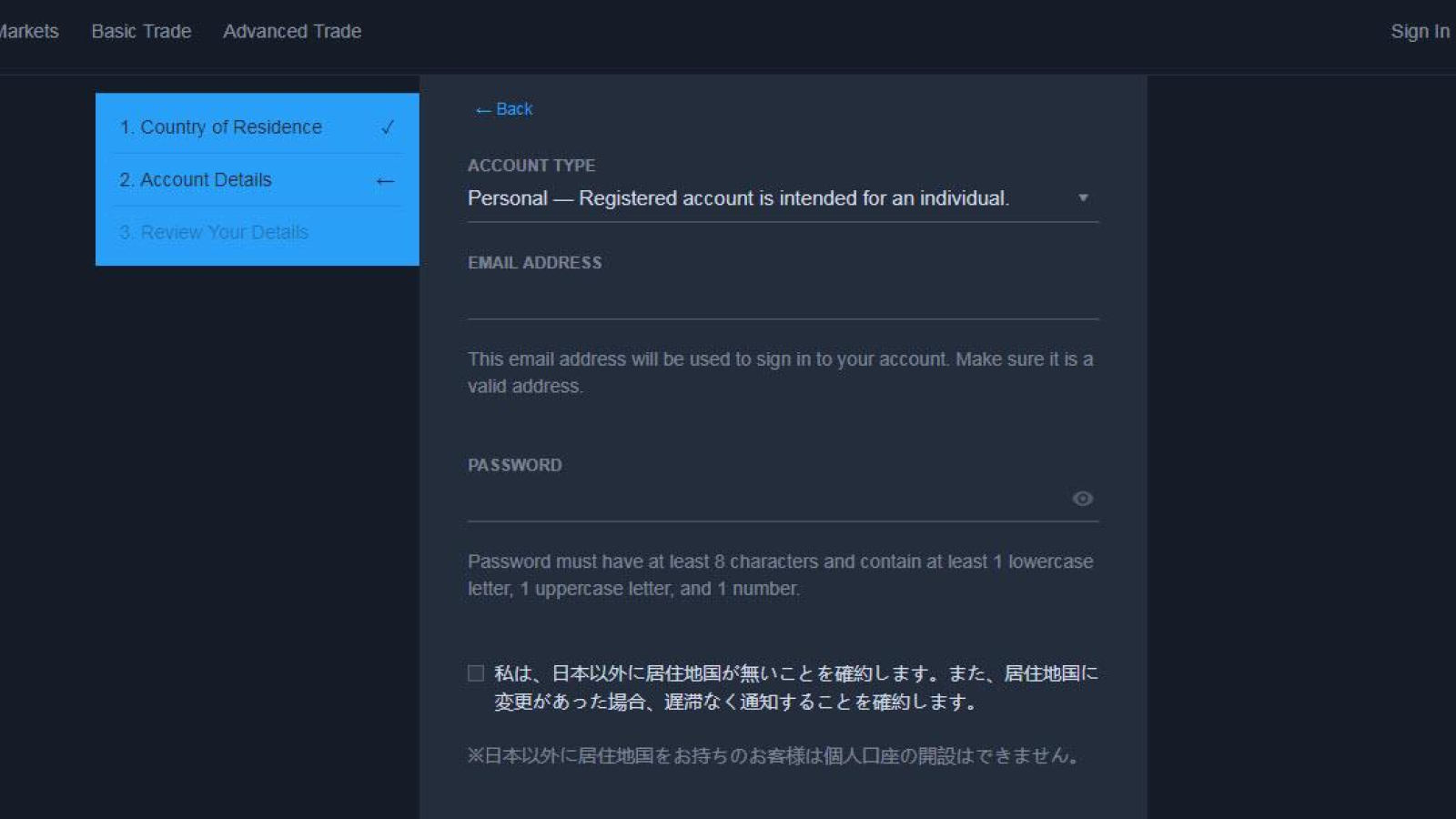 The next step that you are to do is to fill in the blank fields with all necessary data. Here you can choose the type of account that you need. There are two of them – personal account for individuals and corporate for companies.
Then, you provide Quoinex with your email address (or email address of the company that you represent) and the password. It is to mention that the second part of registration field is done on Japanese only.
Finally, when you are done with this second step, you are to verify all the data you have input and to proceed to the email verification step. Once you do this, you will be sent a letter to your email with a special link.
By clicking on it, you will confirm the email address and will be able to use this Quoinex service in future. At this step you have created your account, but there are some other things to do in order to start trading.
Quoinex verification procedure
There is no clear information about the difference between verified and unverified accounts. I have seen nothing about it. However, those who want to trade on the exchange, are recommended to do the verification as they will be provided with the opportunity to deposit and withdraw using credit cards.
Before you proceed with verification, I advise to learn more about the quality of document scan copies. Low quality or other issues may be the reason for the security service to reject them. You can use the following documents in order to confirm your personality – passport, ID card, PAN card etc.
You need also to verify your residence address. To do this, you can upload scan of your utility bill that you have received at least three months before the moment of verification.
How to fund your Quoinex account and withdraw money from there?
Before you start trading on Quoinex exchange, you are to deposit your account. To do this, you need to click on "Wallets" button within your trading dashboard. Japanese exchange allows you to fund your trading account with both fiat money and cryptos.
Once you have chosen your way to deposit your trading account, you can create a funding request and put in your bank account number (if you want to credit with your banking card). The next step is to fill out the amount you want to deposit. You are to remember that when depositing money into your account, you have to pay fees in some cases when they are required by the banks or other payment authorities.
Quoinex trading platform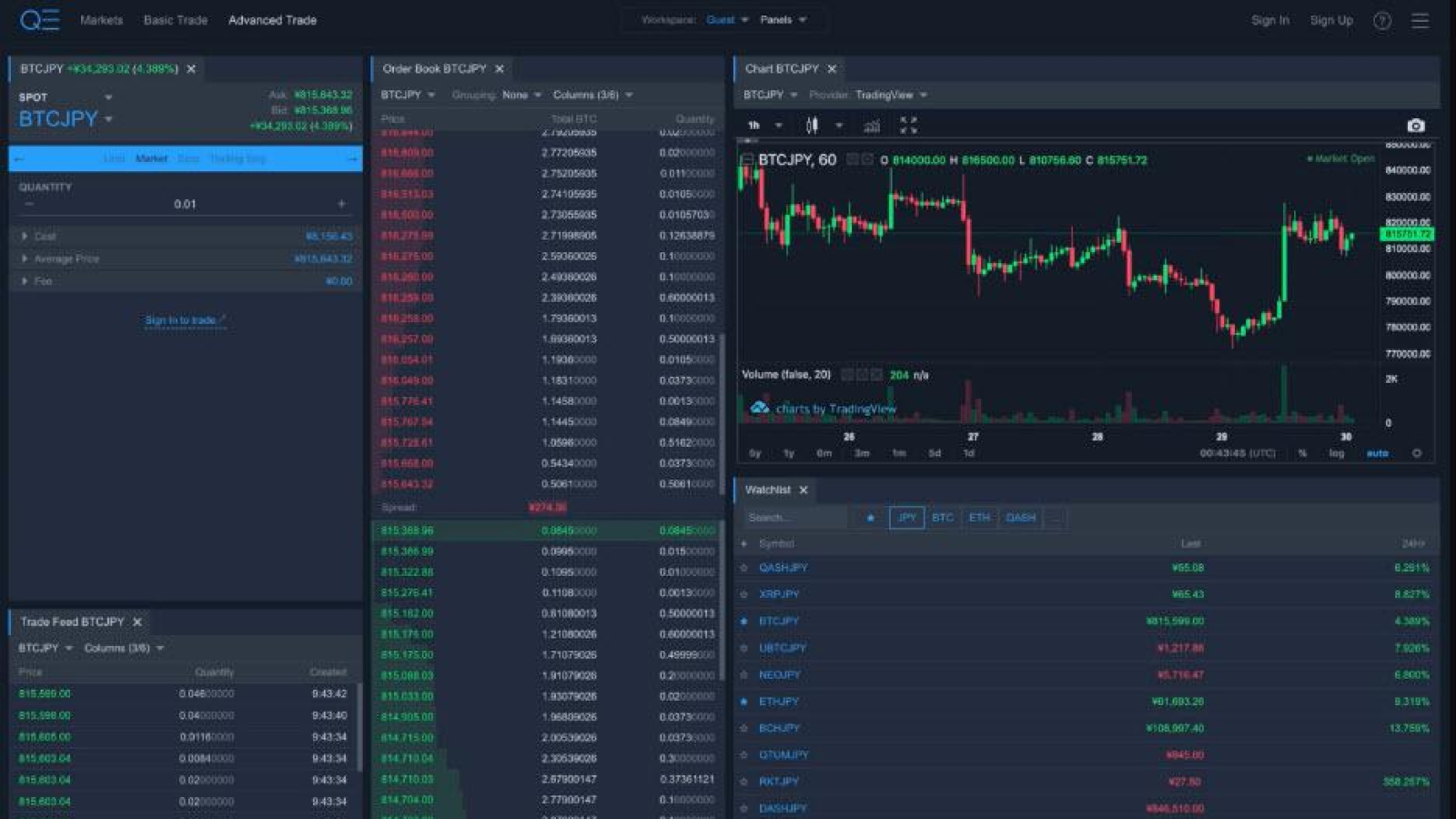 Trading platform that you can see on the screenshot was made for beginner and professional traders and investors. You can find all necessary tools there including technical indicators and the others. I will describe those features later.
Quoinex interface is user friendly. You can find all the information you need within the platform Here there are volumes, statistics about your positions etc. As for the charts, Quoinex uses Tradingview platform, which is very popular among all traders.
As I have previously mentioned, there are different types of useful tools here. You can use trend indicators along with oscillators. You can also choose the chart type and different timeframes to make your strategy even more profitable.
By the way, the trading platform has two main views. You can use Basic Trade interface, which is designed for newcomers and Advanced Trade interface, created especially for professional traders and investors. The last one supports both spot and margin trading including different types of orders.
The cryptocurrency exchange offers different types of orders including market and limit ones. Market orders are designed for all types of traders and they offer the opportunity to open positions at the current market price.
As for the limit orders, they are created for those who want to catch better prices. Let's say you want to buy Bitcoin, but you think that the main crypto's price will decline in the nearest future. You don't need to open your order at once as you may use a limit one, at the price that you want.
Another great feature that Quoinex offer to traders is margin trading. Here you can use a kind of a credit in order to open positions. Some think that this type of trading is similar to betting and I can agree with them at some point. However, many traders across the World use this opportunity for many years and they are happy with it as they don't have to invest all the necessary amount in order to buy this or that crypto.
The leverage varies from X2 to X25 offering to you an opportunity to choose the most comfortable one. However, I would like to warn all the traders that this leverage trading involves risks as you need to comply with margin requirements all the time.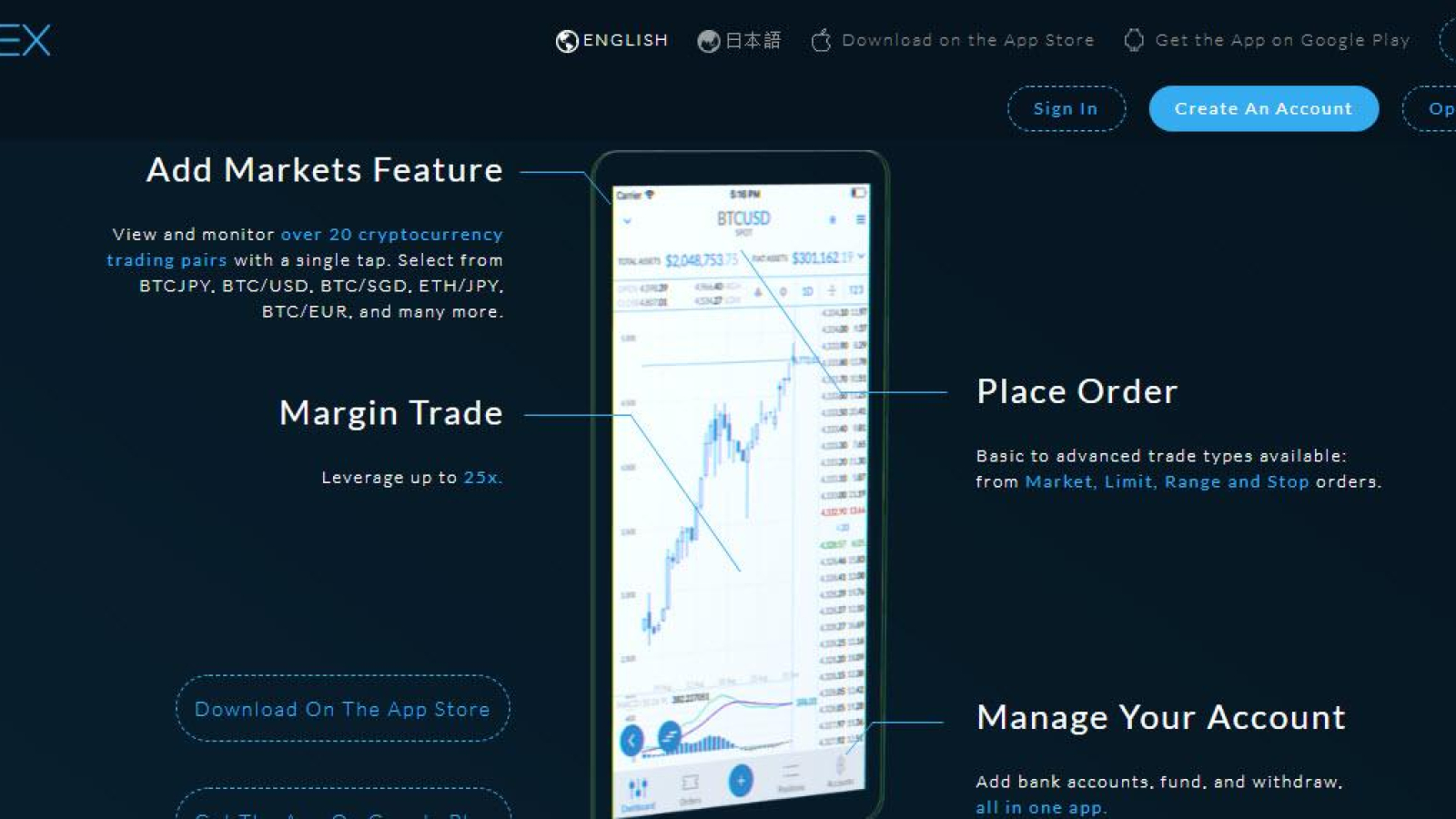 Before I start describing Quoinex fees, I would like to mention another great feature that you can benefit from using this platform. Quoinex offers mobile platform for all their users. This app allows to make analysis as well as to take trading decisions.
Quoinex trading fees
As far as you know all trading marketplaces take a commission from traders for their positions. Quoinex is not an exclusion from this rule. You need to pay once you open your trades. However, the exchange helps investors to save their money as they have zero fees for the base currency pairs.
What is the base currency? This is BTC + the official currently of your country of residence. For example, if you are coming from one of the European countries, your base currency will be BTC/EUR.
As for the other currency pairs, you need to pay fees, which vary from 0.1 to 0.25 percent depending on what crypto you trade. For ETH the fee is 0.1 percent for example.
Lending opportunities with Quoinex
As I have previously mentioned, traders can use margin feature in order to increase their funds without depositing more. Quoinex offer lending feature for all clients. Everybody can take a loan on the platform and use it for trading purposes.
All offers are different as they vary according to their interest rates (calculated on daily basis).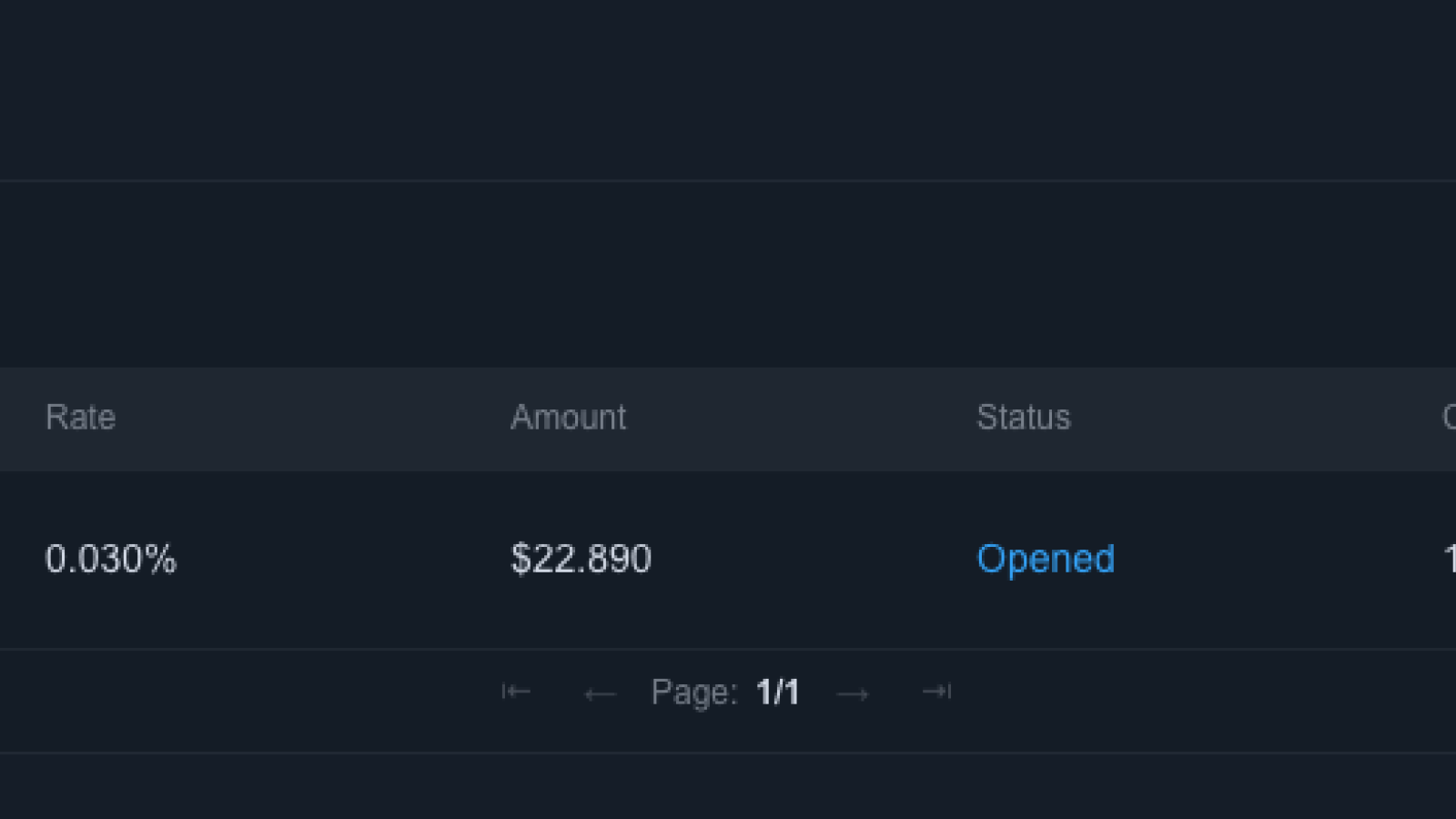 There are two status of those offers – opened and closed. The first means the loan is used by a trader. The second means the loan was paid back.
Quoinex pros and cons
Now it is time to underline all the advantages and disadvantages of this exchange. I would like to start with pros. Here they are:
High security level. This factor is important as many traders have already lost their money and digital assets on different trading marketplaces, which are closed already.

Beneficial rates. This aspect helps to attract new traders and investors as they can benefit from better prices. Sometimes clients come to Quoinex as they can conduct arbitrage trading there.

Low fees. Quoinex offer low commissions for the traders.

Professional trading platform. Quoinex offer several tools for professional technical analysis including indicators, chart types, some graphic tools.

Mobile application for iOS and Android.

Several fiat currencies to deposit account and to trade with. You can choose JPY, EUR, USD and some other major currencies to work with.

Free demo account. Yes, Quoinex offer such an opportunity to try their trading platform before creating real account and depositing money. Demo account is fully functional offering the opportunity to train the skills of newcomers.

JFSA Regulation. Quoinex has the Japanese FSA license meaning the company is reliable and works in compliance with strict regulatory requirements.

Trader's API. Allows clients to get access to the key features of the trading platform.
As for the disadvantages, they are the following:
The website has only two localizations. You can use it in English or in Japanese. I don't think that this disadvantage is crucial, but many leading trading platforms have several localizations already.

Some traders say that the commission for fiat money withdrawal is huge. I would say that it is normal as those fees are naturally higher that the commissions that you have when dealing with cryptocurrencies.

Lack of cryptocurrencies. Quoinex offer several major cryptos including BTC, ETH, QASH (inner cryptocurrency exchange token) and some others.
Final words
I think that Quoinex worth attention of traders. This exchange has many important and interesting features that make trading even more beneficial. Moreover, the trading platform is regulated by one of the strictest authority in the World.