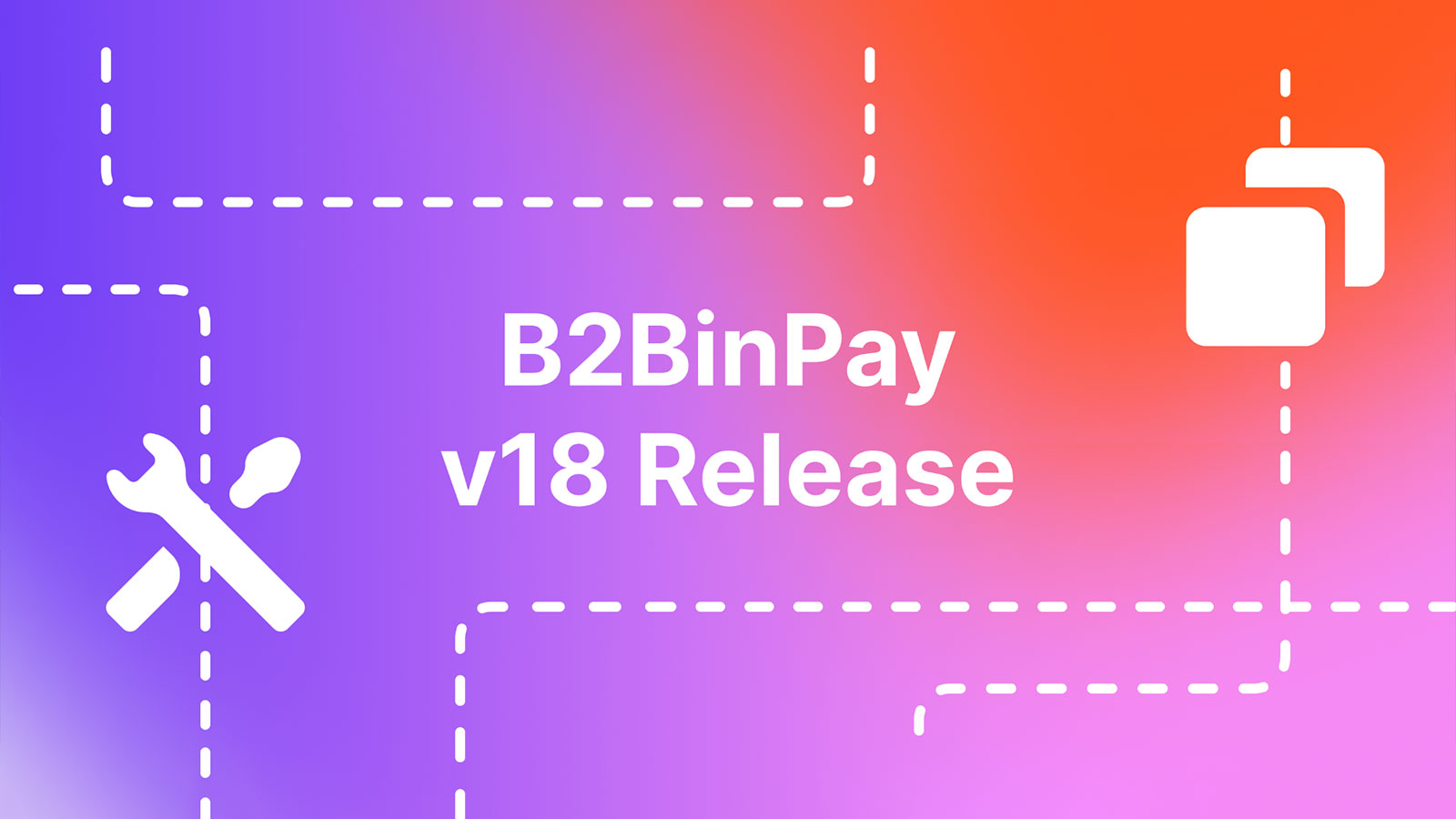 Press Release
The cover image and all the rights belong to the client ordering given press release
In the short period of time since the historic v17 release, B2BinPay has continued to grow, bringing even more advancements to the clients. In keeping with its commitment to excellence, B2BinPay is pleased to introduce the v18 release, which marks a new era for its customers.
In this release, the Merchant and Enterprise accounts have been combined to present a unified account system, simplifying the management of cryptocurrency transactions significantly. The site's front end has been completely redesigned, and regulatory compliance has been strengthened, resulting in an improved user experience and enhanced safety.
Find out how B2BinPay's exciting changes transform the way you use it.
Introduction to Account Unification
An important change is coming to B2BinPay's clients with the release of version 18 - account unification or Merge. This represents a change in how the company provides services to its clients.
Combined Merchant and Enterprise business models are now accessible through one user-friendly interface. Clients can directly manage their transactions according to their unique needs through a single, integrated platform. In addition to simplifying operations, this innovation allows the client to maintain full control of the process. The following are some of the benefits that users of the company will gain as a result of this merger.
Simplified Account Structure
There has been a change in the account structure at B2BinPay, which no longer separates Merchants from Enterprises. Registering one account for both types of models and accessing their functionality is now possible. Furthermore, this simplifies the registration process, allowing clients to join the platform without going through multiple pages of detailed information. Businesses can begin using the company's services immediately as a result of this streamlined approach, allowing them to concentrate on their business.
Enhanced Client Onboarding and Operation
From now on, onboarding is a one-time, straightforward procedure that is charged at one flat rate for all clients. After joining, clients can choose and transition from wallet services as their business needs change without incurring extra costs or undergoing complex administrative procedures. The company takes a straightforward approach that respects the time and needs of its clients as well as supports them in their growth at all stages.
New Front-End & More Powerful Functionality
B2BinPay v18 offers more than an attractive interface, as it aligns with the aesthetic of the B2Broker family. The company has enhanced its system's speed and security to provide you with a robust and reliable front end. Meanwhile, it has kept the core features that users are familiar with and love, ensuring a seamless transition to this updated platform. Following is a list of the areas that have been completely renovated:
Wallets & Transfers
It has been designed with cleaner aesthetic and streamlined processes to greatly reduce clicks and loading times on the wallets and transfers pages. A similar refinement was made in the company's interface for payouts, bank withdrawals, and exchanges, resulting in a much more straightforward and efficient process, saving precious time for its customers.
New Account Menu
Enhanced user-friendliness and security were added to the account management interface for the company's services. With the new Account Menu, setting preferences, controlling API permissions, and customising your profile is easier. Two-Factor Authentication (2FA) can also be incorporated as an added security measure. Payment Page has also been updated to ensure safety and security and reflect the new, user-friendly design philosophy.
Flexible Invoice Management
Clients now have greater control over merchant invoice expiration since the previous seven-day limit was removed. This update allows customising invoice timelines based on individual business processes.
Intuitive Helpdesk Experience
There has been a significant improvement in the user experience of the Helpdesk, which provides simplified access to multilingual support guided by a clearly defined schedule. It is now easier than ever to stay up-to-date and responsive with the new sticker notifications for incoming messages.
Rates Interface Improvements
The Rates UX now offers a number of new features, including improved favourites and filtering capabilities. Rates have been relocated from the wallets menu to the top-level menu, simplifying access to the tool and making it easier to manage.
FATF Travel Rule Compliance
As part of their commitment to regulatory compliance and transparency, the staff at B2BinPay maintain the highest standards in all the operations that customers conduct. The Financial Action Task Force (FATF) Travel Rule requirements have been met by the integration of a new Travel Rule solution provider, Notabene.
The FATF Travel Rule mandates collecting and sharing personal information in cryptocurrency transactions to prevent money laundering and other illegal activities. A Virtual Asset Service Provider (VASP), such as B2BinPay, must pass on information regarding the originators of fund transfers and beneficiaries to the recipient. As a result of this rule, suspicious activities may be detected, and fraud can be prevented.
Final Remarks
B2BinPay is a top-tier cryptocurrency payment provider offering businesses robust and secure crypto transaction management on a global scale. The company's primary objective is to deliver its customers state-of-the-art, secure, and user-friendly payment processing solutions. The v18 release is seen as a testament to the company's commitment to this end.