PEPE has managed to pull off a remarkable recovery. Against the prevailing winds of uncertainty, PEPE has displayed resilience, primarily owing to the intervention of an anonymous whale.
Seven hours ago, as the PEPE price was on an upward trajectory, this unidentified whale made a significant move, purchasing a staggering 807 billion PEPE for one million USDC, effectively buying in at $0.000001239 per token.
With this acquisition, the whale has managed to establish a robust support level for PEPE, essentially setting the stage for a potential further ascent in its value.
PEPE's recovery journey is now approaching a pivotal juncture: the 50 moving average resistance level. It serves as a significant benchmark, indicating the strength and potential future trajectory of an asset. If PEPE manages to break through this resistance, it could signal the onset of a new rally, ushering in a fresh wave of optimism and interest around the token.
The role of whales in the crypto ecosystem often garners mixed reactions. While their substantial holdings give them the power to influence markets, their moves can also instill confidence and trigger positive momentum, as seen with PEPE.
Shiba Inu revving up
The Shiba Inu (SHIB) token has seen a rejuvenation in its price movement, touching the $0.00001 mark again. This notable surge in price is an outcome of breaking through the critical 200 Exponential Moving Average (EMA) price level, a benchmark that is often considered a sign of bullish momentum. With this breakthrough, SHIB is ambitiously trekking toward the psychological resistance level of $0.0000115.
There is a wave of optimism surrounding SHIB's rally, as market indicators point toward a healthy upward movement without showing signs of being oversold. This means that the current surge is not merely a speculative bubble but possibly a sustained upward momentum driven by concrete factors.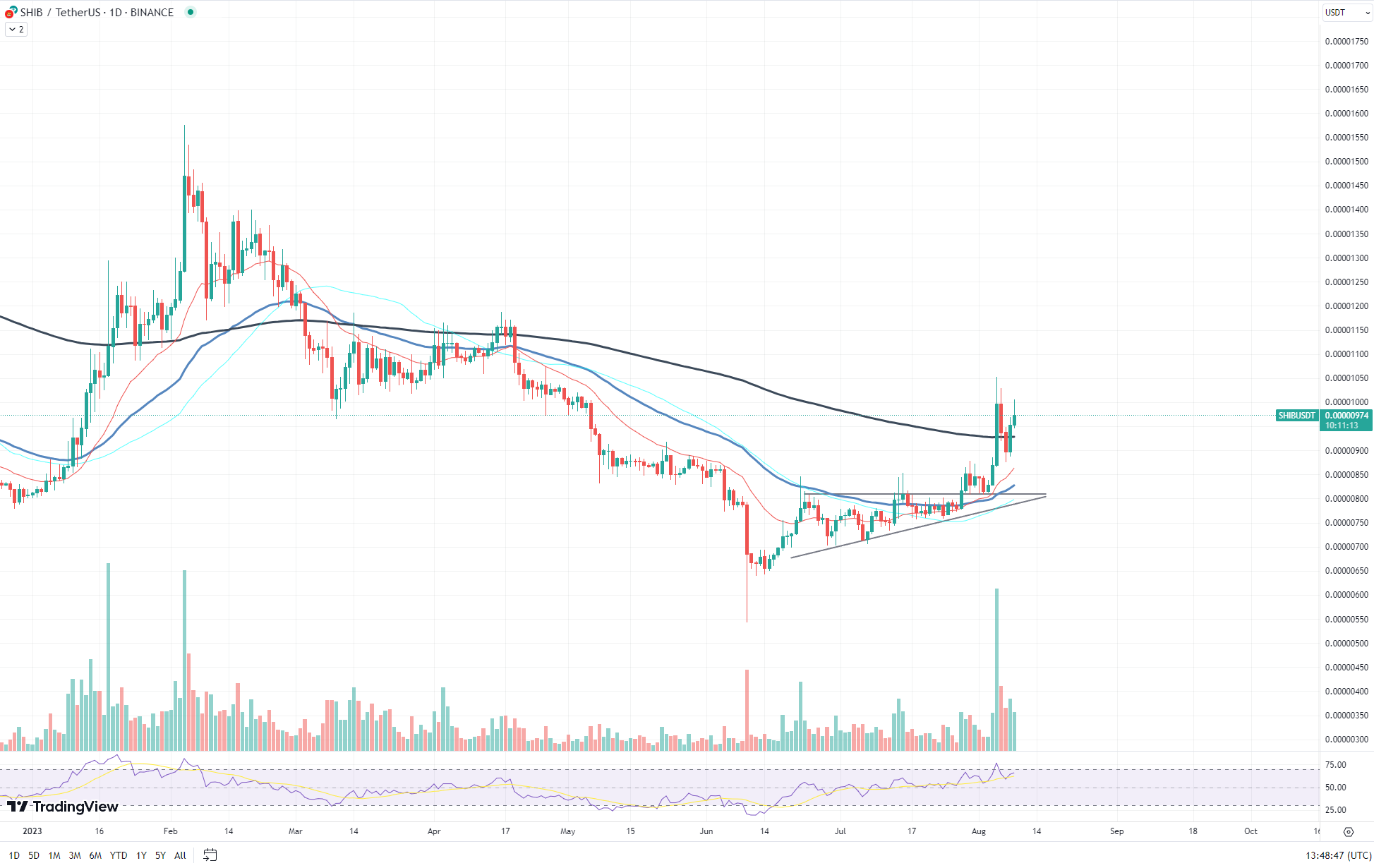 A significant catalyst propelling this rally is the buzz around the anticipated launch of Shibarium, SHIB's very own Layer 2 blockchain solution. Shibarium aims to offer faster transaction speeds and reduced fees, presenting a viable solution to Ethereum's prevailing scalability issues. The community and investors are keenly watching this development, and its successful rollout can potentially cement SHIB's position as more than just a meme token.
Additionally, the overarching market trend of growing demand for meme assets is also playing in SHIB's favor. The "meme economy" has evolved from being a fleeting internet trend to a legitimate investment strategy for many. While meme assets are notoriously volatile, the increasing market appetite suggests a bright short-to-medium term future for tokens like SHIB.
XRP is alive
XRP is showing signs of resilience after a tumultuous period. After enduring a sharp 21% price drop, XRP has managed to find solace at the 50 Exponential Moving Average (EMA) support level. This level, widely recognized as a significant metric by traders, has become the bedrock for the current bounce XRP is experiencing.
The 50 EMA, in the world of technical analysis, often acts as a barometer of an asset's short- to midterm price trend. When a cryptocurrency respects this level as support, it signals that despite temporary price setbacks, there remains underlying bullish sentiment. For XRP, reaching this level after a sizable drop and then demonstrating a bounce indicates a potential change in its price trajectory.
Moreover, the volume profiles are further enhancing the narrative of a bounce back. Historically, a switch from descending to ascending volume profiles, especially after a significant price drop, has often preceded a robust price recovery. This transition in volume indicates that there is increasing buying interest driving the price upward. In layman's terms, it is a sign of the asset's resilience and growing confidence among its holders and traders.
So, what lies ahead for XRP? With the momentum shift and the 50 EMA acting as a strong support, the next target for XRP will be the recent highs it achieved before the downturn. If the ascending volume trend continues and no external negative catalysts come into play, XRP could soon be eyeing those levels.