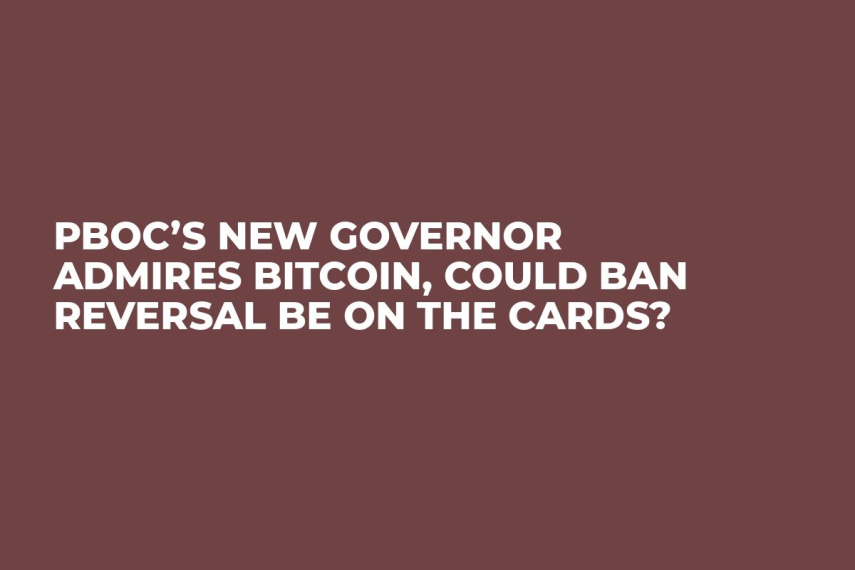 Cover image via U.Today
There have been some rather large changes at the highest level in China with the Chinese legislative body, the National People's Congress, voting to confirm Yi Gang as the new governor of the People's Bank of China.
At the same time, Liu He, the president's leading economic advisor, has been appointed to vice premier.
This could be positive news for Bitcoin for a number of reasons as the appointment leads many to believe that Gang will have the power to influence economic policies, and, Gang is also a fan of the digital currency.
An admiring fan
Gang has previously expressed his admiration for Bitcoin. In late 2013, Gang said that although PBoC could not cryptocurrencies as legal tender anytime in the near future, he admired the fact that "ordinary people have the freedom to participate" in the Bitcoin network, and added that the cryptocurrency was "inspiring."
There has been no mention of Gang's policies towards Bitcoin since taking office, but his prior mentions have only been positive, across the spectrum of cryptocurrencies.
Also in 2013, while under the departing Governor, Zhou Xiaochuan, Gang said of Bitcoin that it had distinctive features and it is enlightening, and he, personally, will stay focused on Bitcoin for a long term.
More recently, in 2016, at the G20 conference, Gang was reportedly mentioned that by adopting the technology of distributed ledger (Blockchain), to explore the operation efficiency and security of financial infrastructure is an essential part in practicing digital inclusive finance.
What the future holds
It may be a positive step for Bitcoin in the stern and controlling country, but it is yet to be seen what will transpire. Gang's power to overturn a strict ban may not be that strong, and it may lead to the new governor deciding not to fight that battle.
In a statement after his appointment, Gang said that the "main task is that we should implement prudent monetary policy, push forward the reform and opening-up of the financial sector, and maintain the stability of the entire financial sector."