The erratic nature of the digital currency ecosystem is impacting negatively the Shiba Inu (SHIB) ecosystem as a price drop has rocked most of the meme coin's associated tokens. One thing has, however, sustained its bullish momentum, and that is the SHIB token burn rate, which has grown by approximately 80% in the past 24 hours, per data from Shibburn.com.
Based on the current statistics, a total of 85,194,367 SHIB tokens have been set ablaze and sent to dead wallets to tighten the deflationary grip of the meme coin. An intriguing disposition to this token-burning event is that a dominant address has been quite committed to the burn-off in the past 24 hours as tranches of tokens are inflamed.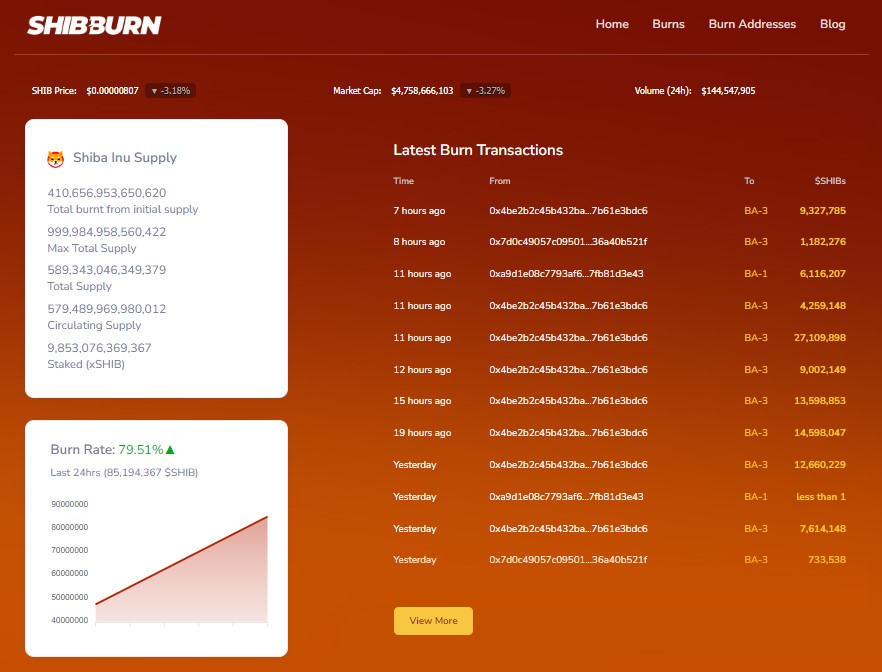 Besides this highly tracked deflationary metric, Shiba Inu is currently succumbing to bearish pressure, which has seen its price drop as much as 3.06% in the past 24 hours to $0.000008071. The meme coin was on a recovery path earlier as news of the impending relaunch of the Shibarium Layer 2 protocol filled the community.
With the burn rate now emphatic and reducing the amount of SHIB tokens in circulation, there is a brewing expectation that the price of the coin will record a bullish reversal in the near term.
Everything depends on Shibarium
Shiba Inu's growth outlook is now highly synonymous with the performance of Shibarium, whose future at this time remains highly uncertain. With the core team led by Shytoshi Kusama taking their time to properly test the Shibarium blockchain before it is relaunched on the mainnet, the second chance being given to the protocol after its initial failed launch might be its make-or-break moment.
The success of Shiba Inu in the long term is likely connected to Shibarium, and expectations remain high as to how events will shape up in the near future.