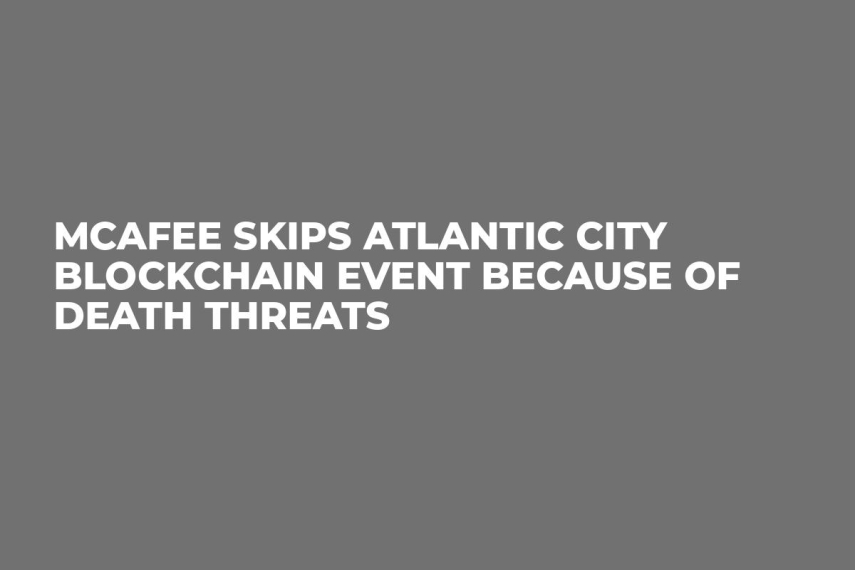 Cover image via U.Today
Word has been spread that the famous John McAfee is dropping out of Blockchain World Conference 2018 due to take place in Atlantic City because of alleged threats to kill him. This has been confirmed by the man himself in his own Twitter account.
I have been asked by the Blockchain World Conference organizers to cancel my live appearance due to fears of audience, and my own, safety. I will be live streaming from an undisclosed location at 11:00 AM. https://t.co/hUhoKEptEI

— John McAfee (@officialmcafee) July 13, 2018
McAfee is asked not to come over
The official version says that the cancellation of his visit was proposed by the organizers of the Blockchain event and so the antivirus creator took their advice.
Nevertheless, they confirmed that McAfee will deliver his speech at 11 am (UTC-4) on July 13. However, instead of going to the stage the guests were promised to see a live video stream of McAfee from a secure and undisclosed location.
Another self-promotion move?
McAfee, a famous computer programmer, the founder of the same-name company, is famous in the world of crypto and Blockchain as a controversial man who loves drawing public attention. Previously, he publicly bet his own penis on the rise of Bitcoin to $1 mln.
Afterwards, he got in a conflict with the SEC, has sued the HitBTC crypto exchange and promised to go for the US President's chair.
He has already claimed to receive death threats. However, this time it has been done on a much bigger scale. Who knows– maybe this refusal to attend the blockchain conference is just another way to get some more attention and strengthen his reputation of "bad boy of Blockchain" who everyone now wants to get rid of.