Veteran trader Peter Brandt has commented on the price action of KAS, the native coin of Kaspa, a Layer 1 solution.
In response to a Twitter user's request for him to express his thoughts on KAS as a prominent chartist, Brandt commented positively about KAS, noting the crypto asset was definitely in a strong bullish trend.
Brandt draws his inference from gains posted by KAS so far in the year, noting the coin was up twentyfold in less than a year. He added that being a proof-of-work (POW) cryptocurrency might be positive for KAS.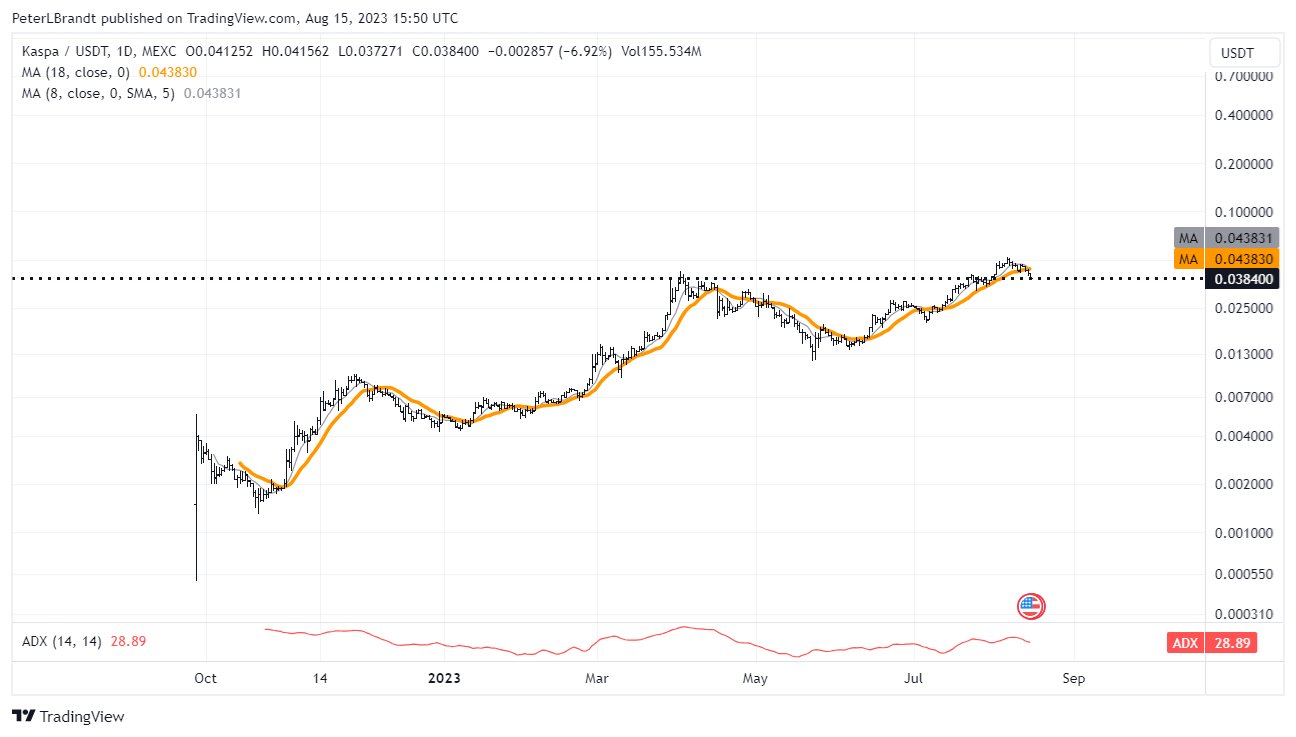 "Definitely in a strong bull trend, up 20-fold in less than a year. It is a POW coin; that is a positive, IMO," Brandt responded by sharing a KAS/USDT daily chart.
At the time of writing, KAS was up 6.43% in the last 24 hours to $0.041. The gains are significant given the fact that Bitcoin, Ethereum and most crypto assets traded in losses at press time, with crypto liquidations amounting to $153 million in the last 24 hours, per CoinGlass data.
The recent price action on Kaspa left its market capitalization at around $834 million at press time. So far this year, Kaspa has seen a change of 686.04%. The gains are even larger in one year, as KAS is up 1,760%, per CoinGecko data.
Kaspa has been on an ascent since late May. Notably, the price rally effectively started in early June after Kaspa hit support at the $0.013 level. Following that, the price of KAS surged substantially, reaching an all-time high of $0.051 on Aug. 6 before declining.
Kaspa is built on the GHOSTDAG protocol, a generalization of the Bitcoin consensus algorithm. The native token of the project, KAS, is used for all on-chain transactions and to distribute mining rewards.
Kaspa, which aims to be the fastest and purest proof-of-work consensus engine, reached a historic milestone in June as it achieved an unprecedented 10 blocks per second (BPS) on its testnet.