The market offers a wide selection of cryptocurrency exchange platforms, and despite China's strict policy regarding crypto, the number of worthy crypto-related websites continues rising. Being a new exchange platform, IDCM has quickly become a comfortable place for traders. Will it live up to your expectations? This ultimate guide is here for you to decide.
About IDCM
This is a Chinese cryptocurrency exchange with a minor selection of trading pairs. IDCM was established in Hong Kong in April 2018: within half a year, it became one of the Top-20 cryptocurrency exchanges by daily turnover. What's the secret of such success? The Chinese blockchain-based project was founded by Wall Street top-dogs: the team behind it consists of blockchain pioneers, independent financial directors, and other key people in the financial sphere.
The IDCM alliance was organized by representatives of Deutsche Bank, UBS, ASX, and Accenture Blockchain's team. It is being managed by former and current employees of NASA, McKinsey & Co., Google, Goldman Sachs, Tencent, IBM, Huawei, and KPMG. With so many talented contributors and rich investments, the platform was destined to thrive from the very start.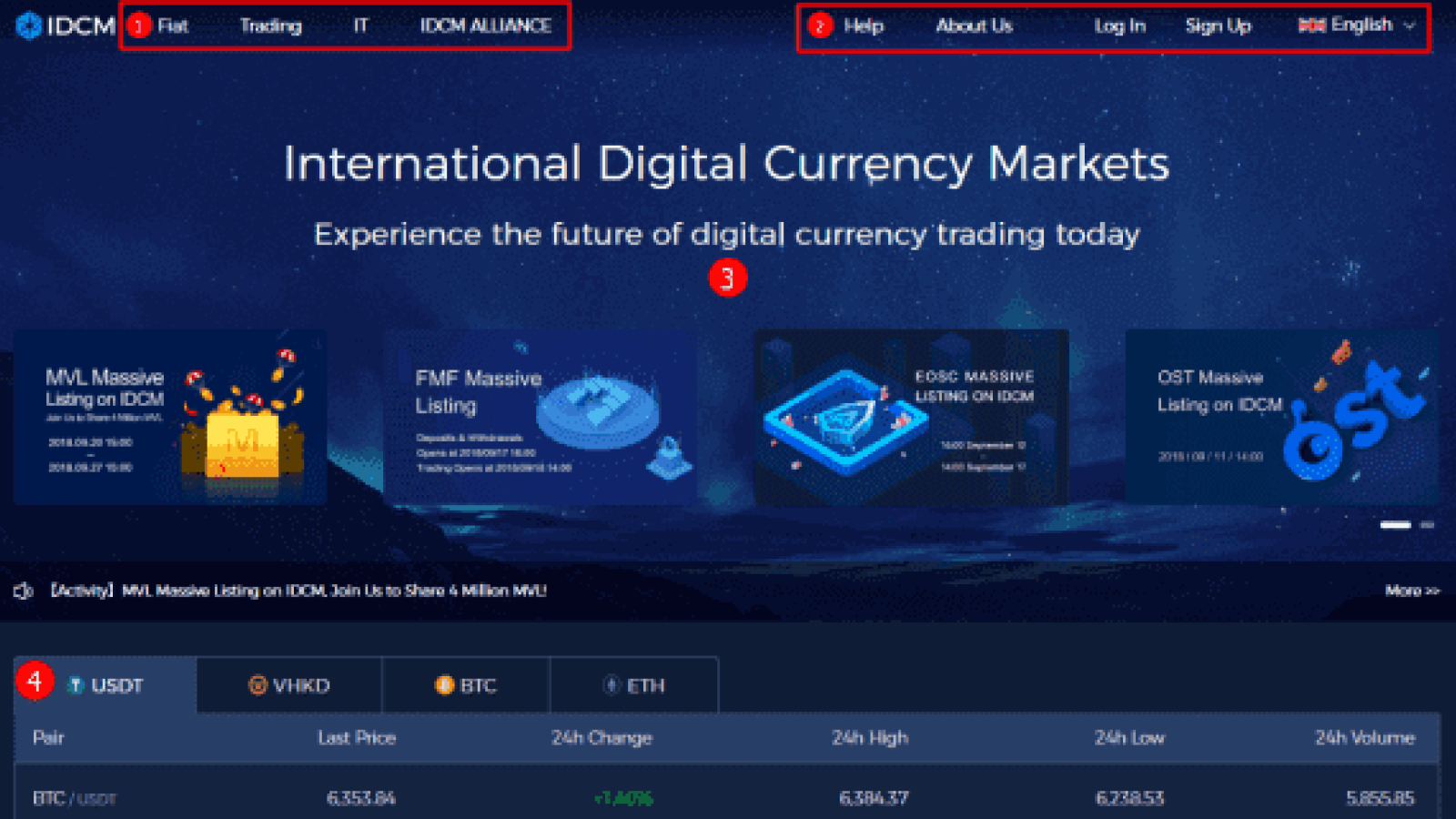 Great liquidity and exceptional performance are praised by users. At the moment, IDCM supports 22 currencies and 38 trading pairs. The daily trading volume has exceeded $204 mln with BTC/USD exchange alone worth 11850,309 BTC.
What makes it special is its large trading volume and very quick processing of transactions. Although the number of trading pairs is far from outstanding, the exchange platform enlists the most reliable tokens only. IDCM boasts rock-solid protection of transactions and clients' information. The system of alliances makes this platform resilient and super-fast.
Exchange Features
What makes IDCM very competitive is a large set of exclusive features and peculiarities.
First, IDCM is the first exchange platform in the world to use consensus mechanism: serving as super-nodes, alliances form the trading platform for the cryptocurrency. The alliance accumulates additional liquidity from transactions made outside the platform. The exchange volume can be five times higher than the trading volume.
Secondly, IDCM provides a whole gamut of top-notch financial services. It provides real-time information about the market, suggests beneficial trading strategies, and renders other marketing services. Traders are free to set price alerts: if the price exceeds 10% of the current rate, both buyer and seller are notified.
Thirdly, IDCM provides a great DApp platform for developers of games, trading products, eCommerce projects, and social media. DAICO, the proprietary development platform, is a specific solution for high-quality projects. IDC (IT) token will be used on the platform, as well: it may serve to distribute profits and get access to certain services.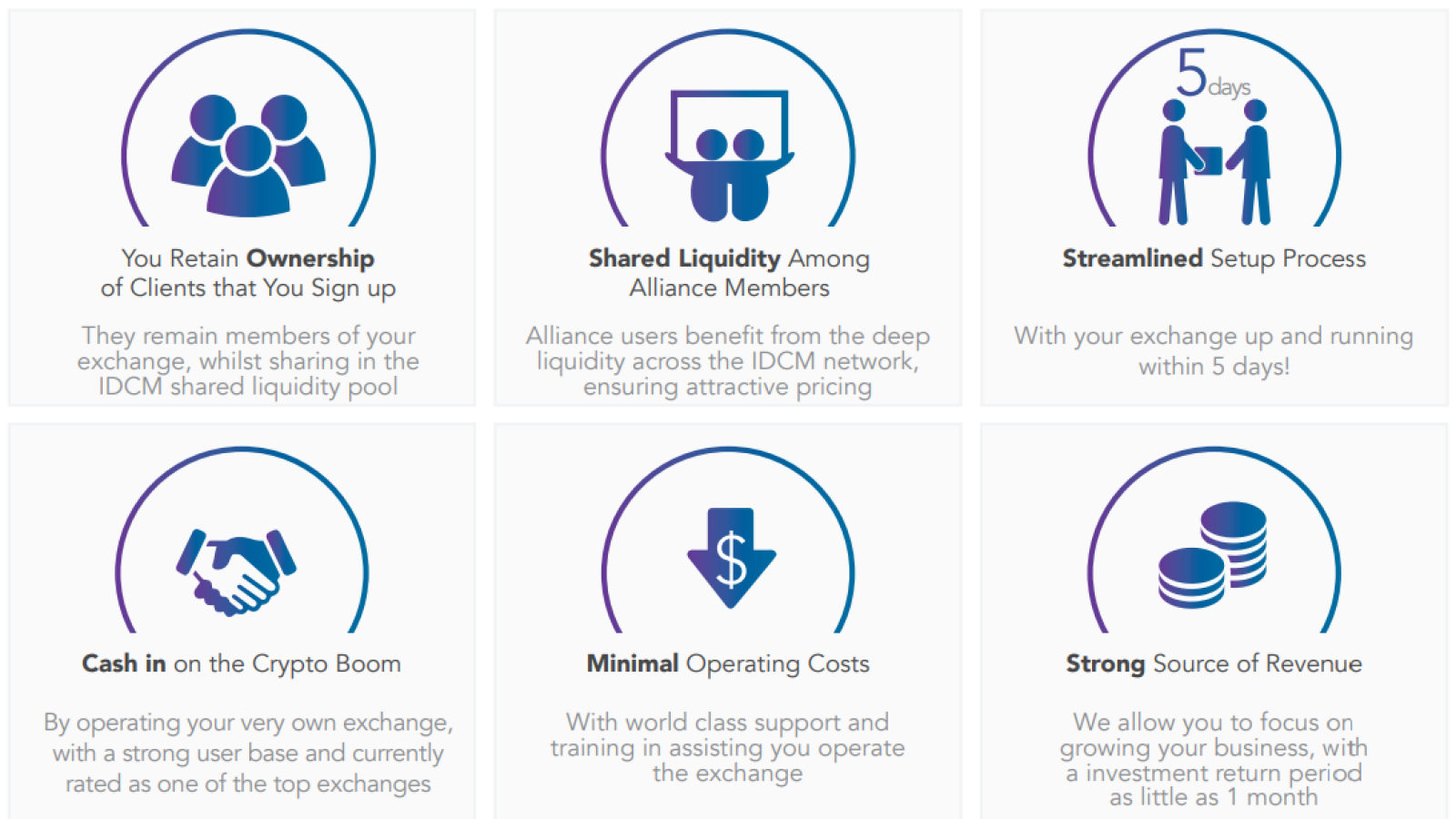 Please note that other cryptocurrency exchanges can join the alliance, but only the most reliable and quality projects are allowed to merge. Those that join will have access to IDCM's technologies, resources and the exchange platform itself. Every website that gets enlisted will be legally protected in the country it represents: IDCM has well-developed algorithms of juridical protection. The decision about accepting new exchanges depends on the results of voting protocols.
Main Advantages
The Chinese cryptocurrency exchange appeals to both Chinese and international users due to a wide range of benefits available:
One key advantage of the platform is its exceptional performance and speed. The alliance standing behind IDCM is able of processing up to 1,400,000 orders per seconds. Besides, due to a high liquidity, users' orders are taken quickly.

Military-grade encryption technology is topped off by multichannel distributional memory and AI security systems. Users' personal and payment information is protected by SSL encryption.

Decentralization and super-nodes allow for a fast consensus mechanism which boosts transaction efficiency and allows users to participate in platform management.

Blockchain technology ensures data integrity, makes transactions transparent and allows for independent audit.

IDCM does its best to sustain liquidity. Since it's organized as an alliance, it has a great support being backed up by strong investors.
The alliance continues growing quickly due to low entry barriers. If an exchange platform wants to join IDCM, there are only two things to do: 1) Get a domain name; 2) Pay the IDCM alliance fee. The company keeps supporting its partners by all means possible. Probably, due to this fact, the number of available trading coins can be expanded soon.
Bonuses
Although newcomers aren't offered any special bonuses, IDCM provides a generous referral reward: users can get a 30% trading commission discount for inviting their friends. To be more specific, you get 20% of the trading free that your own friends generate and 10% more from commission fees made by friends that sign up through them. If they get caught in fraudulent activities, you won't get a reward.
Additionally, traders can test the new ToM (Trade-to-Mine) mechanism and get IT token dividends. That means the transaction fees are converted in IT coin and sent back to users. The more transactions you perform, the higher your benefit.
Exchange Trade Volume
At the moment of writing this article, the daily trading volume has exceeded $204 mln with BTC/USD exchange alone worth 11850,309 BTC. According to coinmarketcap.com, IDCM is on 13th place in top-20 crypto exchange platforms by the trading volume.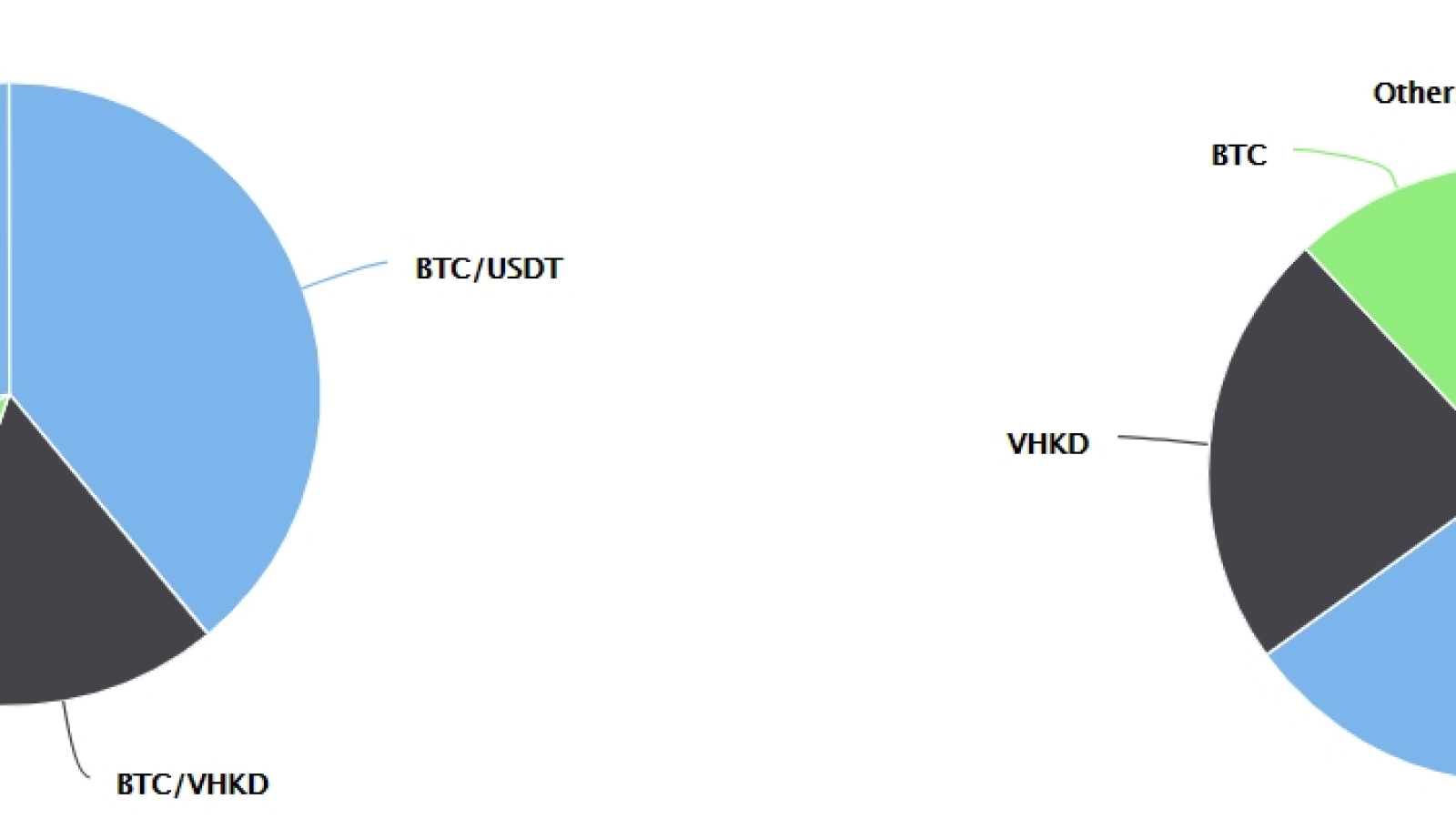 How to Use IDCM?
On the main website, you can see basic sections:
Fiat – fiat cryptocurrency trading (only USD and HKD can be deposited/withdrawn).

Trading –main trading page.

IT – information about the proprietary token.

IDCM ALLIANCE – information about joining the alliance.

News about cryptocurrency.
The process of navigation is quite simple: you have all necessary information at your fingertips. As soon as you register, you can start making deposits and trade.
Want to trade on the go? IDCM offers a mobile application that's compatible with iOS and Android. It can be downloaded on the official website.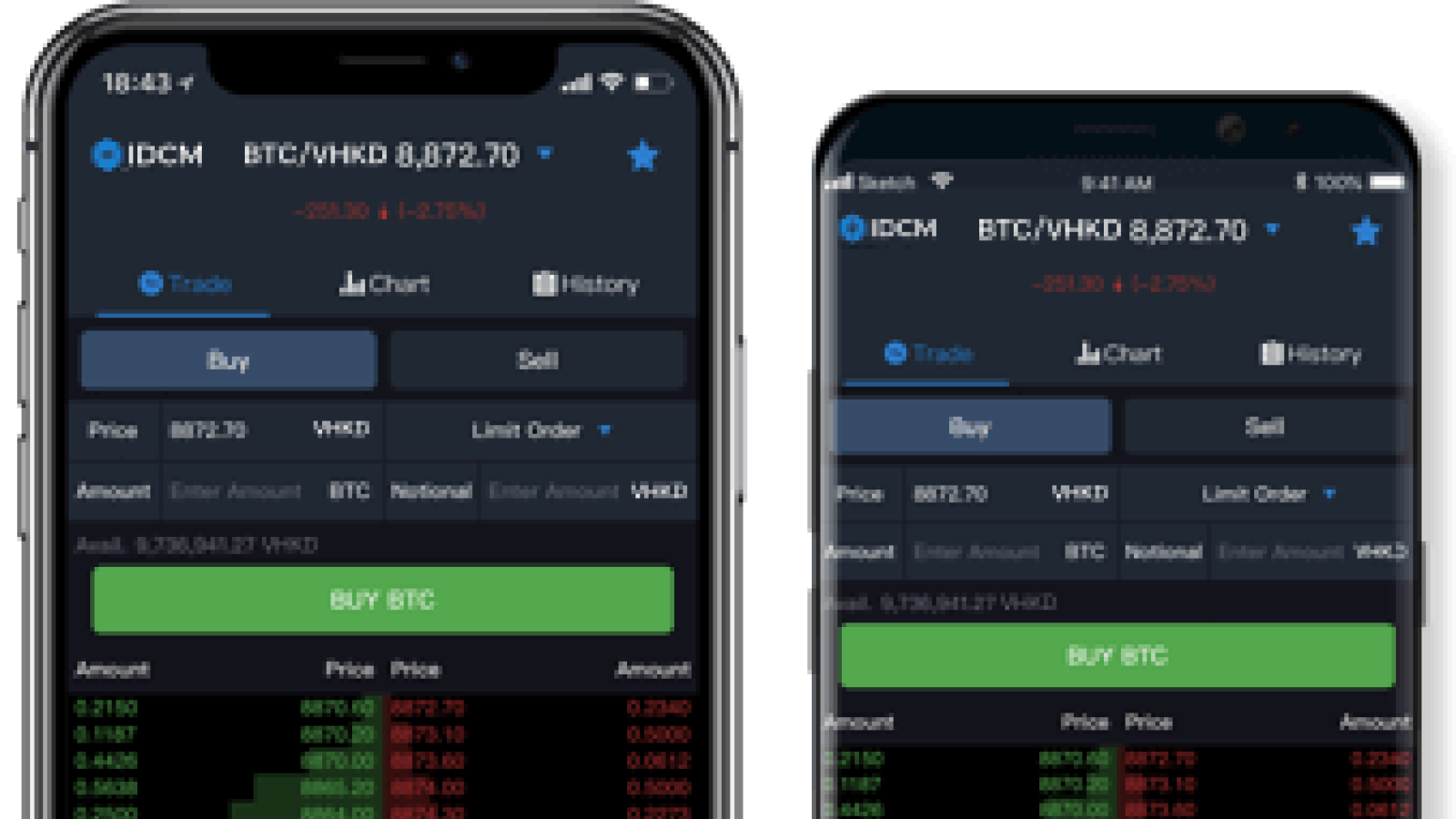 Purchasing Cryptocurrency
Proceed to the Exchange section. You will see the following categories:
Choice of the trading pair.

Trading pair rates.

Graphical information about the chosen trading pair.

Open Buy orders.

Open Sell orders.

History of transactions.

History of user's trading.

Sell/buy order form.

Buy cryptocurrency.
To start a transaction, you need to select a trading pair and fill in the Buy form.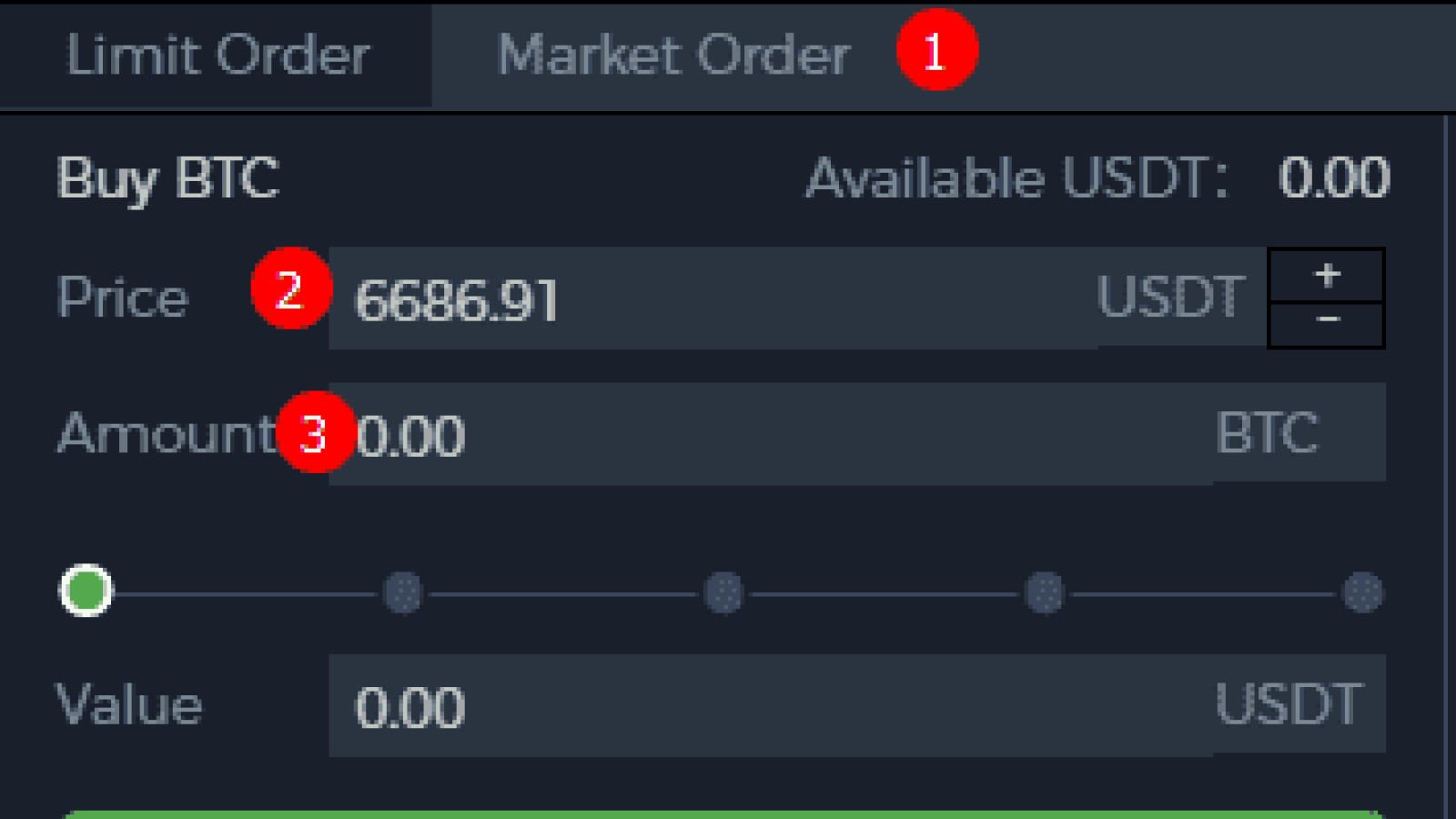 You can select the type of order:
Limit order – You choose the price.

Market order – The default market price is set.
Now set the price and the number of coins you need and click Buy. As soon as someone takes your order, you'll get the coins.
Sell Cryptocurrency
To place your order, fill in the Sell form. To have your order processed faster, place a bigger price, but make it more competitive. If you can't wait and need an instant exchange, go to the list of Buy orders and take the one that suits your requirements.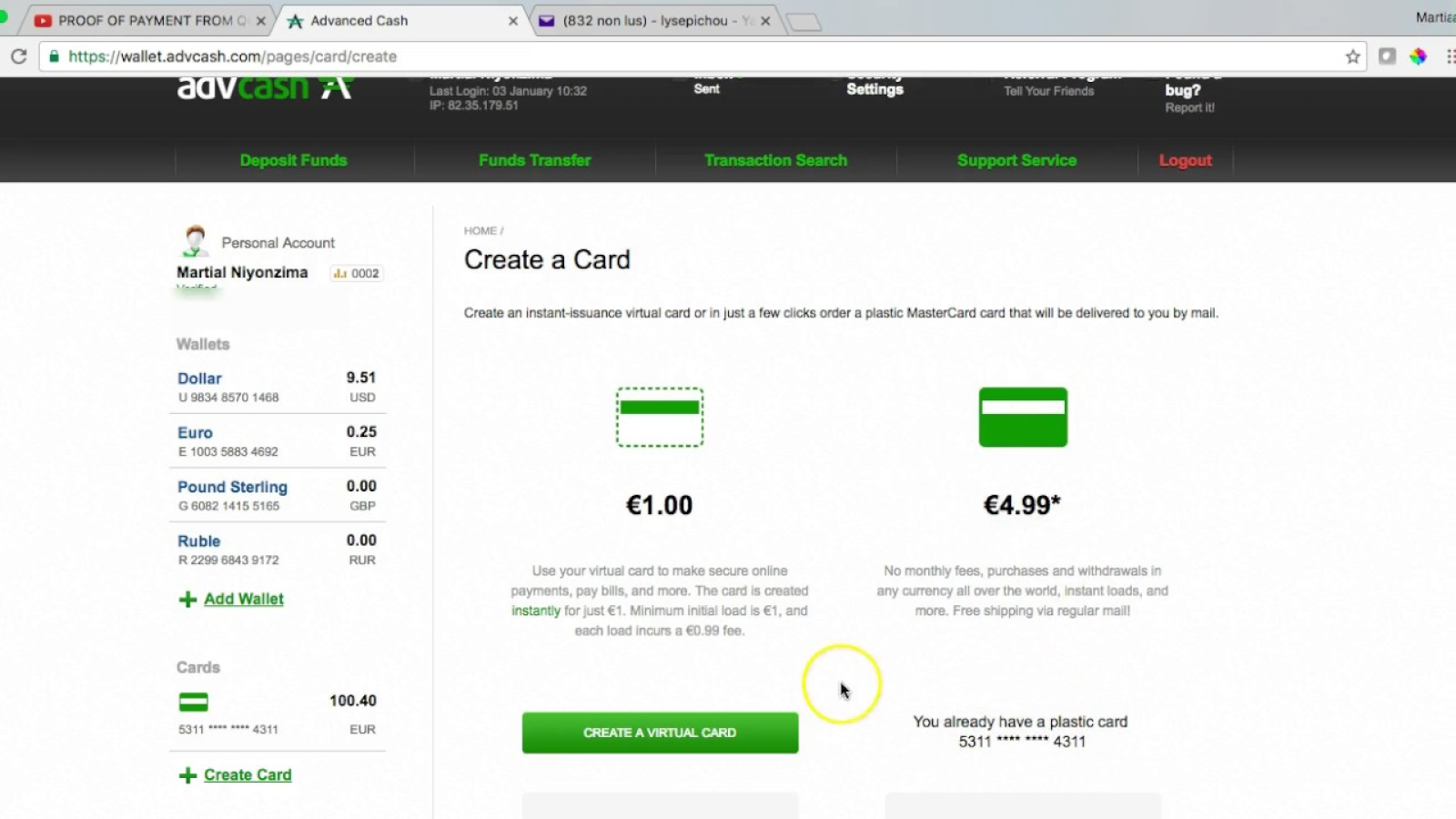 Trading Pairs
IDCM features 40+ coins. The most demanded trading pairs are BTC/USD, BTC/ETH, ETH/USD, BCH/USD, EOS/USD, NEO/USD, XRP/USD. This is not a large number of trading pairs, but the basic ones are covered and orders are accepted quite quickly.
Trading Coins
IDCM works with the most popular cryptocurrencies, including Bitcoin, Ethereum, Neo, Bitcoin Cash, Litecoin, Ripple, and others. It accepts USD and HKD as the fiat currency. Aside from it, the IT token is used as the reward for transactions.
One of outstanding coins on IDCM is VHKD (Virtual Hong Kong Dollar). This is a digital currency that's bound to the Hong Kong Dollar (HKD). In comparison with USDT, which is not completely centralized, VHKD is more confidential and convenient in use.
Trade Fees
Another thing that attracts users is flat fee policy: users only pay agreeable 0.1% transaction fee (both makers and takers are charged 0.1%). Deposits in USD and HKD are charged 0.3% fee, while deposit in cryptocurrency is totally free. That makes IDCM's commission the second lowest trading fee on Chinese cryptocurrency exchanges. The withdrawal fee is 0.0005 Bitcoin: no exchange platform can boast such a low withdrawal rate. Withdrawal fees for other currencies depend on the type of token. As for C2C Trading, IDCM has %0.25 fee for order placer and zero fees for an order taker.
Transaction Limits & Liquidity
Neither website nor any third-party sources mention the trading limits: it is up to users to decide. But as for deposit and withdrawal limits, they depend on the currency. For example, the platform has a minimum $500/ 5,000 HKD / 0.01 BTC / 10 XRP deposit, which isn't agreeable for users who make minor transactions. Withdrawal limits are pretty much the same as deposit, which means IDCM is the place for those who play big.
However, it should be noted that IDCM ensures a high liquidity of assets: the volume of transactions taking place in the alliance is five times higher than on the platform itself.
Setting up Trade Account
The interface of IDCM can be a bit confusing right from the start, but customers get used to it quickly: all sections and tabs can be accessed in a couple of clicks, and trade management is intuitive. Let's observe step-by-step navigation on the website.
Creating an Account
To create an account, click the Sign-Up button in the upper right corner of the page. You'll need to fill in the registration form:
Email address (Gmail is highly recommended – it's considered to have the best protection against hacking).

Password.

Click Get code. You will receive a letter on your email. Copy the code from the letter and paste it in the registration form.

If you have a referral number, paste it in the form.
Now click Sign up. Congratulations — you've joined the ranks of IDCM users!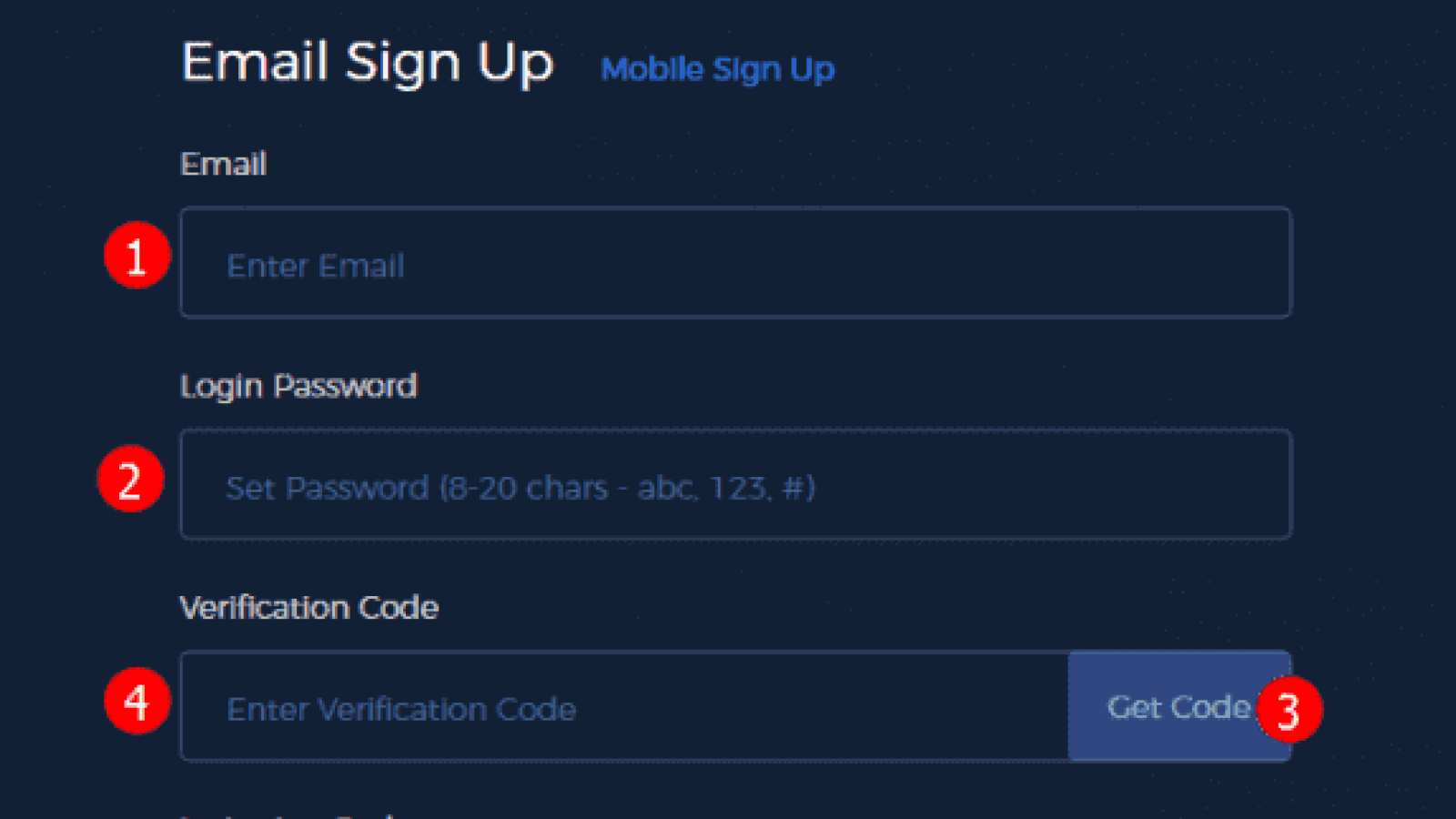 Security
IDCM features basic security features, such as SSL encryption and firewall. But don't forget your security is in your hands: there's a handful of ways for account protection.
Before you rush to make a deposit, set up the account safety. Proceed to account settings (click on your Profile sign on the upper right corner of homepage). IDCM offers such protection measures as password and PIN code (those are generated upon signing up), 2-factor authentication, and verification.
It is highly recommended to use 2fa from Google. How to set it up? Go to Security settings in IDCM and select 2fa. Download 2fa application on your mobile phone (both Android and iOS compatible versions are available). Open the app, press + on the upper right corner and click 'Scan QR-code' (it will be shown in IDCM). As soon as scanning is completed, the app will display a line with a 6-digit code: paste this code in the Google authentication code panel on IDCM and press Enable Google authentication. If your smartphone doesn't recognize the QR-code, try to add brightness on your screen, or scan it with a third-party application.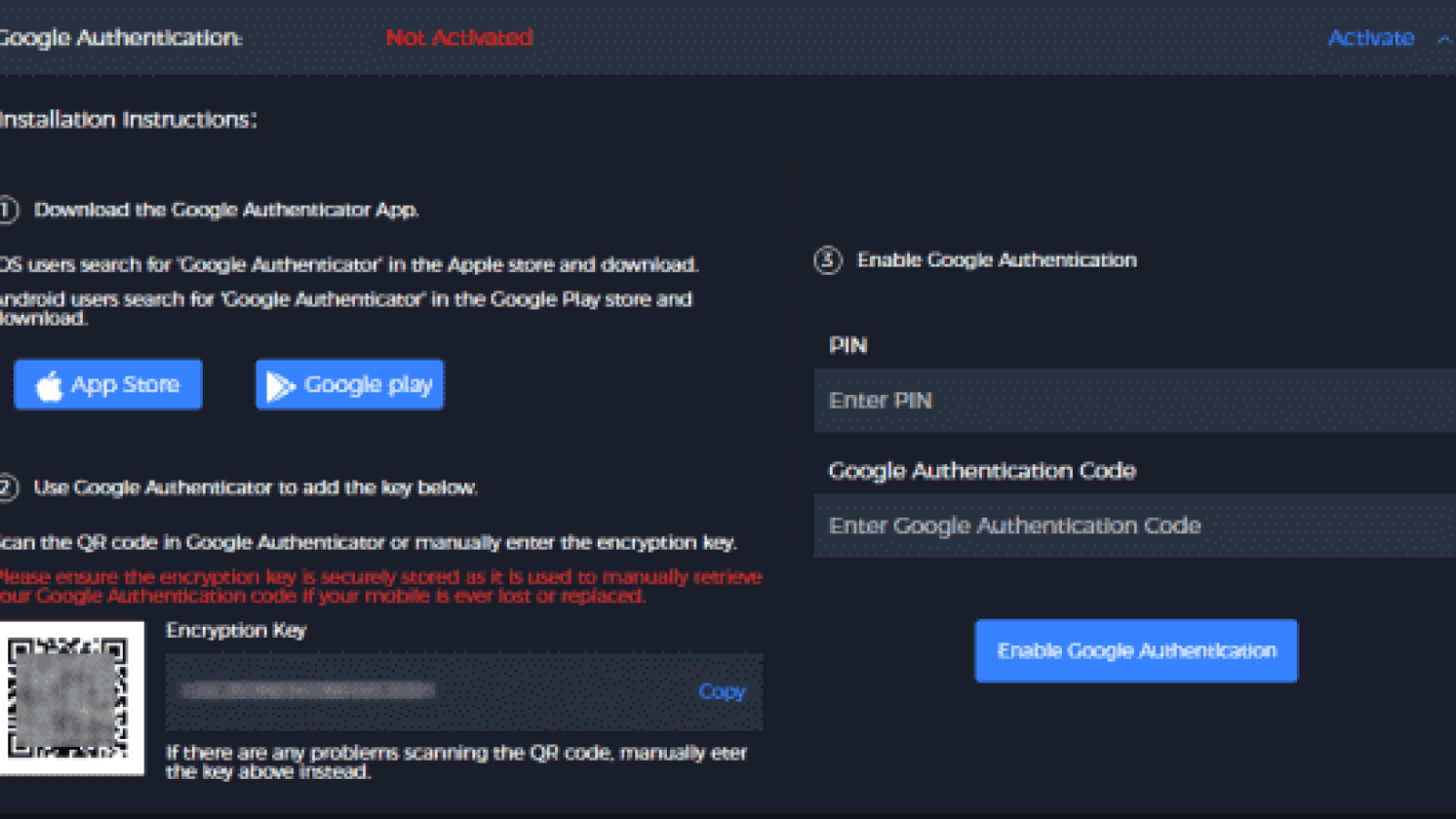 Unlike other exchange platforms, IDCM doesn't oblige users to go through personality verification, but it may add trust to your account and prevent hacking. The process of verification takes from several days to several weeks and requires the following personal information:
Country of residence.

Passport/ID number (scan + selfie).

User's full name.
Adding Payment Methods
While IDCM accepts wire transfer for deposits, no plastic or credit cards are supported. You cannot add a payment method — the transfers to the exchange platform can be saved as patterns in your banking account.
Depositing/Sending Cryptocurrency
To deposit funds, go to your account and proceed to Assets section. The page with available coins for trading will be opened. Select the cryptocurrency and click the Deposit button on the opposite. The Deposit form will be opened. Copy the address of generated wallet. Paste it in the Receiver's address in the payment system you use (exchange platform, cold wallet, etc).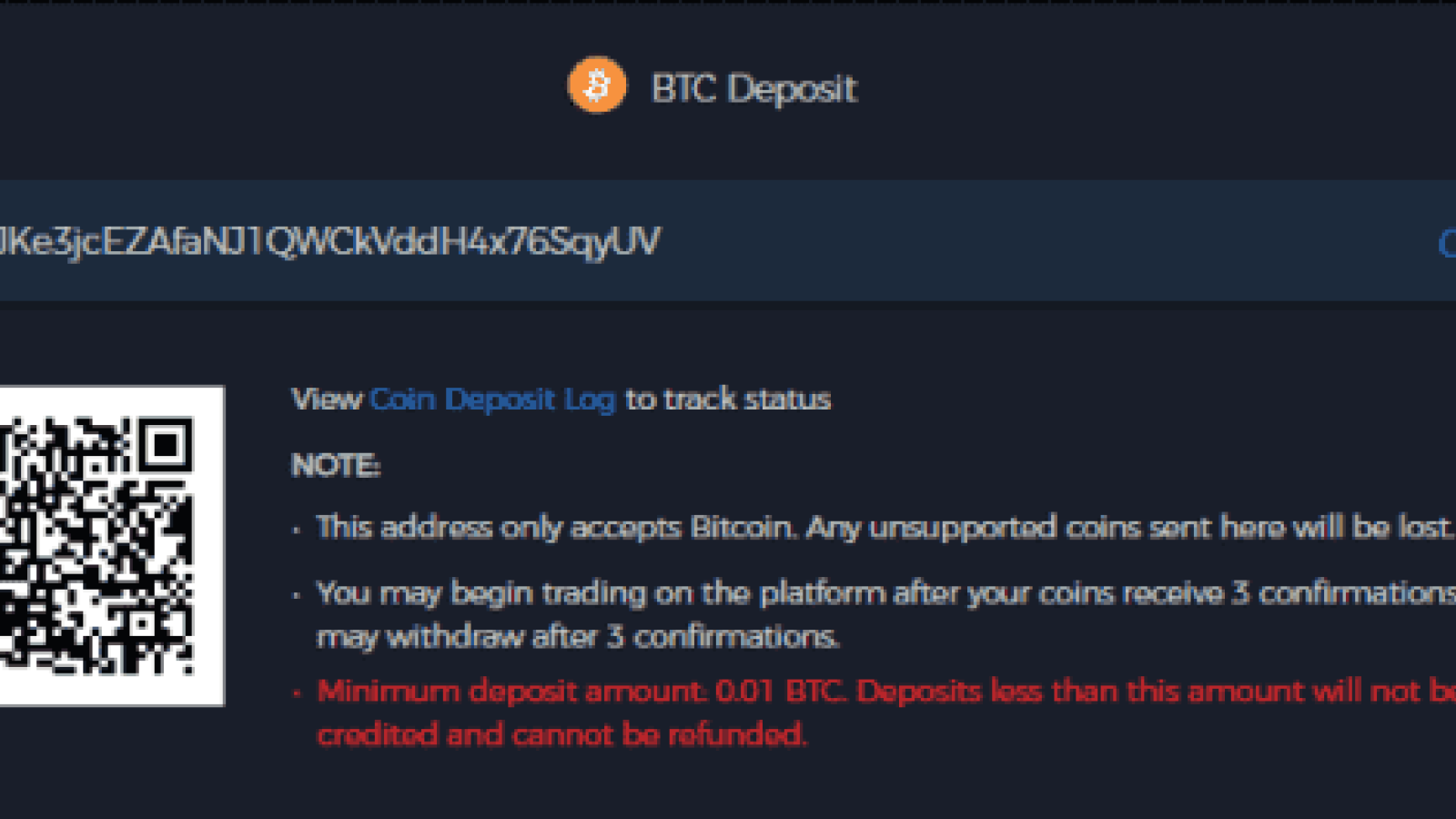 To withdraw your funds, go to the Withdraw section and fill in the form:
The address of wallet where you send money to.

Amount of coins.

Amount of coins you receive without commission (calculated automatically).
Now press the Withdrawal Confirmation button.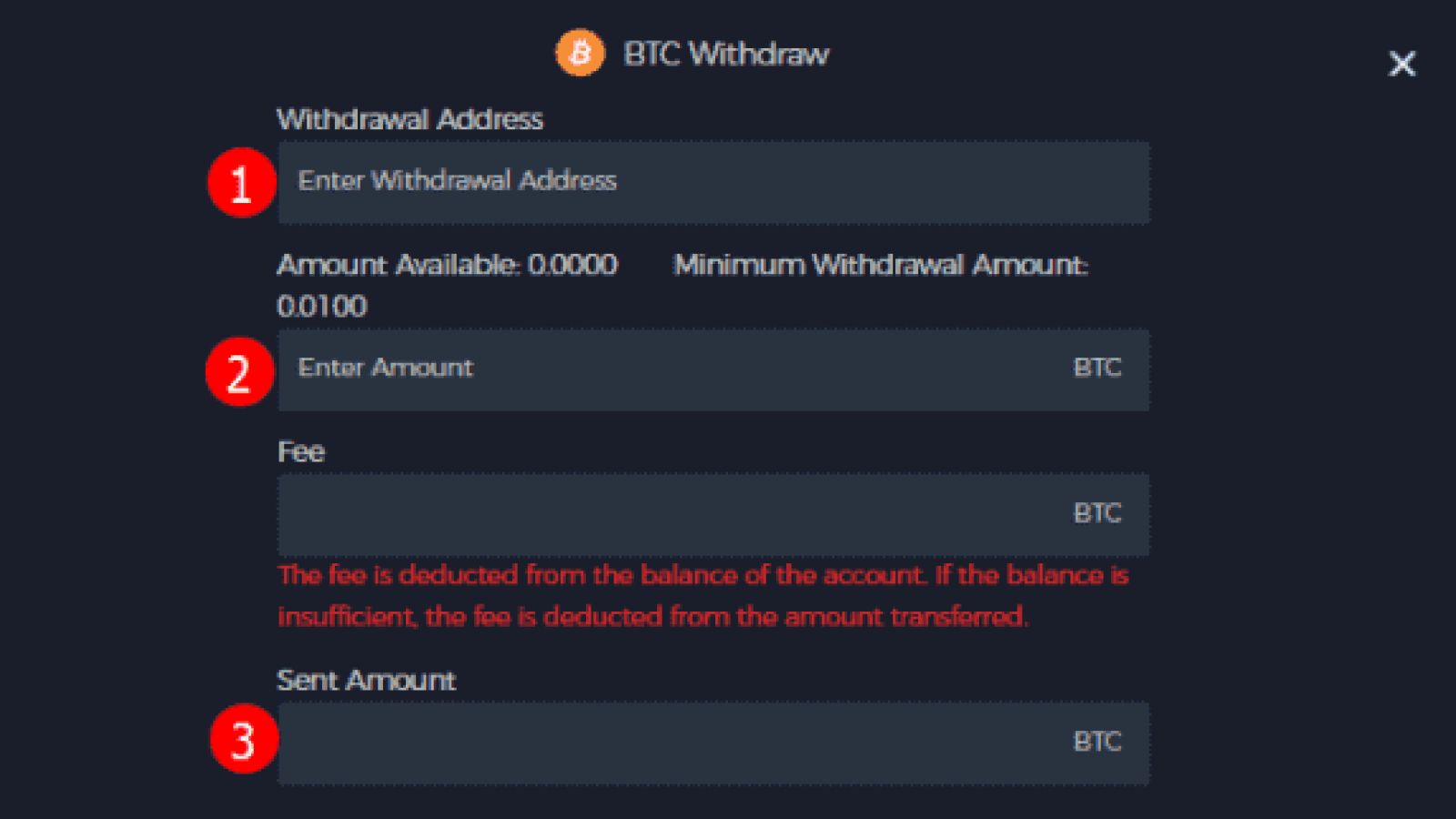 Customer Support
IDCM provides customers with a decent level of 24/7 customer support. Following the practices of C2C trading platforms, IDCM gives users three hours to upload the proof of payment in the system. If the digital currency isn't released within three hours, IDCM operations team will help to have the transaction finished.
Users can contact the assistants around the clock via email support@idcm.io or by making a phone call. Their customer support speaks several languages: Chinese, Korean, Vietnamese, Japanese, English, French, and Dutch.
Aside from that, users can get a lot of essential information in the knowledge library. The FAQ section offers a few guides on securing account, trading, deposits, and withdrawal. There's the full set of API documentation for developers, as well.
Conclusion
Generally, IDCM's advantages outweigh the minor drawbacks:
| | |
| --- | --- |
| Pros | Cons |
| Incredibly fast transaction processing (the alliance can process up to 1,400,000 orders per second). | The choice of trading pairs isn't large: IDCM works with the most widespread cryptocurrencies only. |
| The website provides exceptional user experience thanks to easy navigation, mobile application, and transparent fee policy. | Deposit via credit/debit cards isn't possible. |
| IDCM's transaction fees are among the lowest ones on both Chinese and international market of cryptocurrency exchange platforms. | The website interface is available on a few languages, customer support speaks 8 languages. It means that IDCM isn't equally convenient for people from different regions. The project needs to expand its global presence. |
| This is one of the first exchange platforms that use Trade-to-mine technology: it means that users can earn IT tokens by simply performing transactions. | Relatively high deposit and withdrawal limits: IDCM is suitable for serious traders who can afford spending hundreds of bucks on investments. |
| IDCM is one of few cryptocurrency exchanges that does not track users' transactions, e.g. what exactly coins are spent on. Personal security is boosted by 2-factor authentication. | Among fiat currencies, only USD and HKD are available for deposit. |
| Aside from a trading platform, IDCM serves as trader's personal consultant: it provides information about token rates, notifies about price fluctuations, and displays useful infographics. All the information (banners, announcement news, information, core advantages, partners, trading volume, social media, and links) is customizable. | Margin trading isn't allowed. |
| IDCM ensures a high liquidity of all assets present, and users' orders are processed quickly. Be assured: if you set up agreeable Buy/Sell price, your order will be taken instantly. | |
Providing its customers with a myriad of useful instruments and trading opportunities, IDCM platform has the right to be called one of the best cryptocurrency exchange platforms both in China and the world. Its creators strive to stay ahead of tech curve and leverage the best security practices for customers to be safe and sound. IDCM would be equally convenient for both starters and professional traders: fast order processing and convenient navigation make for brilliant user experience. The only serious drawback is a small choice of trading pairs. However, the situation can change to the better because IDCM alliance is free to join for third-party exchange services, and many starters will surely grab this opportunity with both hands.
You shouldn't miss your opportunity as well: rumor has it that IDCM might cancel regular registration of new users and allow only for registration by referral links.