Unfortunately, not a single cryptocurrency wallet is able to handle all altcoins, but here are some of our top suggestions that might help you pick the best wallet for cryptocurrencies. The review includes hot wallets, semi-cold wallets (client-based ones), and hard wallets that limit your exposure to the Internet by keeping private keys on a separate device.
Ledger Nano S
Let's start our review with what is marketed as the most popular multicurrency wallet in the market — Ledger Nano S. This device is extremely simple in terms of technical peculiarities: there are two buttons for navigations and a small LED screen along with a USB port for connecting it to any other computer. However, don't be fooled by its simplicity — the wallet contains a highly secure chip that is able to protect your device from most notorious hackers. It is not connected to the Internet, so it keeps your crypto completely off the grid and secures it.

Since the article specifically focuses on multicoin Bitcoin wallets, it is worth mentioning that the Ledger Nano S supports a wide array of cryptocurrencies — from the major digital assets (Bitcoin, XRP, Ethereum) to little-known altcoins that struggle to crack into the top 500 on CoinMarketCap. Overall, this wallet supports 712 assets. It is worth mentioning that Ledger is constantly expanding the number of available coins, with IOTA (MIOTA) being one of the most recent additions (furthermore, the wallet has recently made an announcement about its plans to add more stablecoins).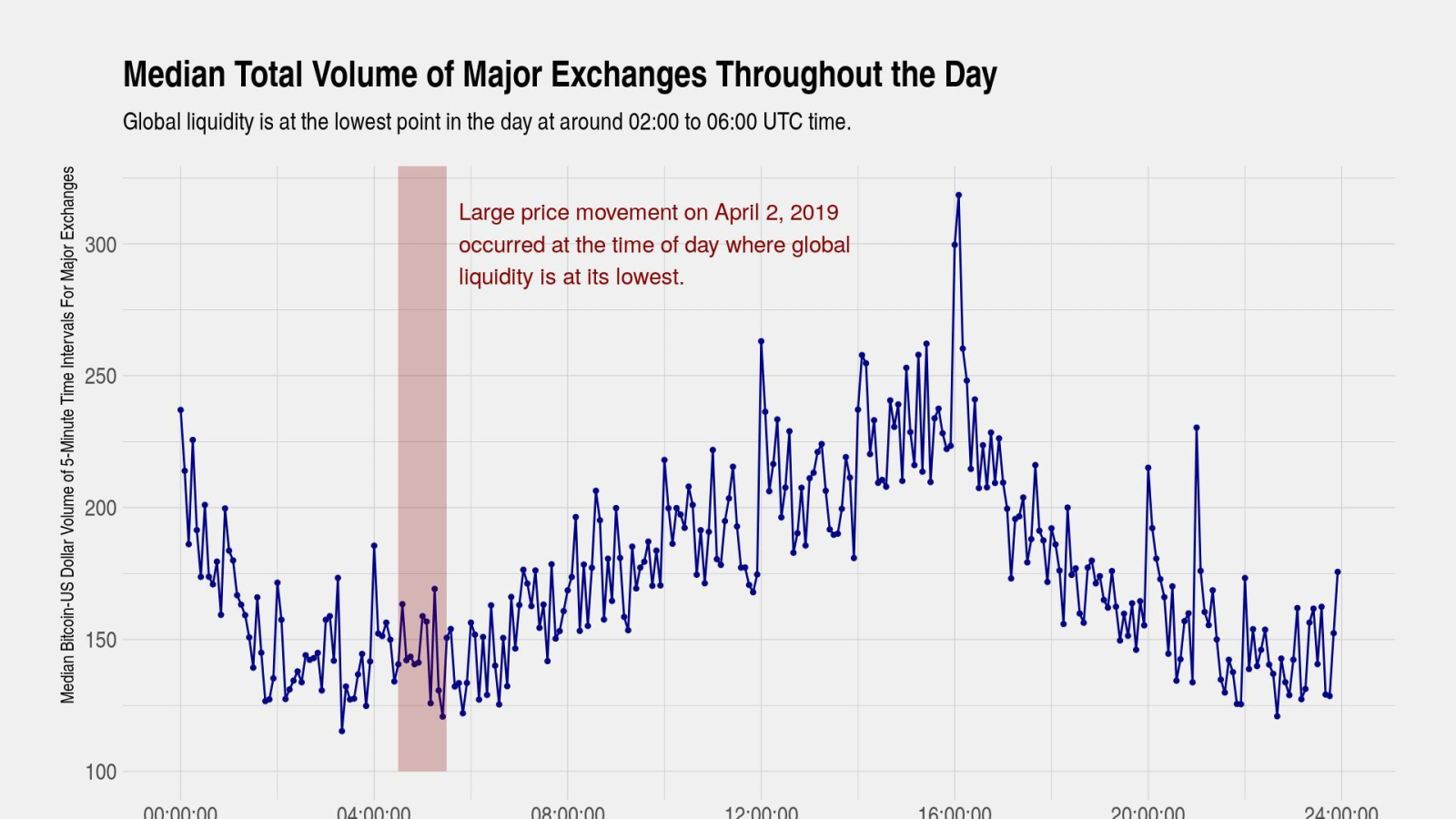 You also have a piece of paper with a 20-word recovery phrase that is essential if your device is lost or physically damaged. If you have access to this phrase, you can easily recover your wallet from anywhere in the world.

NB! Of course, setting up a robust PIN is also important so that nobody can get unauthorized access to your device.

Once you've completed all the security steps, go to the Ledger Nano S website, and pick the corresponding cryptocurrency wallet for your currency.

Other hardware wallets to consider:
Trezor One (yet another hardware wallet that acts like a USB drive. Similarly to ledger, it supports a huge amount of coins);

Keepkey (supports multiple coins, but this is the most pricey option, and there are scathing reviews that criticize Keepkey's software malfunctions and a bad customer support);

SafeT-Mini (has an attractive price tag, but its limited functionality will be a turn-off for investors);

CoolWallet S (a nice alternative to Ledger Nano S since it's wireless and waterproof, but it doesn't support as many altcoins as its major competitors).
Exodus
Hardware wallets are perfectly suitable for those who own a sizeable amount of crypto that needs a robust protection. The price of Ledger Nano S (or Trezor) pales in comparison with the amount of money you can lose if a hacking attack does happen. However, only few beginner-level investors will bother ordering and setting up a hardware wallets, and that's where semi-cold client-based wallets in the likes of Exodus come in handy.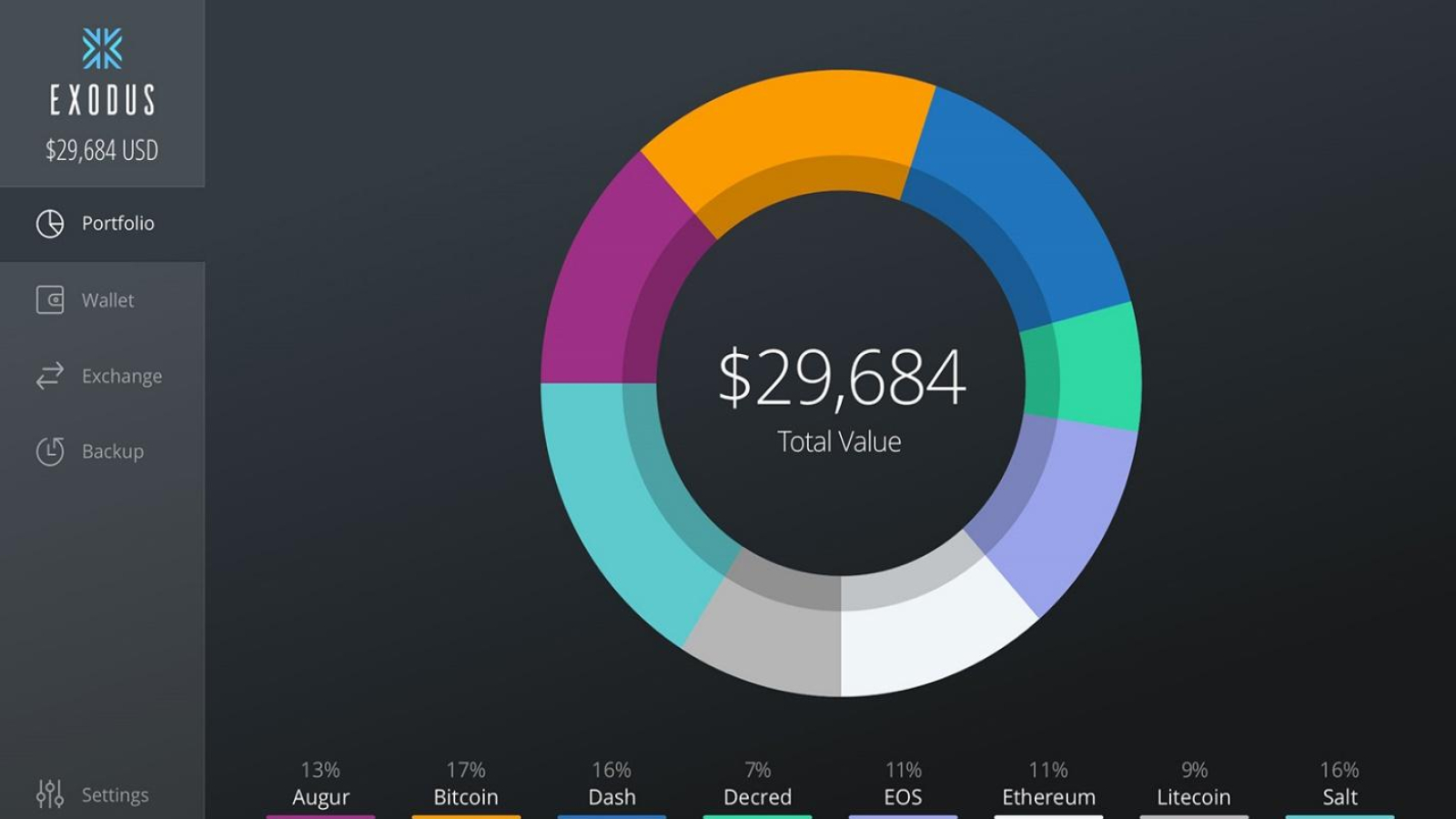 Image by Exodus
Exodus is one of the best ways of diversifying your cryptocurrency portfolio — it has 85 digital assets, including Bitcoin, Ethereum, Tether USD, 0x and others. The drop-down window in the Exodus wallet displays every coin along with a short description that would allow users to make their investment decisions from the get-go. Furthermore, there is an inbuilt Exodus/Shapeshift exchange option for directly exchanging numerous assets.

The interface of this app is straightforward: the circle diagram gives you a visual breakdown of what your portfolio looks like. As the developers themselves state on their website, the key purpose behind this wallet was to remove the 'geek requirement' and make cryptocurrencies accessible for anyone.
Jaxx
Jaxx is yet another contender when it comes to choosing the best multi-cryptocurrency wallet. Its major competitive advantage consists of its cross-platform support — it can be easily downloaded on your phone or even function as a super-simple Google Chrome extension (there are eight supported platforms in total). With that being said, there is hardly any wallet on the market that can compete with Jaxx in terms of its versatility.

Just like Exodus, its main competitor, Jaxx supports 85 coins in total (Huobi (HT) was one of the most recently added tokens).

However, not everything is exceptionally good about this wallet — numerous users claim that it is too buggy to be their primal choice, so they choose to stay away from the subpar product.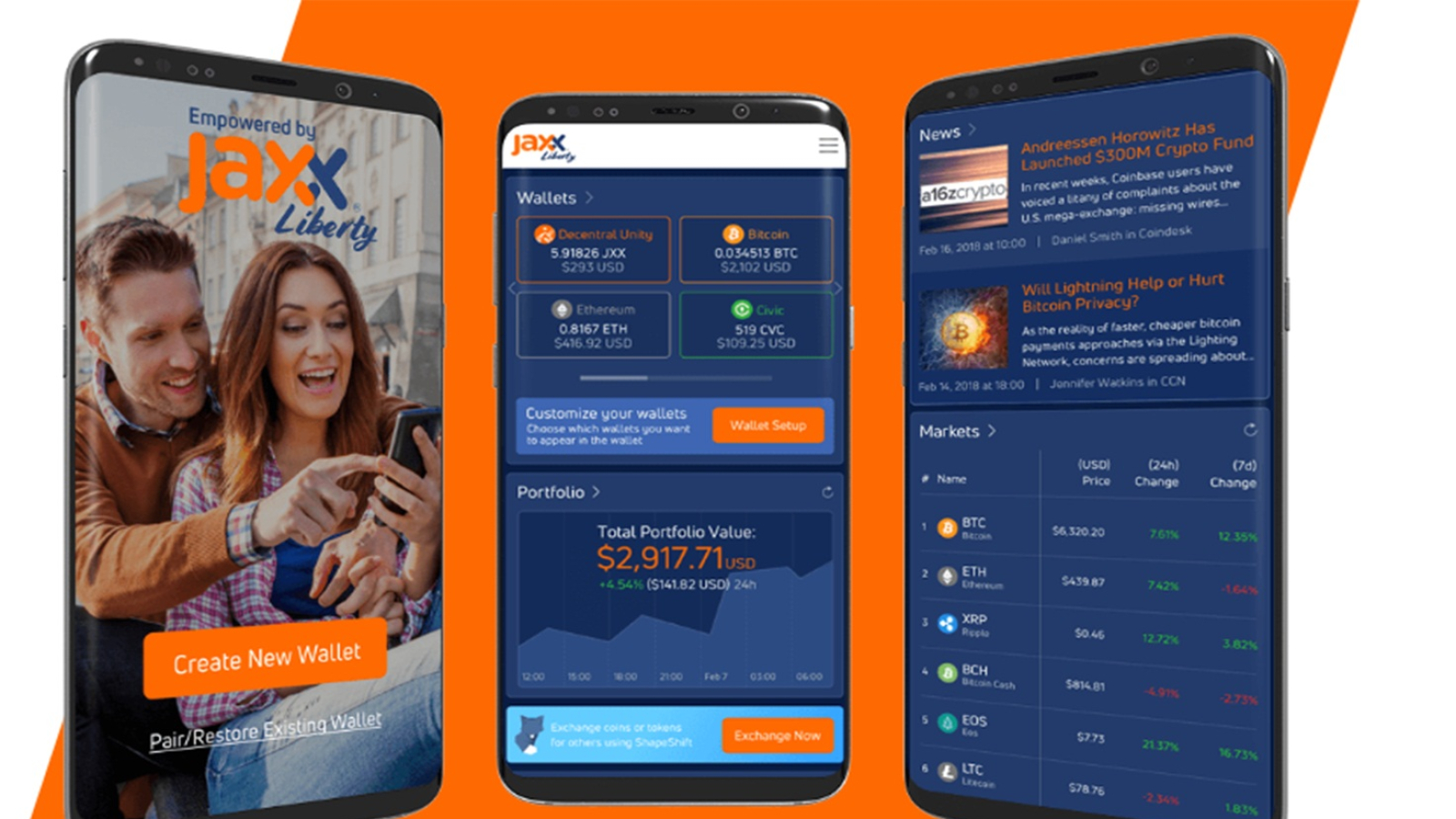 Speaking of security features, the Jaxx wallet generally has a high level of security (and it generates a seed phrase for your wallet to be restored in case you lose your assets). Still, back in June 2017, around $400,000 was stolen from the wallet due to a major security vulnerability, which eventually took a toll on the wallet's reputation. On the flip side, the wallet is not designed for storing large amounts of crypto, and Jaxx CTO Nilang Vyas warned again using their security model if they are 'not comfortable' with it.

"Please please please, if you do not feel comfortable with our security model do not use our products," Jaxx & Decentral CTO Nilang Vyas.
The bottom line is that both Jaxx and Exodus are professional apps, but you may want go with Exodus for extra-security or go with Jaxx for extra-versatility.
Coinomi
Coinomi is a multi-cryptocurrency wallet that boasts one of the broadest ranges of digital assets on the market (it supports a whopping number of 507 coins). But here's more: this number can be increased by you personally since Coinomi allows adding any Ethereum-based token.

Coinomi has also integrated ShapeShift and Changelly, which lets users convert their assets in a snap.

The wallet is characterized by exceptionally strong security features, and some users even suggest that is good enough to pose as an alternative to cold wallets. While this claim might be far-fetched, it does security encrypt wallets and protects private keys from being compromised by third parties (the private keys are not stored on the device itself).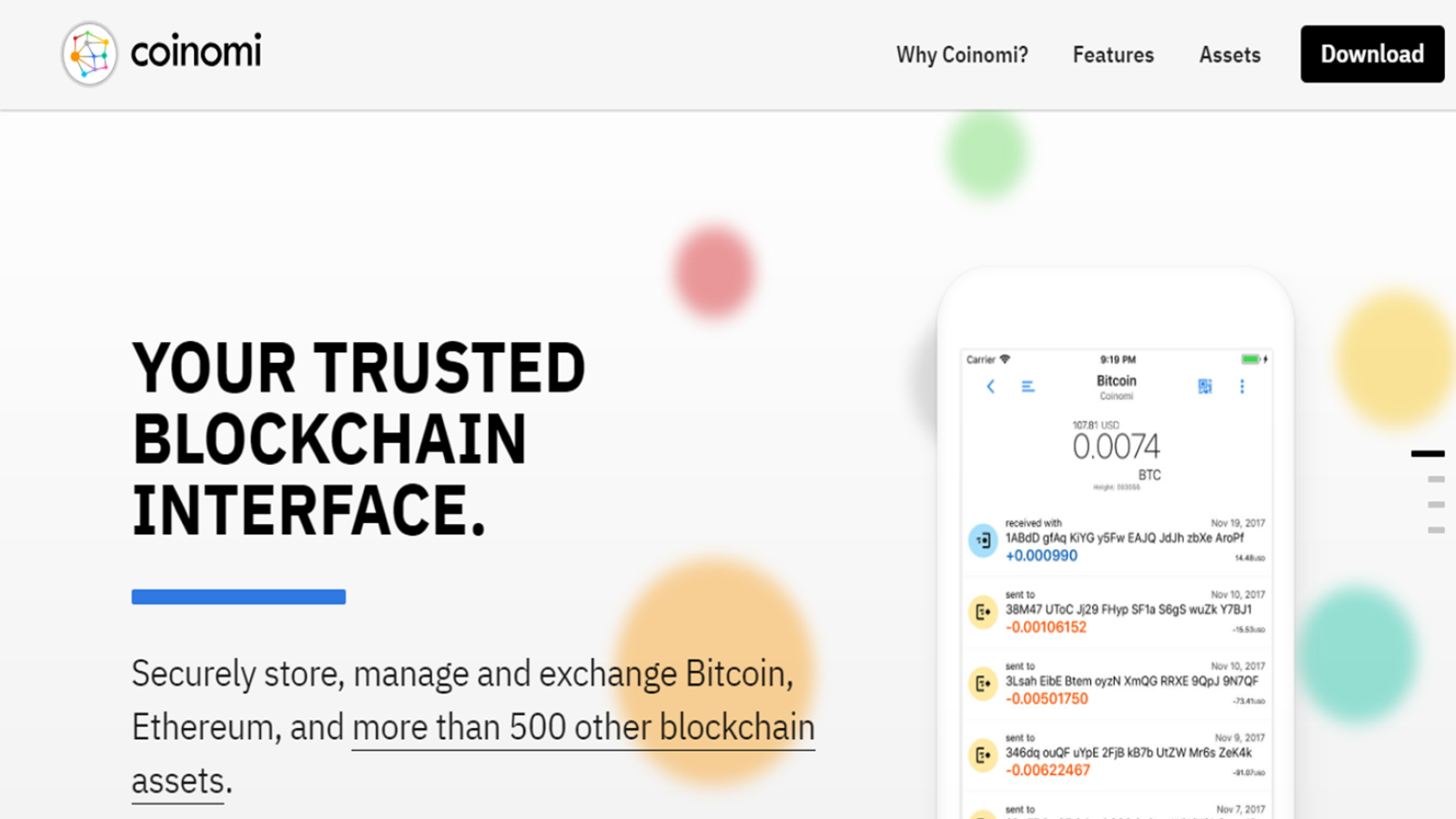 Unresponsive customer support is one of the major downsides of this wallet, with plenty of users complaining about the support team being reluctant to answer some of their requests. Another concerning issue pertains to the level of transparency that is associated with this app — many investors didn't like the decision to turn Coinomi into a closed source project. Notably, both Jaxx and Exodus are also close source. Coinomi's CEO claims that the move was necessary in order to prevent hackers from stealing funds with the help of 'malicious clones'.
Coinbase
While we are wrapping up our top 5, we've come up with one more option: Coinbase Wallet. First and foremost, Coinbase is a leading crypto-to-crypto exchange spearheaded by Brian Armstrong. However, the fintech behemoth also offers a slew of additional products in order to expand its dominance in the cryptocurrency space. Coinbase Wallet is one of the salient examples.

It is important to mention that you can use wallet even without having an account with the Coinbase exchange since we are dealing with a standalone product. Coinbase Wallet is decentralized, which essentially means that the exchange will not be responsible for safely keeping your private keys.
Coinbase Wallet certainly lags behind such platform-heavy competitors as Jaxx, but those who are already signed up with the exchange can easily use its web version instead.
There is also a very convenient security feature that is called Coinbase Vault that requires users to set up to five keys, and there a 48-hour waiting period for your funds to be withdrawn.

Generally speaking, Coinbase has zero competition when it comes to security features, since this is an $8 bln exchange with a flawless reputation that hasn't experienced a single security breach since its very inception back in 2011. Furthermore, it ensures all held funds.

However, those who look for a large number of altcoins will most likely be disappointed since only few assets are available on Coinbase (in all fairness, such a predicament is typical for all fiat-to-crypto exchanges). No exotic coins for you!

The ultimate assessment:
| | | |
| --- | --- | --- |
| The wallet | Our score | Our consensus |
| | 4.5/5 | The leading hardware wallet may be a perfect option, but not every beginner-level investor is willing to shell out $170 for an additional layer of safety. |
| Exodus | 4.6/5 | Exodus is everything you need from a crypto wallet, but there are always caveats when it comes to client-based wallets. Nevertheless, it's the best wallet for multiple cryptocurrencies. |
| Jaxx | 4/5 | The exceptional versatility of this wallet is overshadowed by security concerns, but it's still a nice option. |
| Coinomi | 4.2/5 | A huge number of supported assets made it our top 5 pick. However, the issues connected to its customer support do not allow us to name it the best cryptocurrency wallet. |
| | 4.4/5 | The product of one of the biggest names in the cryptocurrency industry is a get-go option for any investor, but the number of supported coins makes you wish for more. |
Stay clear of crypto scams!
Despite the fact that some websites include Cryptonator in the list of the best (!) crypto wallets, a quick Google search will tell you that this is an outright scam — many users complain about unwithdrawn funds and lack of customer support.

We've covered only some of the most popular cryptocurrency wallets on the market that support multiple coins, but keep in mind that a new wallet is probably already in the development at the time of writing this article. We do not encourage you to be shooed away by any crypto wallet — the majority of devs do have good intentions. In order not to get burned, make sure that you check the reviews before actually using the wallet. There is nothing wrong about being extra cautious about a wallet that is only entering the crypto market when your holdings are involved. Needless to say, you should prioritize third-party wallets that do not use your private keys.

U.Today wishes you a safe and productive hodling experience!