Since cryptocurrency made waves in 2017, investors started taking interest in online exchange platforms — this is the sole mediator between the buyer and crypto companies. One of the world's largest crypto brokers, Coinbase, stays at the top of popularity, but there are some safety concerns popping up here and there. Is the platform still worth our trust? What its strong and weak sides are? It's high time to observe Coinbase in the minutest details.
Coinbase Review. Should I buy coins on it?
Coinbase was established by Brian Armstrong and Fred Ehrsam in San Francisco in 2012 and now operates in over 30 countries worldwide. As a wallet, it's available in 190 countries. By this moment, Coinbase is being used by 12 mln customers and has already served to convert $40 bln in digital currencies. In 2013, it was the largest cryptocurrency exchange in the world and the best-funded Bitcoin startup. The key feature making it different is the opportunity for users to trade their currency at a set price according to the market value. Besides, it's one of few online exchange platforms that accept credit cards.
Coinbase offers two basic products:
Coinbase Pro (formerly GDAX) — a professional asset trading platform.

Retail brokers of cryptocurrencies (Bitcoin, Bitcoin Cash, Ether, Ethereum Classic, and Litecoin) for fiat currency.
Additionally, developers and corporate users can exploit its proprietary API to build their applications on the basis of Coinbase Pro and accept crypto payments. In March 2018, Coinbase Pro started supporting ERC-20 tokens. No IPO will be launched, despite the rumors.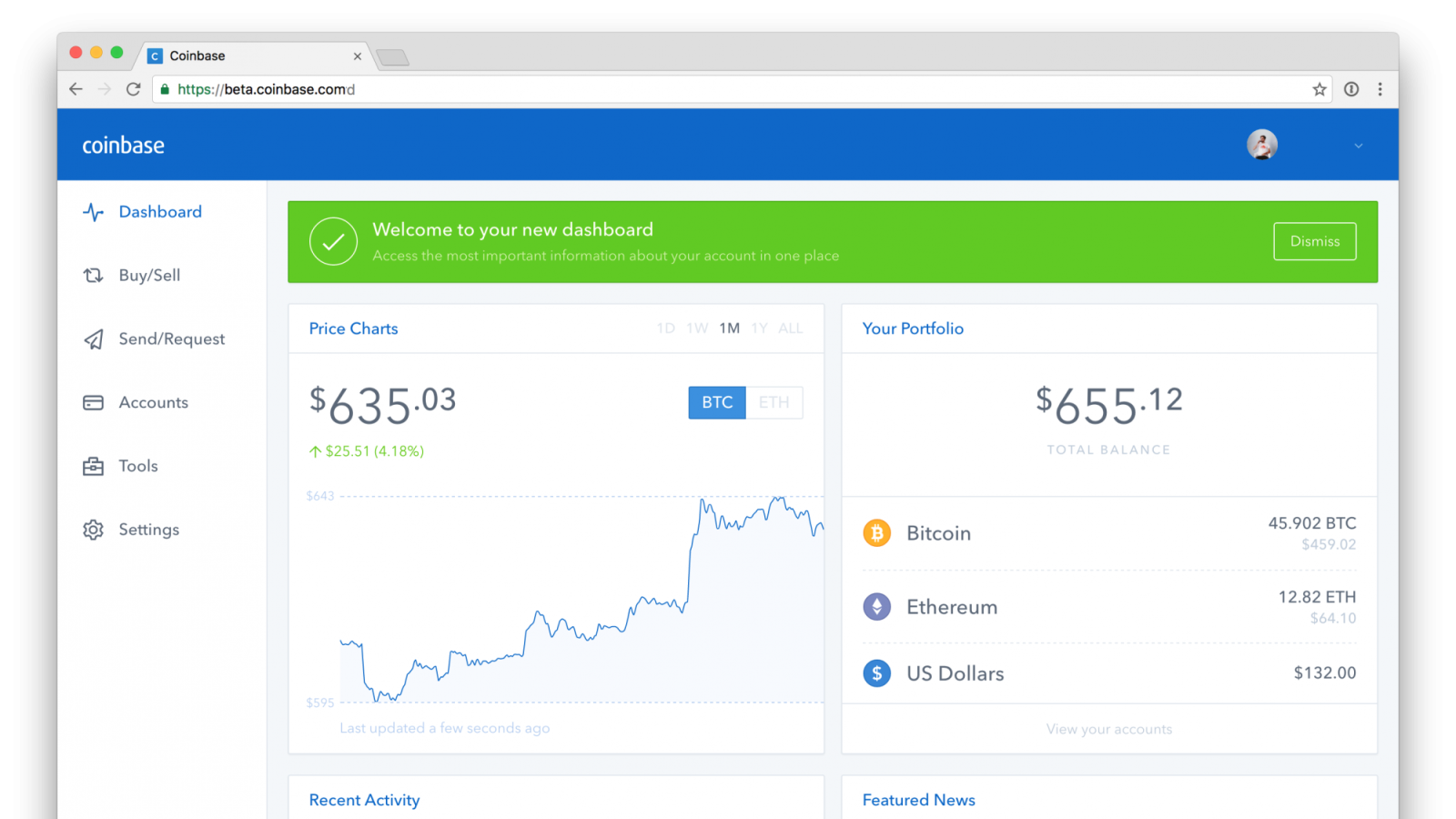 To dispel your safety doubts, it should be mentioned that Coinbase Pro is officially registered and fully certified. It is supported by key cryptocurrency companies and investors: Andreessen Horowitz, Rabbit Capital, The NYSE, Union Square Ventures (USV) — the list of contributors can go on and on.
Who Is Recommended to Use Coinbase Pro?
People from the USA, United Kingdom, Canada, Singapore, and some European countries (Austria, Belgium, Bulgaria, Croatia, Cyprus, Czech Republic, Denmark, Finland, France, Greece, Hungary, Ireland, Italy, Latvia, Liechtenstein, Malta, Monaco, Netherlands, Norway, Poland, Portugal, Romania, San Marino, Slovakia, Slovenia, Spain, Sweden, Switzerland).

Those who use credit cards and need fast service (instant exchange for cardholders is guaranteed).

Investors who work with a few popular cryptocurrencies (BTC, BCH, ETH, ETC, ZRX, LTC).
Although Coinbase Pro managed to build a solid reputation during the five years of its existence, the platform's image was recently tarnished by negative reviews: this year, the amount of complaints has risen by 100%. The vast majority of feedbacks said that "money was not available when promised." So, what's the catch?
Is Coinbase Pro safe? Past Issues
Although Coinbase Pro was never implicated in any hacking scandals, a few other serious issues took place.
For instance, in February 2018, Coinbase Pro representatives said that the personal data (taxpayer ID, name, birth date, address, and historical transaction records) of some platform users collected in 2013-2015 will be handled to the IRS within three weeks. That is a direct violation of privacy.
Allegations of fraud were sent in summer 2018, too. During the January-June 2018 period, the SEC (Securities and Exchange Commission) and the California Department of Business Oversight received over 134 pages of complaints. Most of them look like: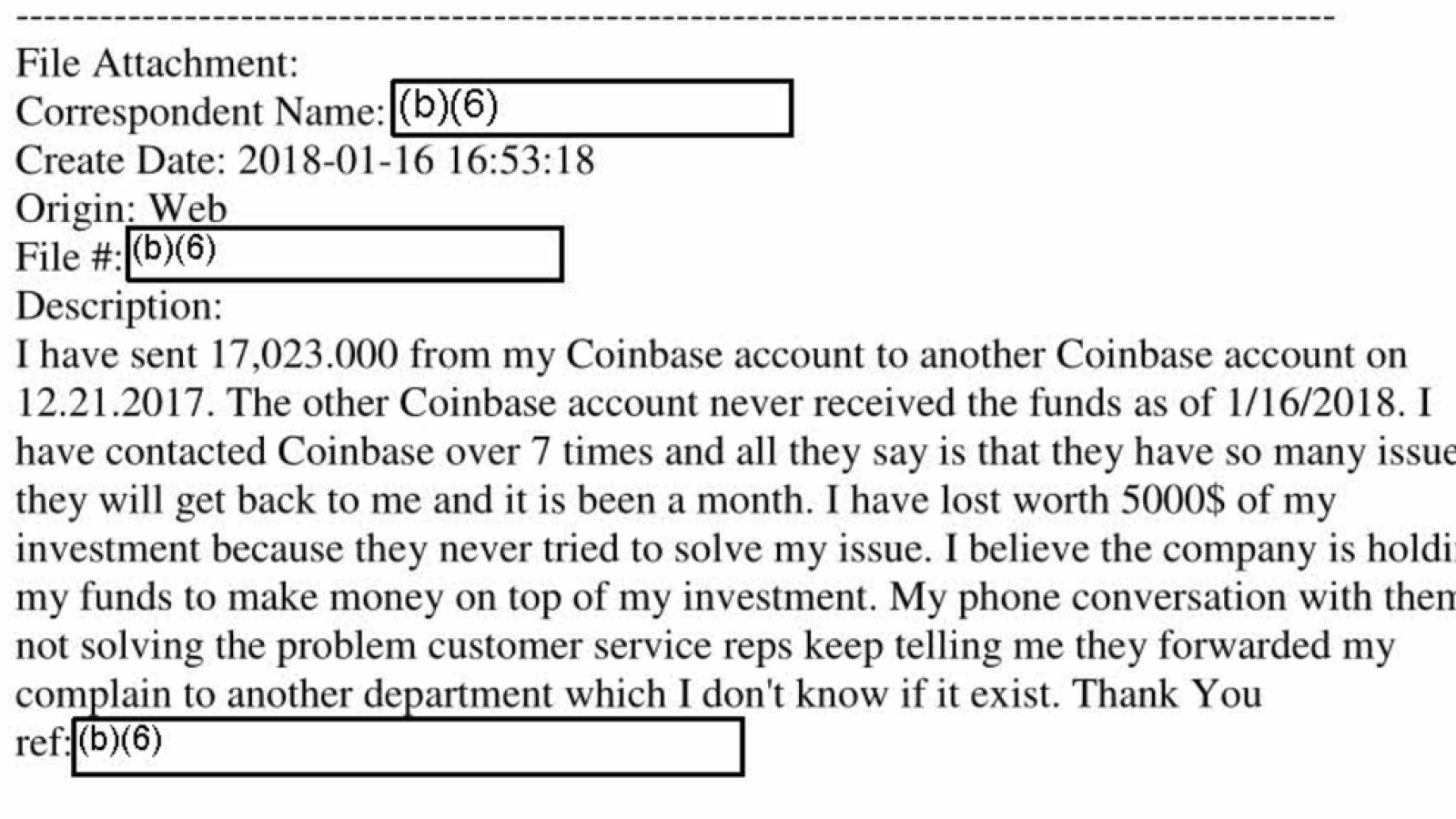 As practice shows, bombarding the customer support with tickets and messages isn't of much help: despite the fact that Coinbase Pro has recently ramped up its customer service, the team appeared to be unprepared for the flow of issues.
The users from CIS and Russia seem to be enraged, too. Their Coinbase Pro wallets get eventually blocked together with the local IP addresses. The process of withdrawal may take weeks or even months.
People continue expressing their frustration, while Coinbase Pro spokesman said that due to the growing interest in cryptocurrency, the company finds it challenging to handle an enormous amount of transaction requests. There were no comments upon the allegations of lost funds — Coinbase Pro privacy policy "prohibits commenting on specific customer cases."
Coinbase Pro is working hard on restoring customers' trust, and time will show whether the victims of blockage will receive their funds back.
How Does Coinbase Work? How to Use Coinbase?
As it has been mentioned, Coinbase performs several functions: this is an exchange platform, a wallet, and a trading platform. Let's take a closer look at these features.
Brokerage service for selling and buying cryptocurrencies. Having a friendly user interface, Coinbase Pro allows performing transactions quickly even for starters. However, your assets aren't under your control — it's like putting money to a bank account. No private key or a seed phrase is provided.

Coinbase wallet is available both on the website and as an iOS or Android application. The wallet keeps the private keys on the user's device.

Solutions for merchants allow accepting cryptocurrencies on an e-commerce website with the help of a dedicated plugin. This plugin is supported by a few popular CMS (Shopify, Magento, and WooCommerce).
Together with Wilshire Phoenix, Coinbase Pro will launch the new investment instrument soon.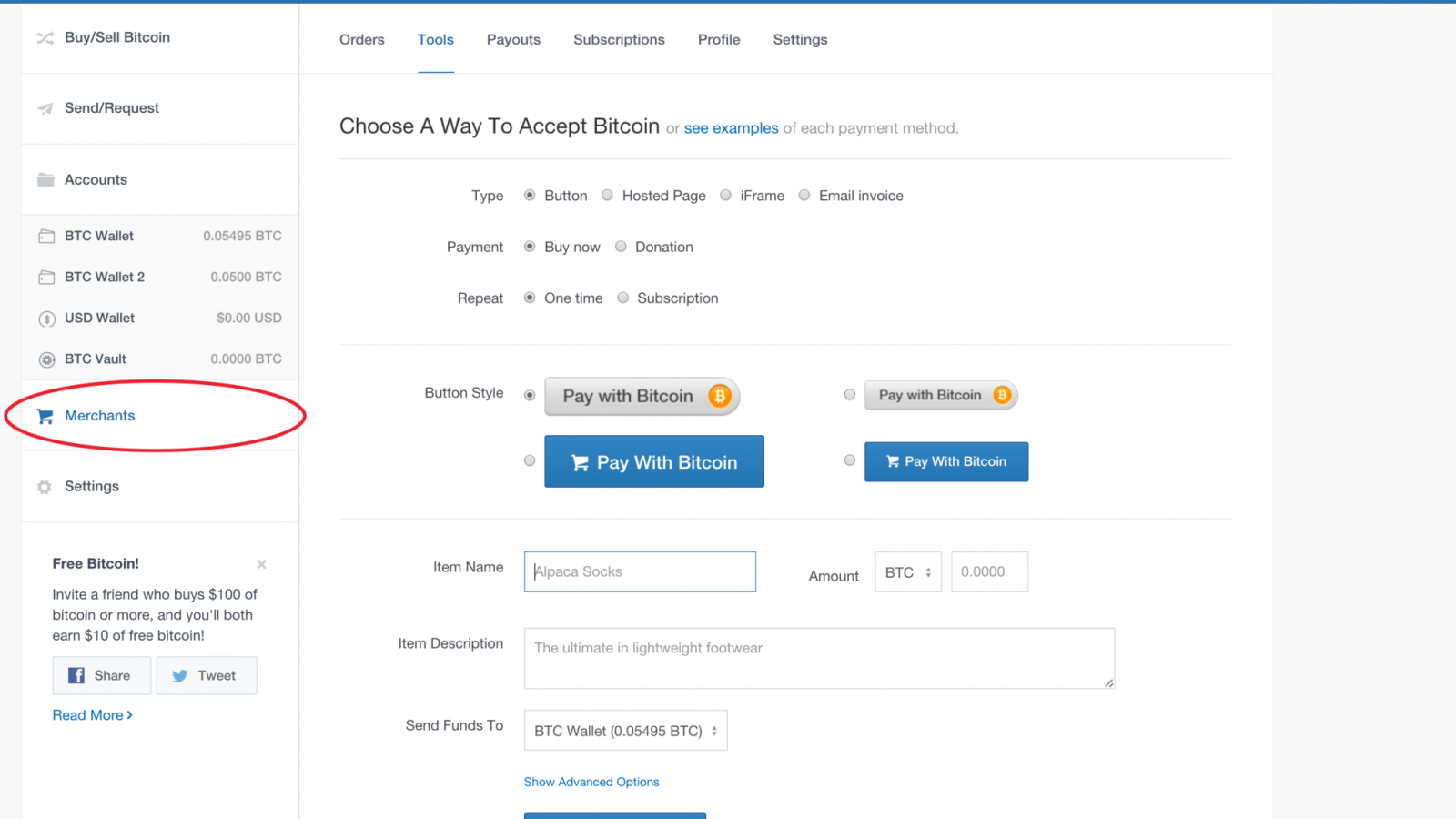 Ways of Purchasing Cryptocurrency on Coinbase Pro
Coinbase Pro interface is intuitive and comprehensible: registering on it won't take much time and effort. As soon as you get a new account, you will need the currency to trade with. Want to buy the digital assets for fiat currency? There are several payment options available: wire transfer (including ACH in the US and SEPA in the EU), credit cards, and debit cards.
As soon as a deposit is made, the user can perform cryptocurrency transactions. You can either find suitable deals and act as a taker or make your own exchange request and be a maker. In most cases, the requests are handled instantly. Please note that the deal makers in Coinbase Pro aren't charged commissions or fees.
There are several types of requests:
| | |
| --- | --- |
| Regular orders | Instant purchase of cryptocurrency for the current price. Set the required amount of coins and click Place Buy/Sale Order. |
| Limited orders | Cryptocurrency is traded for the user's price, not market's. The trader can set up the desired cryptocurrency price, and as soon as it reaches this threshold, the order will be opened. The option is available for both makers and takers. |
| Orders with stop signals | This option is helpful in cases when the price of cryptocurrency suddenly goes down. As soon as the cryptocurrency price reaches the minimum limit, the order is opened. |
Aside from the trading platform, Coinbase Pro offers analytical tools for comparing the prices: graph charts, indicators, etc. That allows holding finger on the pulse and making smarter decisions.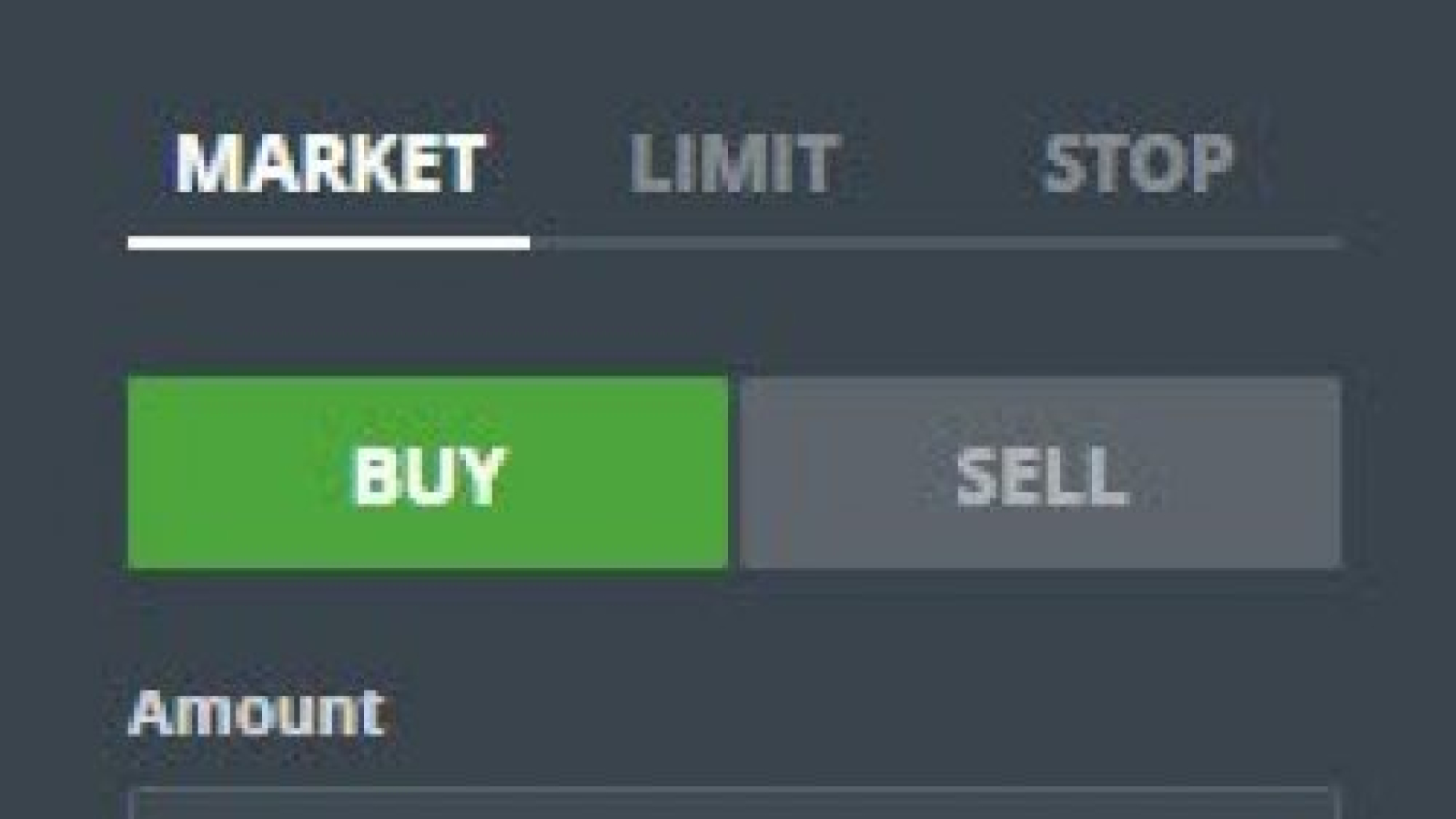 Coinbase Pro Fees
When it comes to Coinbase Pro fees, user's opinions are contrary. Some claim that the commission is more than agreeable, while others claim the platform robs the clients. The percent of commission depends on the withdrawal/deposit method used. Thus, bank transfers are charged with 1.5-percent fee and take a few days, debit or credit card payments are processed instantly but charged with a 4-percent fee.
The basic market price on Coinbase Pro is +0.5 percent. Flat fees are applied for transactions below $200:
For transactions ≤$10, the fee is $0.99.

For transactions from $10 to ≤$25, the fee is $1.49.

For transactions from $25 to ≤$50, the fee is $1.99.

For transactions from $50 to ≤$200, the fee is $2.99.
Money deposit through ACH transfer is free, all other methods are charged $10. The transactions between Coinbase Pro accounts are totally free. The outside transactions to your Coinbase Pro account will require three confirmations to have assets sent to your account.
As you see, the Coinbase Pro fee structure is somewhat tricky. You should learn the rules before starting the game. At the same time, it cannot be called the most expensive solution: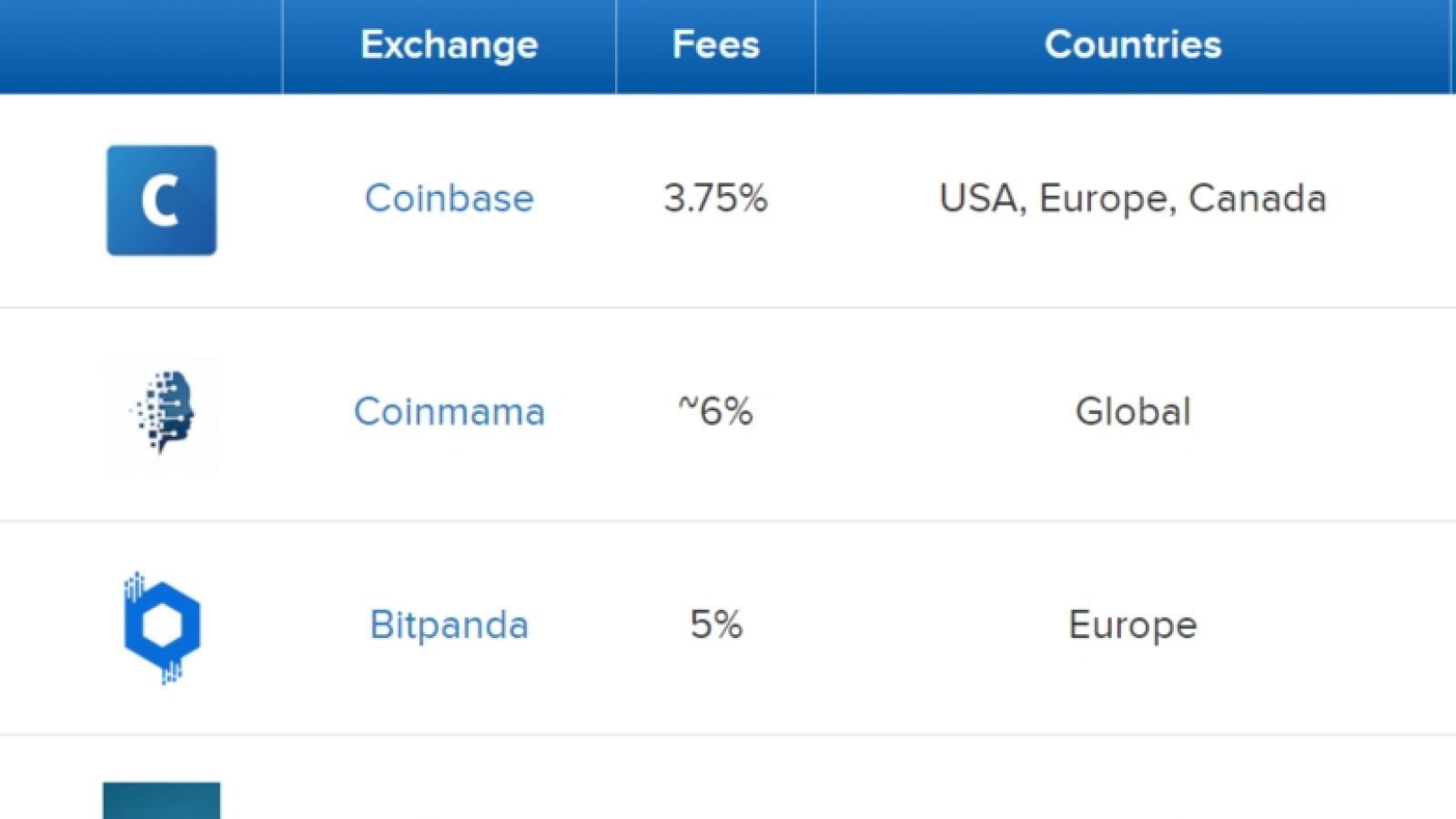 Transaction Limits & Liquidity
Just like fees, the transaction limits can vary according to the user's location, the payment option, and verification status. The user can get an insight into the restrictions by checking the account limit page.
Verified US customers have the $25,000 per day limit and the following weekly limits:
$5,000 Buy through Bank Account;

$50 Buy through Credit/Debit Card;

$50,000 Sell.
Note that unverified traders with a credit card can purchase Bitcoin worth only $1,000 per week. European customers are allowed to keep up to €30,000 in their account at any time.
In order to raise the limit, users should undergo the verification process that includes providing your phone number with some personal information and uploading and verifying their photo.
Coinbase or Coinbase Pro?
Coinbase Pro, formerly called GDAX, has a lot of advantages. While the regular Coinbase brokerage platform simplifies the process of trading, Coinbase Pro is tailored for more crypto-savvy users, featuring 22 trading pairs. The platform renders a myriad of advanced trading instruments: real-time order books, trade histories, and charting tools. It also allows trading BTC, ETH, LTC, BCH, and ZRX, but the fees are way lower, and customers can enjoy advanced trading features.
Coinbase Bitcoin Wallet Review
In 2019, Coinbase launched the proprietary mobile wallet services. The wallet allows users to send, receive and store cryptocurrency (BTC, ETH, LTC). It also stores the private keys on the user's device, and 98% of user's cryptocurrency is stored in cold wallets to prevent stealing.
The process of sending assets from your wallet is quite easy:
Sign in and open the "Send" tab in your account.

Select the wallet to send money from and the cryptocurrency.

Enter the amount of currency.

Enter the address where you send the funds to.

Push "Send."
For receiving cryptocurrency, you should do the following: go to the "Accounts" tab, find the wallet where the cryptocurrency should be sent, and click "Receive."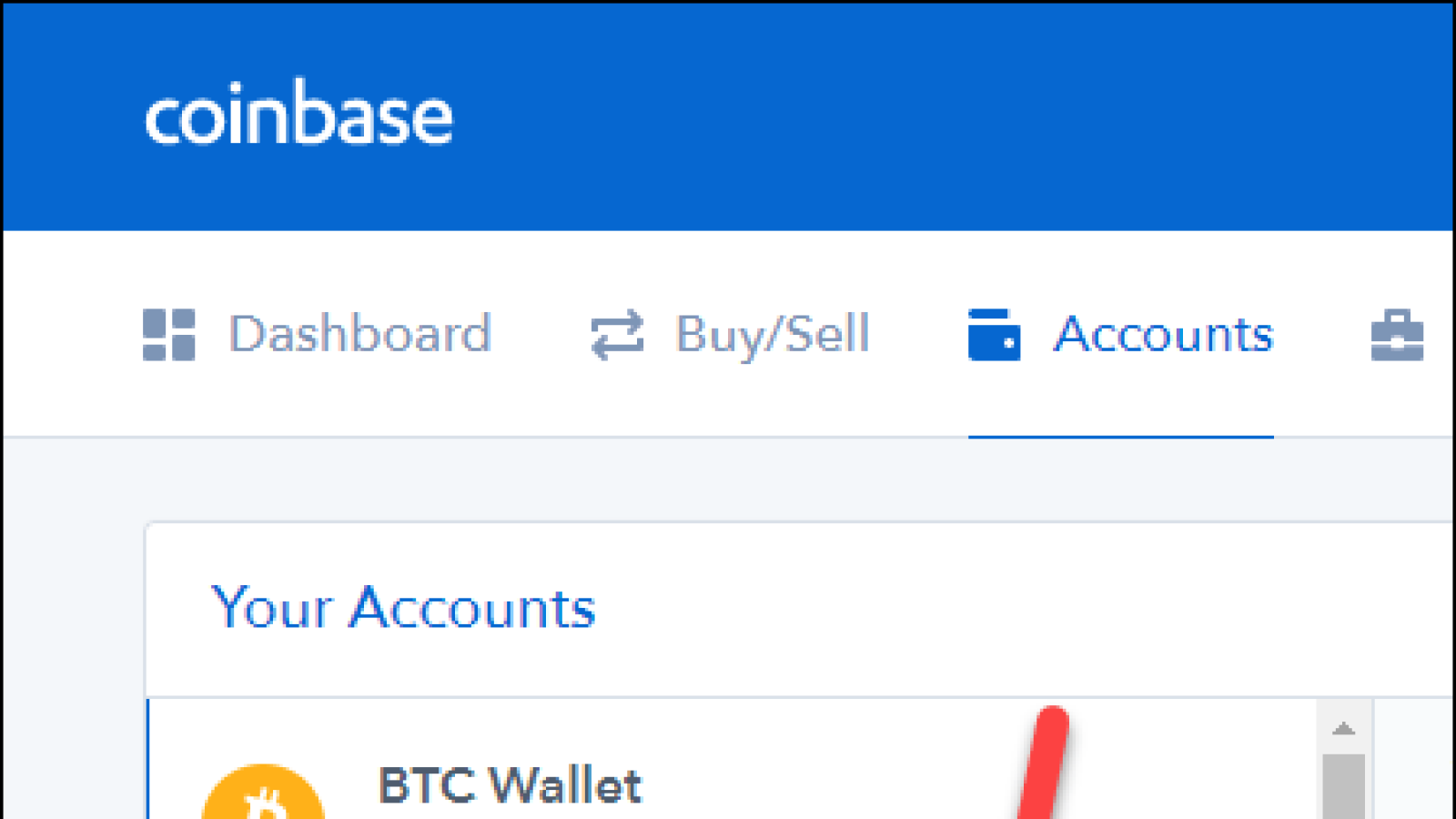 Please note that Coinbase tracks where customers send their funds and can ban users for certain activities and transfers. For instance, your account might be shut out for sending crypto to LocalBitcoins, gambling websites or making darknet purchases. As a rule, users with closed accounts get paid back to the bank accounts.
Setting up a Coinbase Account
The process of the Coinbase account management is relatively simple even if you don't have any experience working with online crypto exchanges. The website interface is user-friendly and intuitive: the main menus allow for managing services quickly.
Create Account
To register on the Coinbase website, you need to type your name and surname and set up a password. You should also specify your email address and click on the activation link sent to you in an email message. You can also go through the verification process upon every login session using your mobile phone.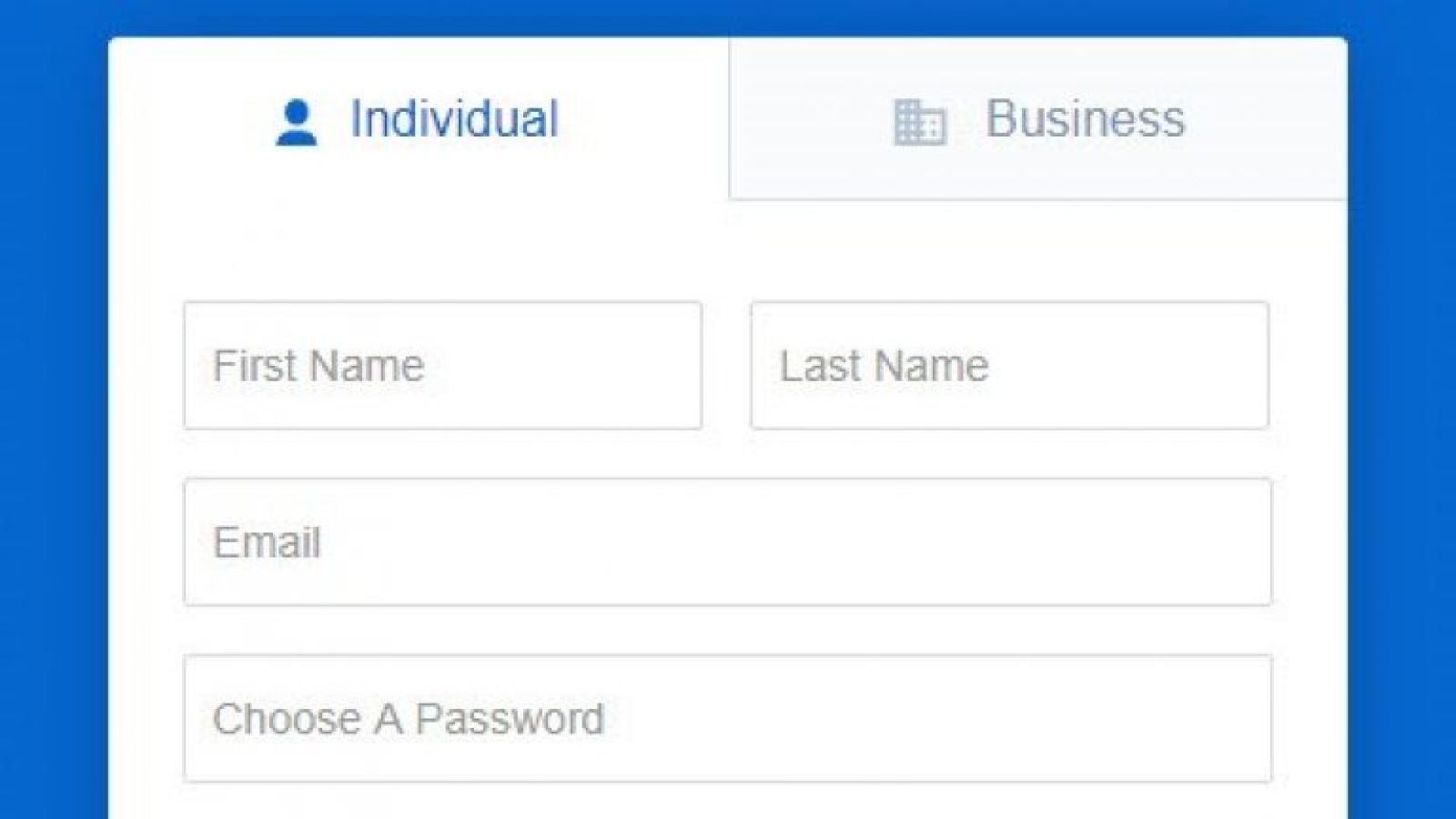 Coinbase partners with legal entities. Users can exploit the platform either as institutional investors or as merchants. After registration, you should define the suitable payment method.
ID Verification
To go through a verification process, a trader needs to upload the scanned copy of their ID or passport or any other document that verifies their personality.
Additional Security
To ensure the safety of users' data and assets, Coinbase leverages 2-factor authentication process: you can either verify your personality via SMS to your phone or with the help of third-party apps like Duo or Google Authentication. Users' private keys are encrypted. If Coinbase detects a new IP address attempting to access your account, you will be notified about that. Being one of the first to receive US regulatory approval, Coinbase uses Anti-Money Laundering and KYC practices.
However, if your account gets compromised, Coinbase doesn't bear any responsibility for the funds you lose. For this reason, it's highly recommended to store the cryptocurrency offline in a wallet that only you control. Make sure that you use a strong password.
Adding Payment Methods
As it has been mentioned, the following payment methods are available:
bank transfer;

credit or debit cards;

Singapore Bank Payments.
In order to use a payment method, you need to go to your account, select the Payment methods page. Click "Add a credit/debit card" and enter the card information. Make sure that the billing address for the card is correct.
Depositing/Sending Cryptocurrency
A deposit can be done via credit/debit cards and bank transfers, but the payment methods and conditions can vary from country to country. To send cryptocurrency, go to Account → Payments → Send. You will need to specify the payment option and the address.
CoinBase FAQ
What Payment Methods Can You Use on Coinbase?
Coinbase users can deposit and withdraw money using wire transfers and debit/credit cards. Please note that the outside transactions should be confirmed three times before they will show up in the user's account.
The US users can also order The Shift Card. This is a VISA card that allows Coinbase users spend Bitcoin from their account in any place where VISA is accepted. The card costs $10, but there are no transaction fees for any domestic purchases and no fees for BTC/USD conversion.
Does Coinbase Support Your Country?
At the moment, Coinbase supports the following countries: Austria, Belgium, Bulgaria, Canada, Croatia, Cyprus, Czech Republic, Denmark, Finland, France, Greece, Hungary, Ireland, Italy, Latvia, Liechtenstein, Malta, Monaco, Netherlands, Norway, Poland, Portugal, Romania, San Marino, Singapore, Slovakia, Slovenia, Spain, Sweden, Switzerland, United Kingdom and the United States.
Is Your Privacy Kept While Using Coinbase?
To protect users' privacy, Coinbase uses SSL encryption, 2-factor authentication, and a few other security practices. The funds can be stored in Coinbase Vault — a cold wallet with the private keys available for the user only.
How Fast Does Coinbase Send You Bitcoins?
Withdrawal of funds to your bank account by SEPA transfer takes 1–2 business days. Withdrawal with a wire transfer is done by the next business day.
Customer Support
Customer support service is where the Coinbase pitfalls hide. The Internet teems with negative users' feedbacks: customers are disappointed with the ticket system and support agents — they have to wait for an answer for weeks.
Other complaints were connected with the inability to buy or withdraw funds: Coinbase appeared to be unready for the meteoric rise of the number of users. That caused eventual downtime. Since September, some users are unable to withdraw their cryptocurrency, and their cases are pending.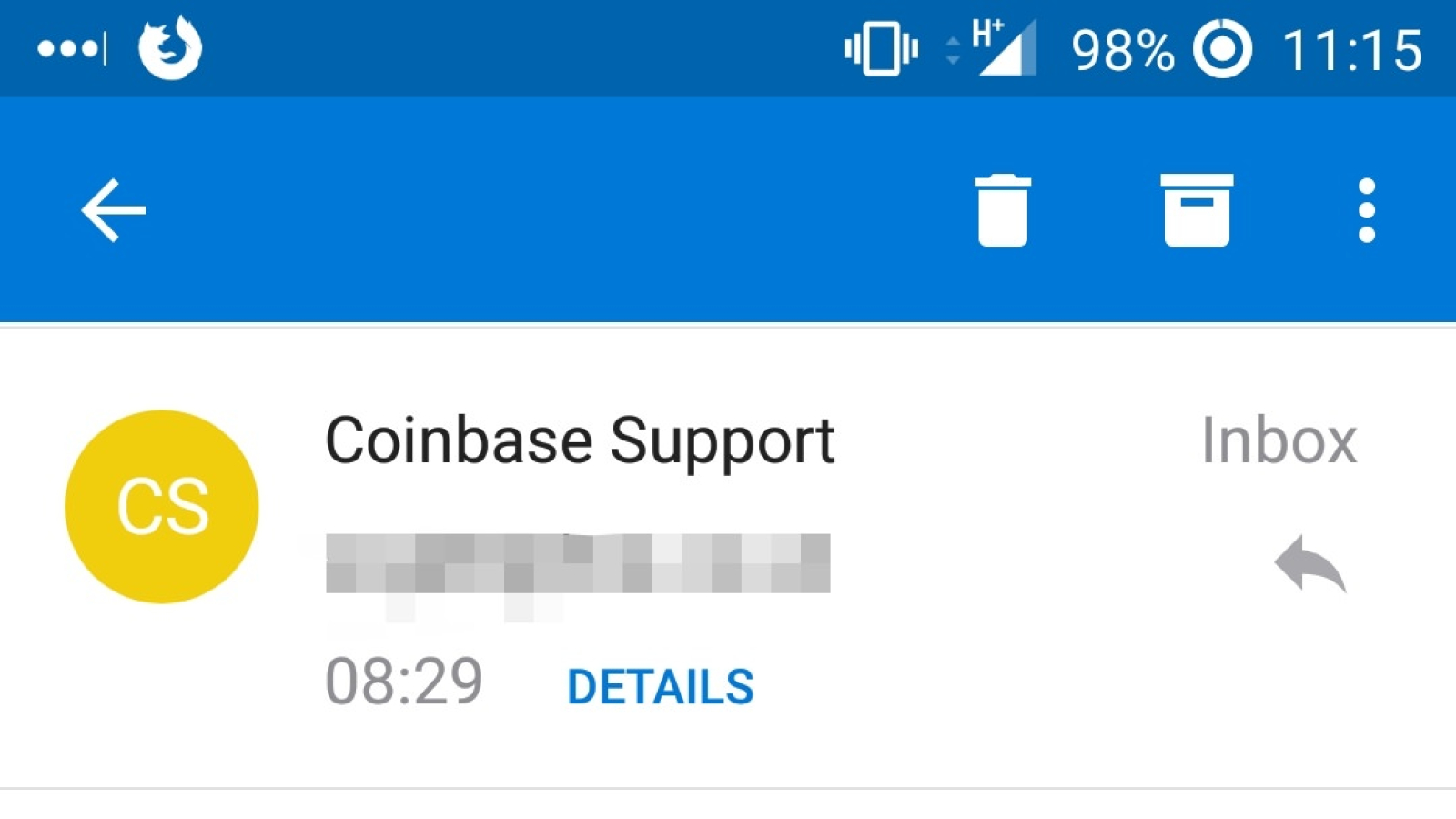 Conclusion
To sum it up, Coinbase is easy to use: its team has managed to make the navigation process flawless. Coinbase Pro is perfect for traditional traders as it provides the whole gamut of useful tools. However, it seems like the platform is currently focused on attracting new customers instead of satisfying the existing ones. The number of negative reviews is overwhelming, so Coinbase is definitely not for the faint of the heart.
Yet, if you don't face any issues, the prices and fees are more than agreeable. Coinbase is ideal for buying cryptocurrency. But if you don't want to lose the hard-earned coins, better buy a hardware wallet to store the funds.
To make the final decision, compare the advantages and drawbacks of the platform:
| | |
| --- | --- |
| Pros | Cons |
| Platform navigation doesn't require any specific skills. It's perfect for newcomers. | Coinbase monitors how users spend their money. |
| It allows buying cryptocurrency faster than on many other exchanges. | Coinbase wallet is less secure than a hardware wallet. |
| Both credit and debit card payments are available. | Poorly organized customer support. |
| Low fees. | The choice of cryptocurrencies is severely limited. |
| The company is officially regulated. | No credit leveraging is available. |
| There were no cases of hacking. | |