We have already discussed that ICO investment is a risky venture – most companies don't live up to the hype. However, investors' success depends on how carefully they choose the projects and their foundations. Which Initial Coin Offerings are the most promising? We have done the homework for you and observed the worthiest up-and-coming crypto projects set to rock the blockchain industry boat in 2019.
Why ICOs are still relevant?
Even though Bitcoin is constantly fluctuating, and many blockchain ventures appear to be scams, the blockchain technology continues evolving no matter what. New projects keep popping up, and, believe it or not, you can still find real gems among a pile of stones. Such newly-created blockchains as EOS, OmiseGo, and Neo prove that a useful technical idea coupled with skillful marketing can help projects conquer the market.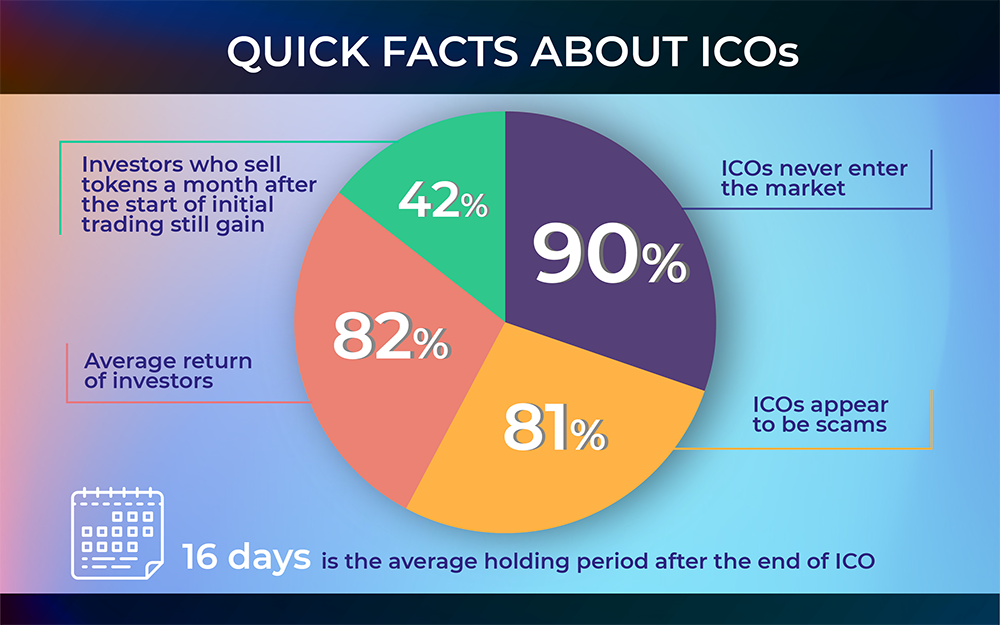 ​ICOs are beneficial for both investors and projects. Startups get essential financial support without paperwork and bureaucracy, while contributors add new assets to their portfolio and get a chance to hedge their risks. To get maximum benefit from their investments, they should analyze:
The team behind the project. Ideally, those should be people with years of experience and expertise in different spheres (crypto, PR and marketing, programming, finance, etc), and previous professional achievements.

Technological implementation and the blockchain's salient features. Probably, that's the most crucial point to consider. The blockchain should address some vexing problems or simplify users' life. Besides, implementation of tokens should be justified – a project that can exist without cryptocurrency in its ecosystem is doomed to fail.

Partners and advisors. Projects that are backed up by authoritative companies and entrepreneurs have bigger chances of making it to the market.

The total amount of issued tokens and their cost. The higher the number of coins, the lower their value will be. XRP is a good case in point: this is the world's second largest cryptocurrency, but its price is about $0.3 due to the enormous supply.
Where to find all this information? In the official sources: the ICO's social media pages, blogs, the official websites and whitepapers, forums, and other channels. Detailed reviews can also be found on ICO Panic.
If you don't have time to surf the Net in search of decent ICOs 2019, our list is here to help. For your convenience, ICOs are placed in chronological order.
card
1. 433 Token
Merging smart contracts and blockchain technology, 433 Token is a soccer-related project that's aimed at making sports transparent and fair. The team behind 433 Token wants to promote blockchain around the world and improve its acceptance. Besides, they want to bridge the gap between young talent, soccer superstars, and fans. This platform will be available for fans and anyone having interest or relation to soccer (the creators aim to cover a target audience of 3 bln people).
Why do we think 433 Token can be a promising project?
The developers have already managed to establish a partnership with Global Legends Series (GLS), a league of retired soccer Legends and the professional players who won championships.

433 Token has gathered the support of Mr. Paul Scholes and Mr. Andriy Shevchenko, who will play the roles of advisors and hosts. If the hard cap is reached, 8 more soccer legends will be attracted.

The soccer industry is larger than you think: today, there are over 300,000 football clubs around the world with 240 mln active players. It is a great stomping ground for blockchain developers – if the technology is correctly integrated, both developers and investors can enjoy enormous revenue.
433 Token will bring fans closer to their idols and improve soccer as both industry and sports activity. Implemented in this sphere, blockchain will open many innovative applications for users.
You can still jump on the bandwagon – its ICO will last till January 10, 2019. One 433 token is worth $0.09, and no harsh investment limits apply.
2. Lynked.World
Lynked.World is a blockchain based ecosystem that allows businesses to create customized applications and forms to provide different services to customers. It will ensure the integrity and authenticity of personal data, documents, and digital identities, being suitable for both individual and corporate users. With the help of this blockchain solution, users will preserve their personal data and get instant access to it using their laptops, Android and iOS devices.
The team has already partnered up with:
Coal India Limited.

State Government Municipalities.

Metal Scrap Trade Corporation Limited (MTSC).

West Bengal Forest Development Corporation Limited (WBFDCL).
The project has a lot of applications. For instance, it can be used to generate configurable forms and QR codes, generate a blockchain-based multifunctional digital access card, establish verifiable communication channels, secure transactions, and implement blockchain-based attendance registration.

​Lynked.World's salient features are the possibility to have a digital identity with a digital wallet, configurable forms, data sharing with QR codes, background verification, a professional platform with a job portal, and so much more. Since it's an open ecosystem, developers will be able to use the API for their own business scenario.
Aside from that, company's strength lies in the potential to disrupt the market and reach the market cap of $100 bln, if the platform gets widely adopted. The team wants to establish partnerships with both private and public sectors.
So, why buy LYNK tokens? First, LYNK will be the only means of payment on the platform – organizations and individual users will need coins to perform operations and get access to premium services. Secondly, the number of coins is limited, so their value will continue growing with the number of users.
The ICO will be open till January 2019, and one LYNK token costs $0.35.
3. Vertex ICO
The Vertex team has decided to establish the first market that combines venture capital experience, trading, and tokenization. Vertex is set to establish an ecosystem that will make ICO investments more profitable. This is the first aftermarket for ICOs that gives potential investors insight into the projects and attracts capital though ICO vetting mechanisms. The tokens will be offered before they're added to exchanges but after the ICOs are over.
That means you can evaluate the ICO's potential according to the results of the crowdfunding campaign. If the hard cap has been reached, and a project raised a lot of hype, you can put hopes in it and invest until the token soars in price.
According to statistics, Vertex already has 47,700+ followers in Telegram and 19,000+ followers on Twitter. The team has managed to attract a lot of investors, and you can be the next one: the ICO will finish on 25 January 2019. 1 VTEX is worth $0.31, so hurry up before it hits the $1 threshold. The minimum investment cap is $50.
4. Gigzi
Gigzi is a financial project that was created to address the three main challenges of cryptocurrencies: high volatility, the vulnerability of users' accounts, and diminishing of wealth.
Gigzi introduces the reliable standard of measure: it enables commerce in tokenized precious metals. Relying on the relative consistency of precious metals, it will protect users against cryptocurrency fluctuations. Backing up crypto-assets with precious metals, users will enjoy the stability of their wealth. All investments will be protected by law. The project is comprised of 4 crypto-assets that will stay unique and yet complimentary functioning on a decentralized P2P network and supported by three basic applications: a Wallet, a Treasury, and an Exchange. Combined together, they will empower users to manage wealth.
Gigzi utilizes a lot of useful technologies, including optical recognition for account access. Using biometric technology, Gigzi will enable users to protect their private keys and use the iris configuration instead.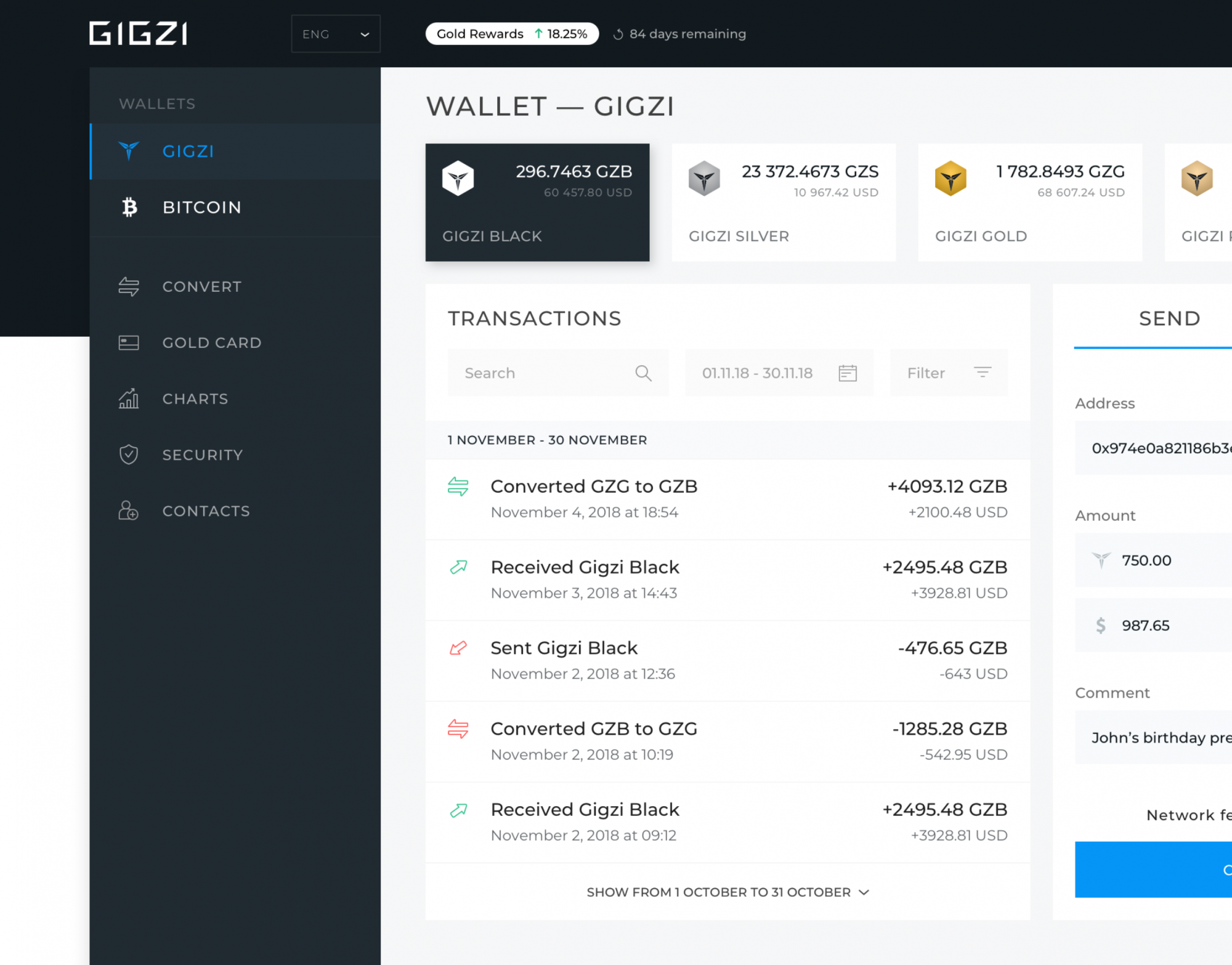 5. SaTT
SaTT is a French blockchain project that leverages a special smart contract for advertisers and publishers. Advertisements and transactions are controlled by modules of autonomous beings secured by the Ethereum blockchain. If there's an Oracle or module failure, the integrity of advertisements will be preserved. The transaction cost will be divided between encryption and Oracle modules accordingly. The competition between Oracle modules will ensure a decent level of service and competitive rates. With the help of SaTT ERC-20 tokens, payments will be made as soon as certain criteria are met. No fees apply.
SaTT will provide advertisers with different features:
creation of ads (ad builder will be included);

a display to make an ad directory;

statistics for validating transactions.
Besides, the team plans to introduce a PayBySaTT function for third-party developers to pay for products with SaTT.
The ICO will finish on March 31, 2019, and 1 SaTT costs $0.42. ETH, BTC, USD, and EUR are accepted, but KYC procedure is required for contributors.
6. Proof of Toss
This blockchain project is designed to set new standards of the betting industry. This P2P solution will serve as a decentralized platform for any type of event: the wager will function thanks to smart contracts created to protect players from unfair game.
Why you should bet on this ICO?
The project is backed up by an international team of experts with relevant industry and development experience.

The team is large enough to execute and rule a serious international business. All team members are professionals who possess both knowledge and experience.

The product itself has a big chance of becoming a highly demanded solution for betting.

Since betting is an industry that's growing at a fast rate, participants can benefit from the increased trust and fund liquidity in the transaction system. Proof of Toss will stand out from the crowd of gambling websites and similar betting platforms.

The crowdfunding goals are realistic, so the team is likely to have enough resources for implementation. During the presale phase, the token will be locked in, which will limit its dump when it hits the first exchanges.

The project has a lot of open content on GitHub, so investors and partners can track the development and contribute. Open-source projects often appear to be more successful than private ones.
Aside from that, Proof of Toss has a lot of positive reviews and rating from other analysts.
The main sale starts on January 11, 2019, and will last till April 11, 2019, with 1 TOSS = 0.00004 ETH.
card
7. BitCanna
Blockchain solutions can be implemented in any sphere, and now this technology is available in the cannabis industry! BitCanna project provides a decentralized payment network for legal cannabis retail. Starting from 2019, its proprietary token will be used to pay instantly at hundreds of online stores.
Why is that relevant? The global cannabis industry is subject to numerous bans and restrictions, even though some governments legalize it for medical and recreational purposes. Since it's a 'shady' business, payment providers don't process such payments, even if it's 100% legal. That makes cash transactions the only way out – and that's inefficient and inconvenient. BitCanna provides a decentralized payment system to make the process transparent and fair. BCNA token will be used in both online and brick-and-mortar stores.
Later on, the BitCanna team plans to turn it into a supply chain solution to boost product safety and provide customers with more detailed information about the product origin. In addition, it will feature trust and review options. This initiative has already attracted potential partners from the European cannabis industry.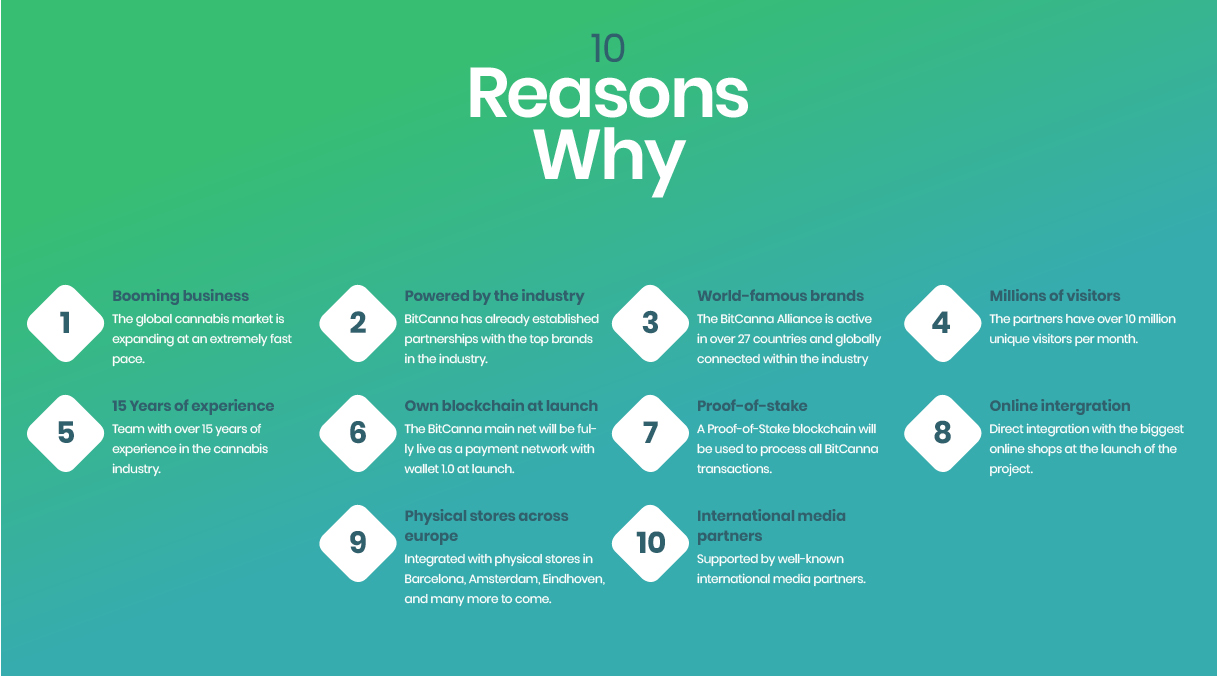 At the moment, the network works with the most prominent seed banks and cannabis dispensary firms in Europe, serving more than 10.000.000 visitors every month. That's why BitCanna has enough potential to overcome regulatory restrictions and become the leader in its sphere. Incentives and fast, convenient payments will contribute to the fast adoption of BCNA.
Its main ICO sale will finish in June 2019, and one BCNA is now worth $0.12.
Bottom Line
The number of ICOs appearing on the market is enormous, but it's still possible to distinguish a few worthy projects. Bet on the technology coupled with a promising team and partners, and, most likely you will enjoy a 100%, 500%, or even 1000% ROI on your investment.