If 2017 was the year of the ICO, then 2018 was the year that this blockchain funding method met its match in the form of governments, regulators, and an awakening of the cryptocurrency community. The funding method has shown a boom and a bust in terms of money raised over the last 18 months or so.
While regulators and governments played their part in curbing the enthusiasm of ICOs, there were also other major problems with the fundraising method, including multiple scams, poor products and companies, as well as issues with the Ethereum blockchain that many ICOs built their tokens upon.
The question that many are asking now is: Will Ethereum see a fate similar to ICOs because of the ICO bust? Ethereum itself has not had a great year either, in terms of its growth and scalability, but as well as with its progression to what its potential could be.
With the boom of ICOs, many believed that Ethereum had found its killer app as it allowed for blockchain companies to build upon their platform, as well as run their ICOs, making Ethereum the major driving tool for ICOs.
But, with the decline in ICOs, and Ethereum's own problems, there is concern that the 'World Computer' blockchain may be going the same way as ICOs.
ICO boom based on Ethereum
A look at a graph published by Bloomberg in October describes exactly how the ICO phenomenon has come and gone. Masses of capital were pushed into these companies for fundraising, with the majority of them being based on the Ethereum platform.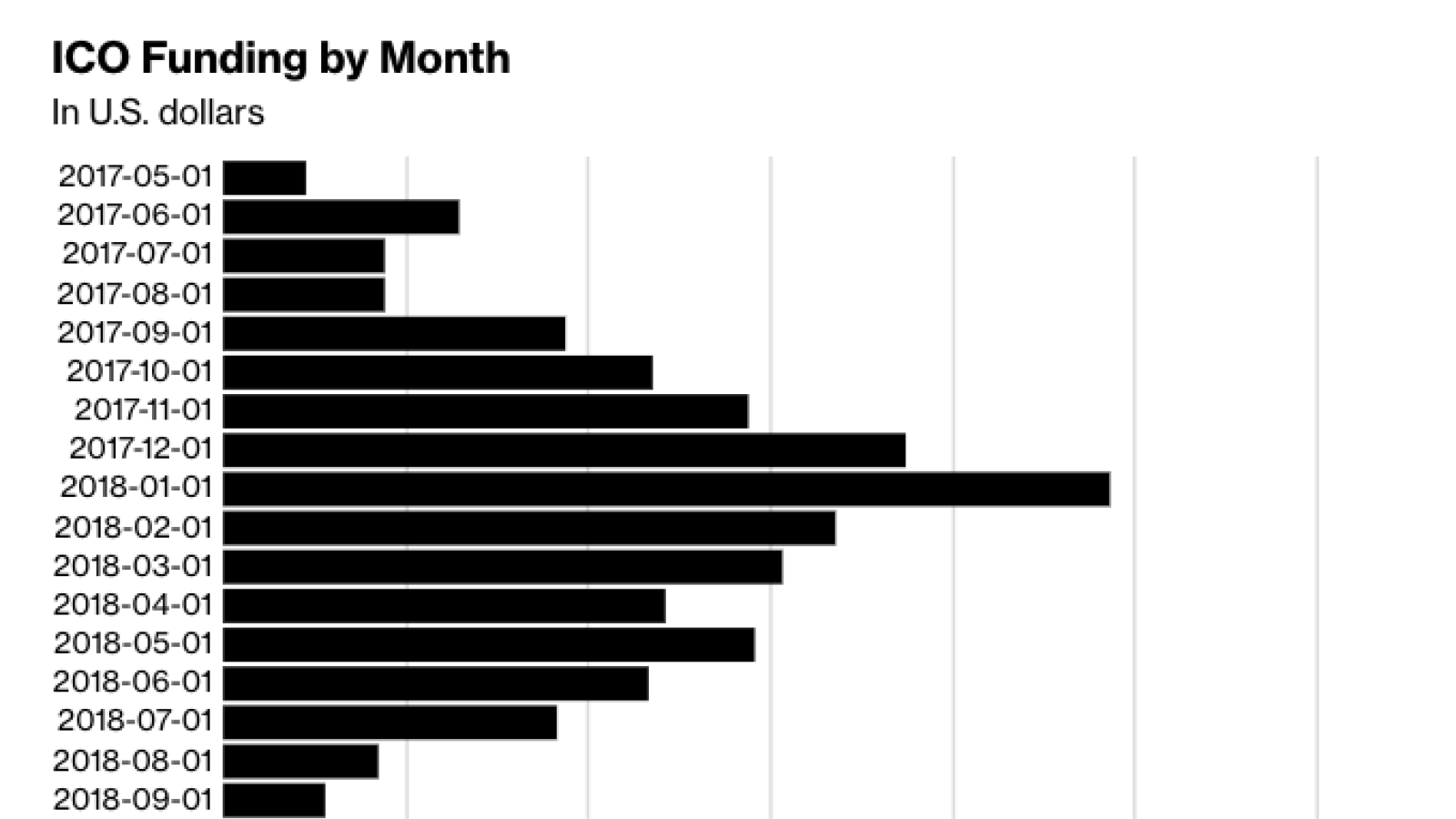 ICOs were so popular because, at a time when speculators were starting to discover Bitcoin and the likes, they were also hearing about other companies that had tokens that could grow in value by 1,000s of percent. It was enticing for investors who would throw money at these ICOs.
However, regulators soon caught onto this fundraising phenomenon, and it caused a big handbrake as many companies were soon under the scope of agencies like the SEC in the US, or even finding themselves totally banned, like in China and Korea.
Not good for Ethereum
The turn around in fortune did not bode well for Ethereum either as the hype in ICOs was primarily predicated on the potential and promise of what a smart contract blockchain like Ethereum could do.
All these ICOs and companies showed that the power of blockchain could affect multiple sectors in today's world, and it would be Ethereum that would drive it as their blockchain base.
Thus, when the ICO hype started to be curtailed, eyes were turned towards Ethereum in recognising some of its flaws in not seeing a lot of these projects taking off. The regulators certainly played their part in slowing the growth, but the blockchain itself also started to show some cracks.
Ethereum issues
Having lost a lot of interest and drive from ICOs, the Ethereum killer app in many respects and the blockchain lost a lot of traction. More so, it showed that it would not be able to handle a busy blockchain as its scaling was a problem.
The game of CryptoKitties, in December last year, proved that Ethereum needed an upgrade in scaling and its transaction speeds, but throughout the entire 2018, there has not been much progress made there.
Other competitors to Ethereum, such as as EOS, Stellar, Tron, Cardano and NEO, have also risen in the ranks and offer an alternative platform for dApps and blockchain projects to build upon.
Ethereum's future
It is not all doom and gloom for Ethereum, though. While ICOs may have had their wings clipped, and inadvertently slowed the need and use of Ethereum, the blockchain itself is still striving to grow and improve.
In 2019, there is a lot of work that is being done to help change the way in which the transactions work as Ethereum moves from proof-of-work to proof-of-stake through the Casper upgrade.
Moreso, even in January there will be the Constantinople hard fork that will ready the blockchain for this upgrade to Casper.
So while ICOs have seemingly seen their end in 2018, 2019 should be a year of reconciliation and growth for Ethereum, devoid of the hype and undue pressure brought on by ICOs. If Ethereum can address its fundamental issues through Constantinople and Casper, there is no reason why Ethereum cannot be a leader in smart contracts going forward.