In a recent Reddit post, u/igortt claims he has been robbed of all his EGEM coins from MyEtherWallet.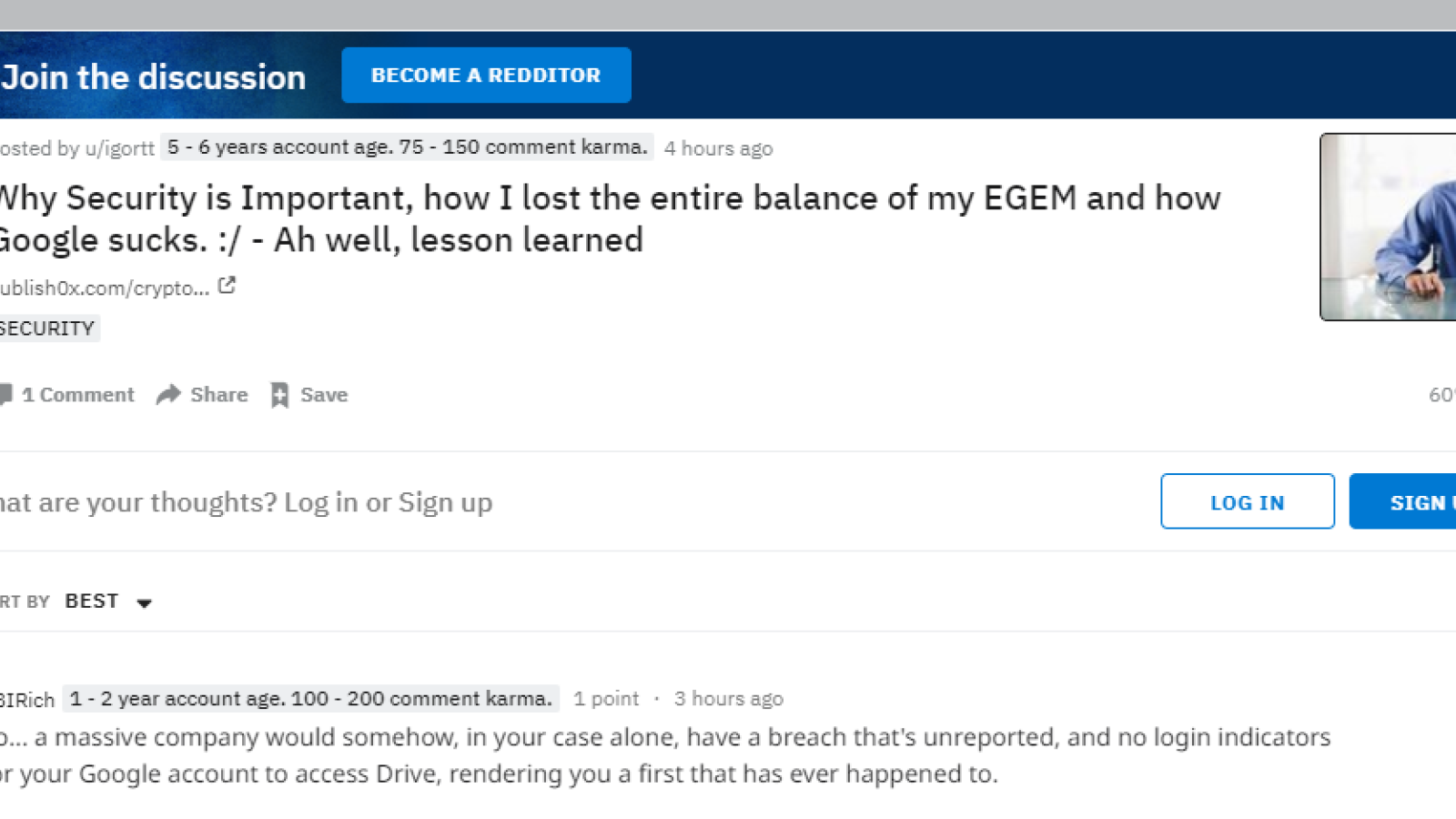 Background
The redditor writes that a while ago, he wanted to play a crypto-based game on Discord. To do that, he needed EGEM coins. However, he received a message notifying him that he did not have enough tokens to play.
There were thousands of those coins on his MyEtherWallet, claims u/igortt. When he went to check his wallet, it proved to be empty, even though he clearly remembered that he had no intention to move his tokens anywhere and was sure he did not spend them all.
The redditor double checked all operations with his wallet and all the machines on the network – no signs of any forced transfers or malicious attacks. Still, someone seemed to have gotten hold of his private keys, and they managed to take his crypto wallet to the cleaners. The only place he had stored them was his laptop – in a properly encrypted file.
Then he turned his attention towards his Google Drive, which he had not used for a long time.
Google Drive – come in, mate, take whatever you wish
As per u/igortt, he had only kept his old documents and pictures on his Google Drive. A few months ago, though, when having an issue with a portable drive, he decided to get a new one, so he copied some of important files to do with crypto onto his Google Drive and just completely forgot about them, leaving them on that cloud storage platform.
When he logged in, a quick look told him that some of his files – the crypto-related ones – had been accessed a day before. Only the files to do with crypto were opened – backups and files containing some information on storing his private keys.
The history of logins showed that no third parties had been on this drive but the owner.
U/igortt claims to always use very complex passwords so as not to allow hackers to get hold of his data. Despite this, the security system of Google Drive just let someone steal what they needed in order to take the EGEM coins from the wallet later. The history showed no security alerts, no strange-looking logins.
Now what?!
The coins are lost and there is no one to put the blame on. However, the redditor says he removed all his files from his Google Drive and from now on keeps all his passwords and private keys in a key-managing app, preferring not to trust cloud services, even branded ones such as Google Drive.
EGEM coin
EtherGem (EGEM) coin is ranked 1,096 on Coinmarketcap. Its market cap is slightly under $89,000. The current price totals $0.0105.