FTX token (FTT) has printed five consecutive days of upsurge as the conversation around the reboot of the bankrupt FTX derivatives exchange is now taking centerstage. At the time of writing and per data from CoinMarketCap, FTT is changing hands at a spot price of $1.75, up by 37.33% in the past 24 hours. The growth rate of the token has now surged as high as 79.89%, compared to this time last year.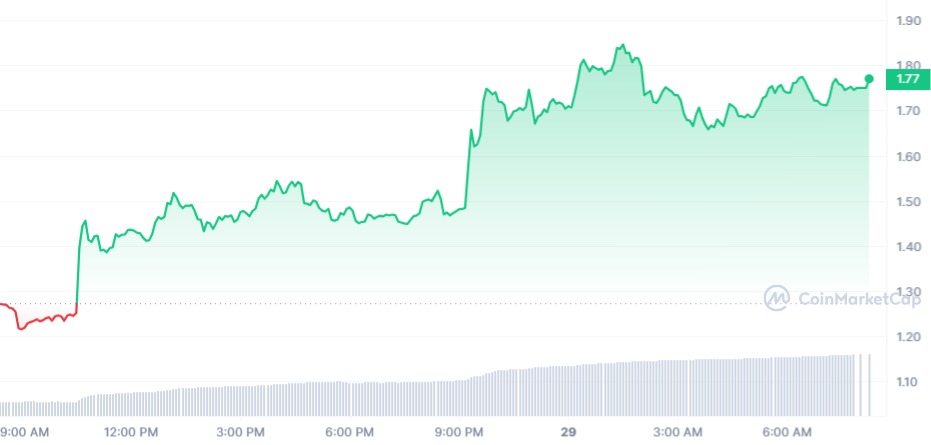 Growing FTX2.0 sentiment
Many investors consider FTT to be trading at a discount at this time as any potential reboot of the exchange has stirred a renewed inflow of funds into the digital currency.
The current leadership of the trading platform is doing quite a lot to ensure this vision to relaunch the exchange is realized. A call has been put out to potential partners who may be interested in helping to join the reboot mission. Notably, the manner in which the exchange imploded last November caused many people to lose trust even in centralized exchanges.
CEO John Ray III plans to turn the tide and regain trust through efficient service delivery, product rebranding, enhanced security and greater accountability for all potential customers. In order to draw interest, the leadership of the exchange noted that they have recovered more than $7 billion in customers' funds that will be used to repay a portion of the platform's creditors.
Regaining lost value
Despite the fact that FTT is seeing unprecedented growth at this time, retouching its all-time high (ATH) might be a demand too ambitious to envisage at this time. At its prime, the FTT token traded at an ATH of $85.02, implying a more than 97% slump from its current level.
While many tokens share this fate, the origin of FTX's price loss is more pronounced, and expectations are now growing as to whether the coin can recoup some or all of these losses in the long term.