The prediction market industry has been growing steadily in recent years, with the emergence of various platforms that allow users to buy shares on the outcomes of different events.
However, many of these platforms are centralized, leading to a lack of transparency, security, and control for the users.
Foreon Network, a new project on Cardano, aims to change that by developing a decentralized prediction market on the Cardano blockchain, empowering users with a secure and transparent platform.
Foreon Network (FR) attempts to change the game in Web3 PMs
Foreon Network envisions a future where decentralized prediction markets become the go-to platform for individuals and organizations to make informed decisions and forecast events accurately.
By utilizing the power of blockchain technology and wisdom of the crowd, Foreon Network aims to create a trustless, secure, and transparent environment that fosters accurate predictions, fair settlements, and user control.
Foreon Network Goals:
Foreon Network's primary goal is to create a platform that eliminates the need for centralized brokers, allowing users to engage in secure and transparent betting on various events.
Foster accurate predictions by utilizing decentralized oracles like Orcfax on the early stages after which the v2 will be launched with Foreon proprietary Nodes with the $FRN token holders staking their tokens to publish real world data on chain. Foreon.network aims to improve the quality of predictions made by users while also incentivising them to publish accurate data.
Ensure fair settlements: The platform will utilize smart contracts to automatically settle markets, removing the risk of human intervention or manipulation.
Empower users with control: Foreon Network aims to give users control over their funds, predictions, and rewards by leveraging the Cardano blockchain technology.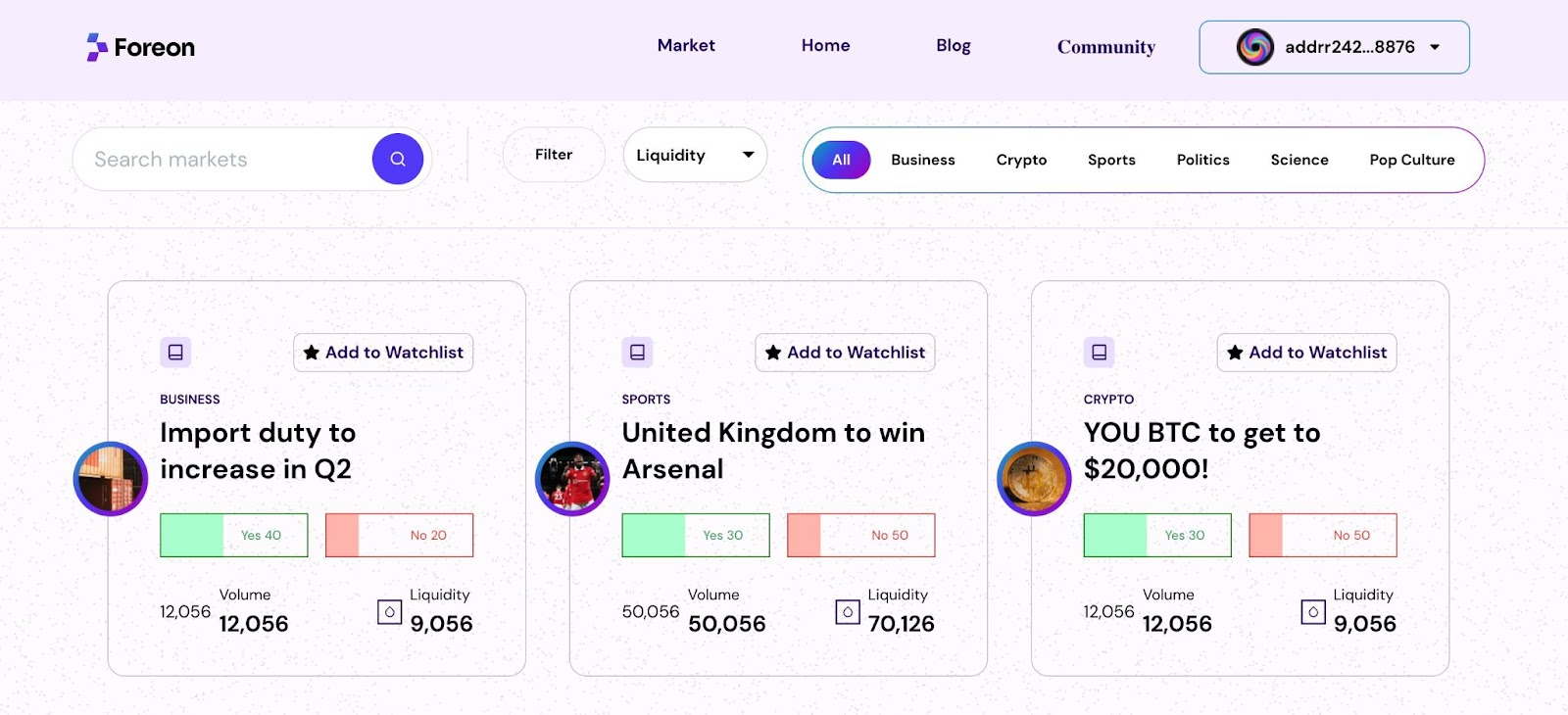 Revolutionary technology stack introduced by Foreon Network (FRN)
Cardano Blockchain: Foreon Network is built on the Cardano blockchain, which offers scalability, security, and sustainability. Cardano's Proof of Stake (PoS) consensus algorithm ensures energy efficiency and lower transaction costs compared to traditional Proof of Work (PoW) blockchains.
Decentralized Oracles: To ensure accurate and reliable information for prediction markets, Foreon Network will utilize decentralized oracles that aggregate data from multiple sources. This approach reduces the risk of manipulation and ensures the integrity of the platform.
Smart Contracts: Foreon Network will leverage Cardano's smart contracts to automate the creation and settlement of prediction markets. This ensures fairness, transparency, and eliminates the need for a centralized broker.
Native Token: The Foreon Network will have its native token $FRN with a strict supply of 10,000,000 which will be used for various purposes, such as staking, governance, and platform fees.
Foreon Network intends to give 80 early investors who would invest a minimum amount of 10,000 ADA in exchange for 12,500 $FRN tokens a chance to become one of the early validators that would be publishing real world data feeds on-chain. Interested seed investors should read the Seed Investor Deck below for more details.
Seed Deck: https://docsend.com/view/xsevm63fdid6h435
Foreon Network (FRN) setting new benchmarks for PMs on blockchains
Foreon Network is poised to disrupt the traditional prediction market industry by providing a decentralized, secure, and transparent platform built on the Cardano blockchain.
With its focus on accurate predictions, fair settlements, and user control, Foreon Network has the potential to revolutionize how individuals and organizations make informed decisions and forecast events.
As the project continues to develop and gain traction, it will be exciting to see how Foreon Network shapes the future of prediction markets.

Website: https://foreon.network/
Whitepaper: https://docs.foreon.network/
Pitchdeck: https://docsend.com/view/xsevm63fdid6h435
Blog: https://foreonnetwork.medium.com/
Twitter: https://foreon.network/
Discord: https://discord.gg/zwPfBRGDEu
Telegram: https://t.me/foreonnetwork
Email: beep@foreon.network