Enjin Coin (ENJ) has taken center stage in the digital currency ecosystem today as Bitcoin (BTC) and the majority of altcoins are shedding their gains today. Enjin Coin is up by a massive 24.02% at the time of writing, pegging its price at $0.452 over the past 24 hours.
Enjin Coin is a digital currency that is not known for massive price performance, making the current run today a wonder. The run in the price of Enjin Coin has helped the token ink 51% growth over the trailing seven-day period, cementing its thirty-day high at its current price.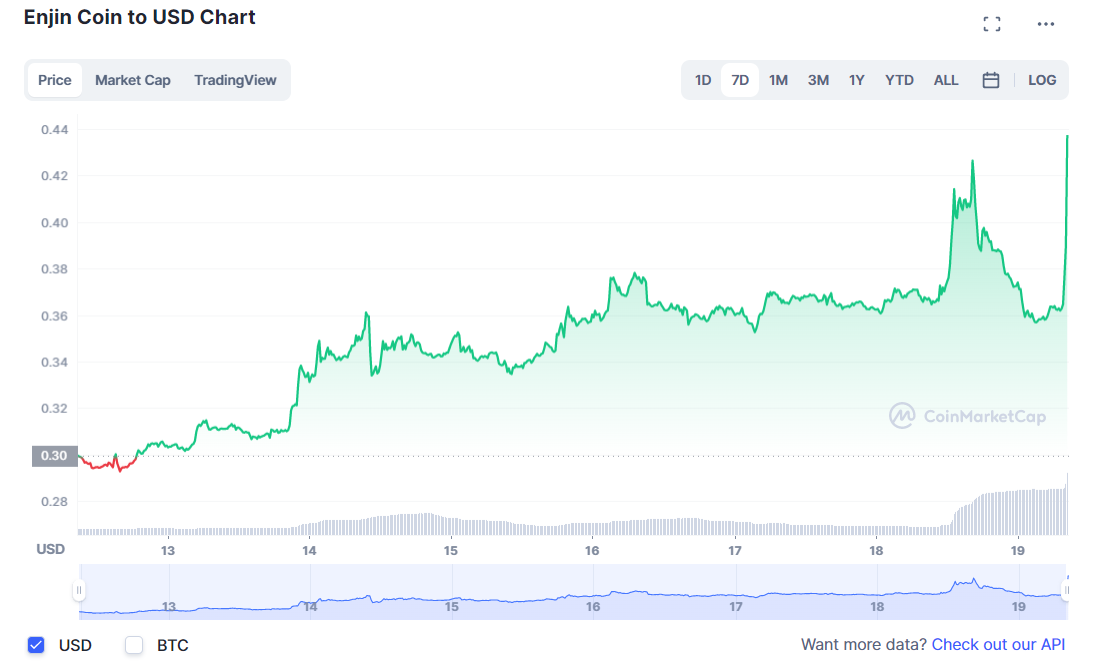 Enjin allows game developers to tokenize in-game items on the Ethereum blockchain. While the protocol has grown its influence among developers since its inception, the recent development update from the platform appears to have energized buyers as they anticipate extensive ecosystem growth in the coming months.
With NFT.io, a new non-fungible token marketplace has launched, Enjin Wallet, and three core Enjin tooling provisions. The protocol is making its platform enticing and easy for developers to use in a bid to grasp opportunities in the growing world of Web3.0 gaming.
Enjin Coin's growth longevity
The sharp spike in Enjin Coin's growth is an unusual one and calls into question whether the token can sustain the massive price upshoot it has recorded over the past 24 hours and one week.
While there is still enough room for the ENJ token to grow, seeing as it is trading at a price more than 91% below its all-time high (ATH) of $4.85, the industry, in general, is unstable and may not be able to support the ambitious price upshoot Enjin seeks at this time.
Riding on its stance on Carbon neutrality, the uniqueness of the Enjin protocol will be enhanced with the new developments and, alongside its matured partnerships, it might translate into positive price growth in the mid- to long term.