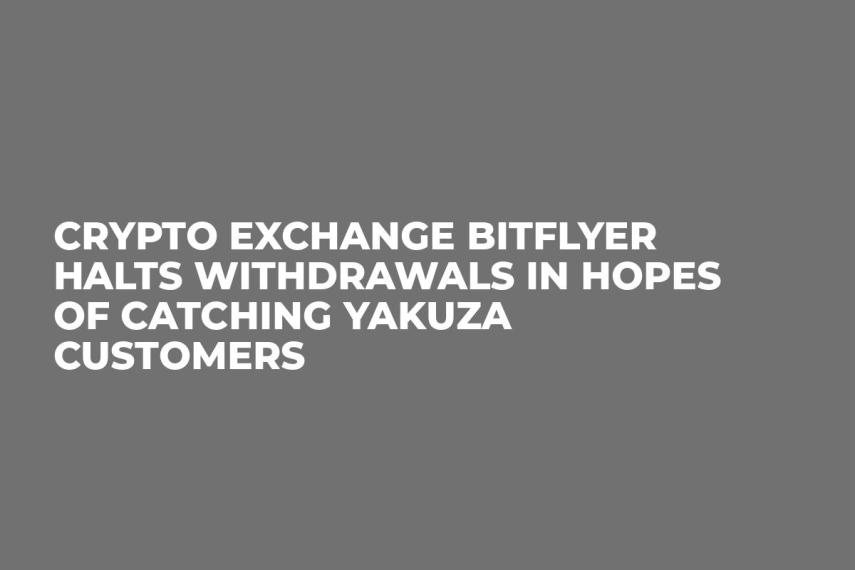 Cover image via U.Today
In ongoing efforts within Japan's regulatory services, cryptocurrency exchange bitFlyer has halted its withdrawals and deposits in order to ensure its KYC (Know Your Customer) verifications with news spreading that the Yakuza are using cryptocurrencies for money laundering.
This is part of businesses improvement standards that were imposed on bitFlyer when the FSA sent them a demand to better their service in the wake of the Coincheck hack earlier this year. According to the FSA, the company neglected to confirm the identities of their users, which lead to allowing the Japanese mafia to trade crypto.
Getting to the bottom of it
There has been a clear and obvious delay from bitFlyer for those customers who are looking to withdraw money, as well as deposit. A customer of bitFlyer has said that after putting in a withdraw request on June 25, he was not able to confirm the transaction until the morning of July 2.
The reason being that bitFlyer is now taking its KYC verification very seriously is because of the reports that the Yakuza has taken to cryptocurrency as a way to launder money.
Last May, the Mainichi newspaper revealed that some divisions the Yakuza, were using crypto exchanges to launder money. The Japanese mafia allegedly transferred more than $270 mln of their funds overseas, according to the report.
"We strongly recommended [the six Japanese cryptocurrency exchanges] to remove all ties with anti-social forces," the FSA told Bitcoin.com.
The intention behind the crackdown by the FSA is to bring exchanges under higher scrutiny thanks to the two biggest exchange hacks in the history of the ecosystem both emanating from Japan- Mt. Gox and Coincheck.