According to British news outlet Daily Express, Sharon Michelle, a woman from Texas who has been 'working with spirit guides' for 40 years, is successfully offering investment advice to cryptocurrency enthusiasts. While her endeavor may evoke a tongue-in-cheek reaction, some of her clients do admit that her Bitcoin price prediction turned out to be accurate.
A crystal ball instead of Fundstrat
Tom Lee, the CEO of market strategy and research provider Fundstrat, made plenty of promising price predictions throughout 2018, but none of them came to fruition. Lee's year-end projection for Bitcoin was $25,000 (it's just $21,334 shy of the BTC price at the time of writing this article). Eventually, he got 'tired' and decided to ditch the idea of offering price forecasts. Another Wall Street permabull, Mike Novogratz, also wasn't lucky in that department — he initially claimed that Bitcoin would reach $40,000 by the end of 2018, but later had to adjust his prediction to $9,000.

We can't blame them — market volatility is still relatively high, and the prices of cryptocurrencies are very sensitive to unexpected events. Hence, desperate investors are turning to Michelle in order to get a glimpse of the future.

card
An eye-opening vision turned into a business opportunity
Michelle claims she had no idea about cryptocurrencies (and her guides would rarely give her any financial information before), but she had 'a vision with coins' about a year ago. The medium even failed to recognize digital coins at first, mistaking them for gold and silver. Since then, the spirit took her to a whole new level, showing the future value of coins.

The 'crypto psychic' decided to capitalize on her vision by starting her own Patreon page. Full access to Michelle's page will set you back $15 per month. Notably, her page has 866 patrons, and each of her posts gathers hundreds of comments.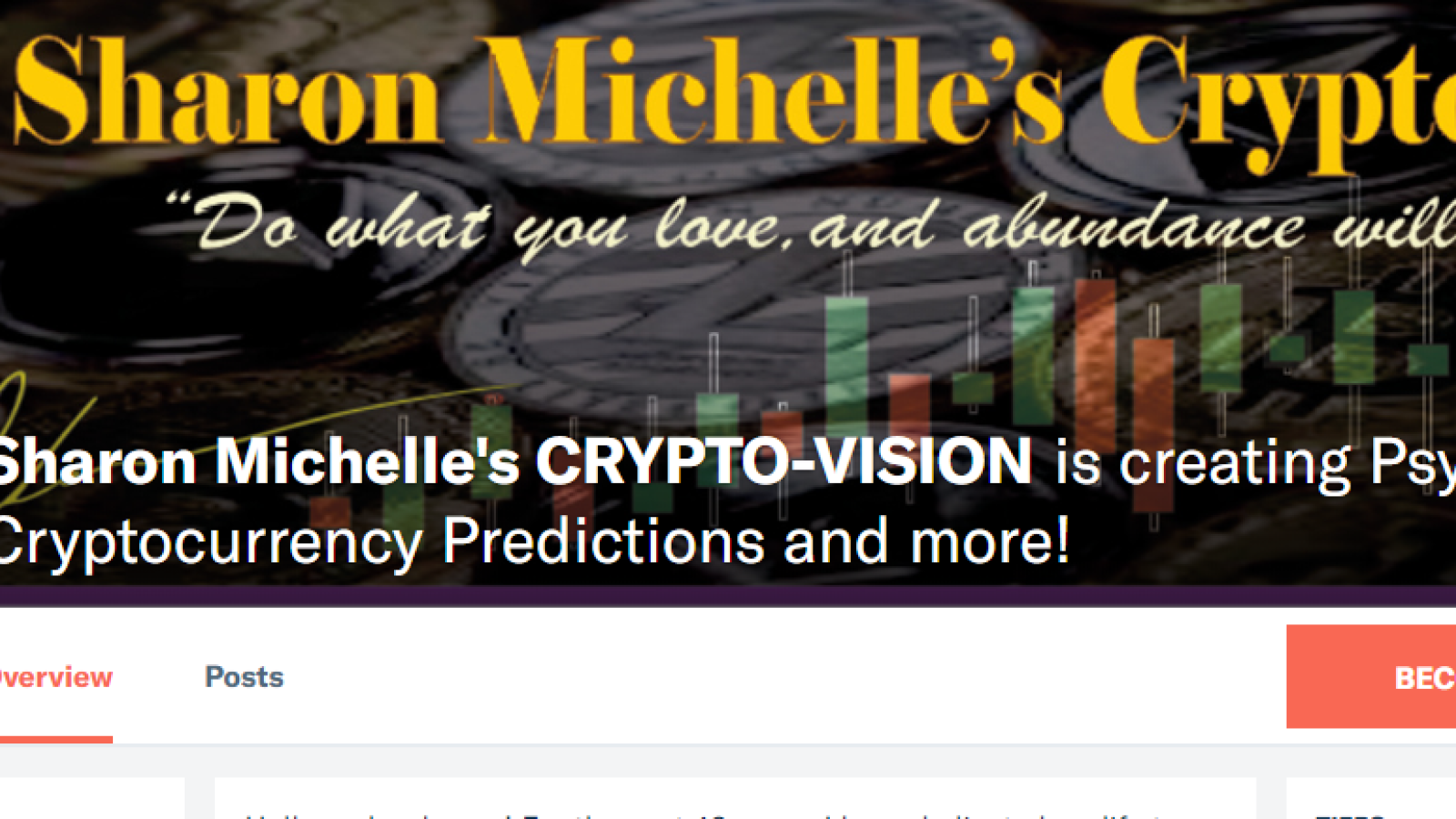 Multiple videos that feature her predictions can be also found on YouTube. Some users claim that her crypto predictions turn out to be spot-on while others take them with a grain of salt.