The cryptocurrency might be beyond the days of Silk Road but Bitcoin remains the darling of dark web criminals.
According to data provided by James Todaro of Blocktown Capital, the USD value of Bitcoin spent in the murkiest corners of the internet has skyrocketed in 2019, surpassing $1 bln.
I know we like to ignore this for the sake of "mainstream acceptance", but the USD value of bitcoin passing through darknet markets continues to increase regardless of bitcoin's speculative value...

I think @jillruthcarlson makes some good, realistic points. https://t.co/8Ng8W9WYGI pic.twitter.com/1jyCoBRCiF

— James Todaro (@JamesTodaroMD) December 11, 2019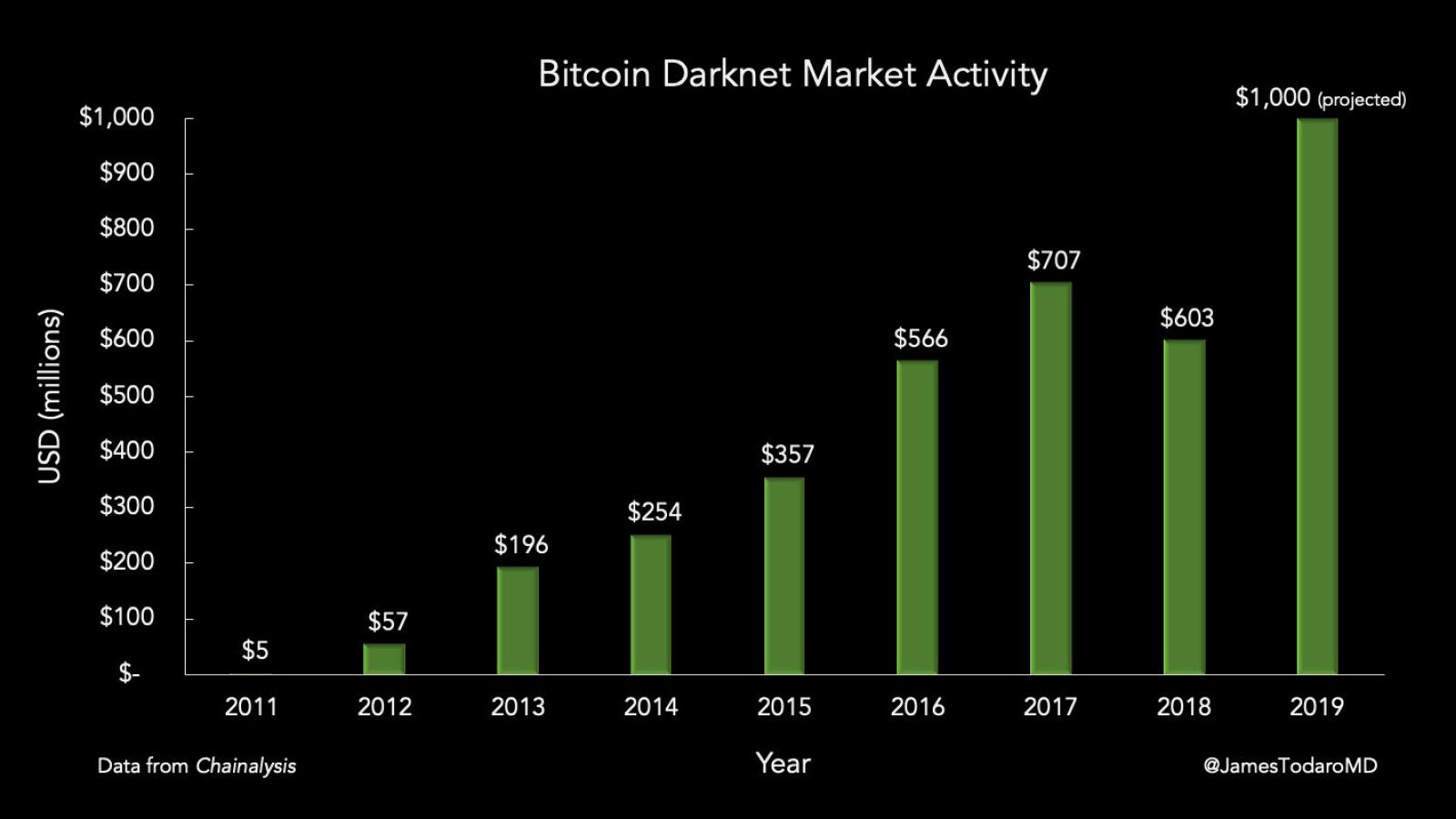 Bitcoin is not for the masses
Todaro agrees with Jill Carson, the co-founder of the Open Money Initiative, who recently opined that Bitcoin wasn't meant for mainstream adoption.
"There exists a long history of censorship resistant and privacy preserving technologies: Signal for messaging, Bittorrent for file-sharing, Tor for web browsing. Like bitcoin, these tools are not built for the mainstream," Carson wrote.
The aforementioned platforms are used by both good and bad actors (just like Bitcoin). However, they are not designed for people to use them en masse. Carson believes that even the Lightning Network and other scalability solutions will fail to push Bitcoin into the mainstream and remain a niche currency.
As reported by U.Today, Bitcoin is still responsible for about 95 percent of all crime-related crypto transactions despite the proliferation of privacy coins.
Tor or Amazon?
Carson's opinion is rather unpopular since many believe that Bitcoin could eventually replicate the success of Amazon and Apple, the two trillion-dollar companies that had to rise from ashes. CNBC host Joe Kernen claimed that Bitcoin and Amazon were similar in the sense that people failed to understand them in their nascency.
Venture capitalist Tim Draper is far more optimistic about Bitcoin's chances to reach mainstream adoption -- he recently predicted the top coin could take a five percent share of the currency market by 2023.