Having made some recent decent gains, the two top cryptocurrencies rated by market cap, Bitcoin and Ethereum, have lost key support levels, falling below $6,400 and $200 respectively. The losses see Bitcoin down from $6,540 on Monday to $6,261 in less than 24 hours.
For Ethereum, a coin that was looking to bounce back from a dramatic loss over the last few weeks, it has gone from $223 to $196 in a similar space of time.
The markets of both these coins were showing a drop in trading volume before this dramatic fall, and while trading volume is not an exact metric for price determination, it of influences which way the price is heading.
Losses across the market
As is often the case, Bitcoin at the top of the pile has affected most of the market with losses being shown in the majority of coins. The overall market cap dropped as low as $192 bln within a few hours thanks to this latest plunge.
Bitcoin's loss is about three percent, while the loss for Ethereum is much greater, pulling it down nearly eight percent. The likes of Bitcoin Cash, Litecoin, and EOS are also all posting losses of more than six percent with the latter also closer to nine percent down.
Aurora is the biggest loser of the day, having shed 26 percent of its price.
On a positive note though, there are some gains for six of the top 100 coins, but the most interesting of them is Pumapay, which has fallen out of the top 100 coins after correcting from a massive spike of 400 percent yesterday; it is still trading at 89 percent up today.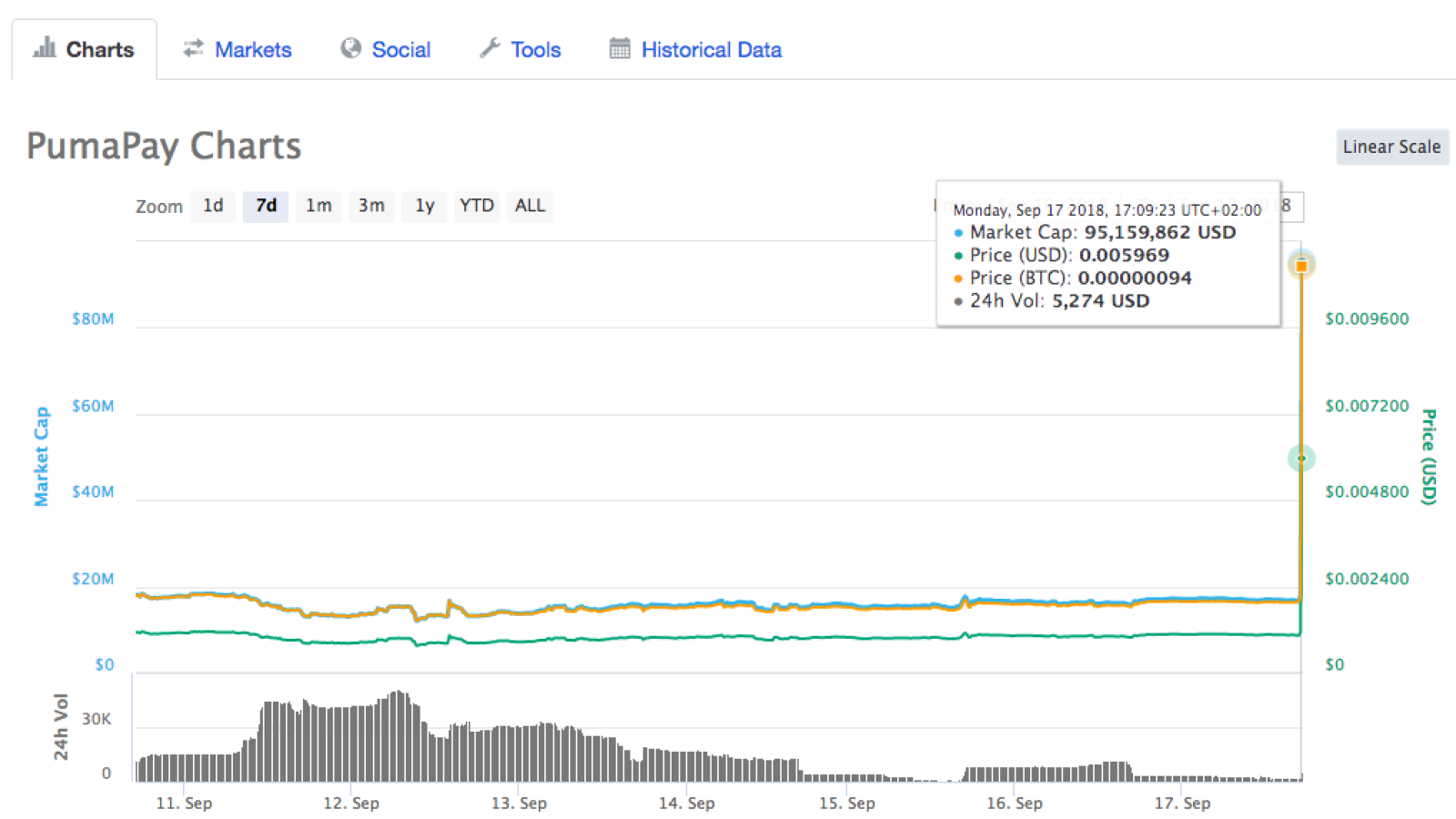 Volume levels
While this price drop for the bigger coins is not monumental, it was probably expected having seen a drop in trading volume on Monday from Sunday. The market volume dropped $800 mln for Bitcoin from the weekend, before this eventual drop in price.
Ethereum's trading volume also fell from Sunday, the second largest coin was showing a trading volume of $2.5 bln, but then fell to $1.4 bln.