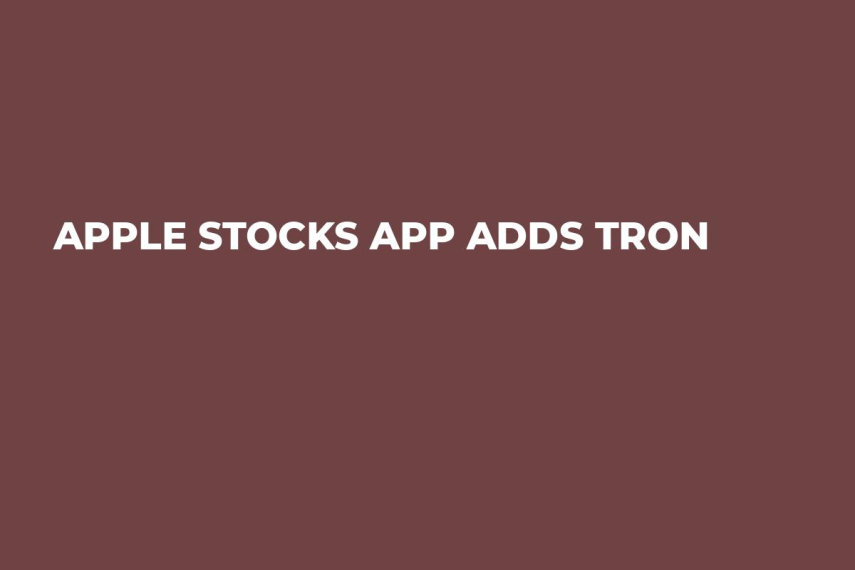 Cover image via U.Today
Friday the Tron CEO Justin Sun spread the word on Twitter that Apple has included the TRX-USD rates to its Stocks App– the information is official.
This is a significant event for all TRX investors. As of now, all users of Apple's devices will be able to watch the change in the rate of Tron's coin.
Even though the news does not directly contribute to the project's development as such, it will definitely focus a lot of attention on the token, at least among Apple users of whom there quite a lot– one bln people.
Big events ahead
This news comes in handy for all Tron enthusiasts and even more so to the platforms creators, apart from drawing public attention to the coin.
The fact is that the crypto platform plans to launch their Virtual Machine, a long-anticipated event for a while already, which will let dApps easily function in Tron's main network. Also, the company is going to do a token swap in the last days of May, which will result in dropping off the Ethereum mainnet and becoming an independent cryptocurrency.
As is already known, big trading platforms, such as Binance and Bittrex will support this event.
As of now, Tron comes ninth in the list of the virtual assets with the highest market cap. Despite the fact that the project itself is seen controversial is some of its aspects, it belongs to the line of the most famous projects in the crypto community.
Now that TRX price can be followed on the most popular and trendy gadgets in the world, it's going to get even more attention. At least in the short term.