As reported by Whale Alert crypto tracking website, nearly three hours ago, a comprised 7,000 Bitcoins were shifted in lumps of 1,000 BTC; 1,000 BTC and 6,000 BTC.
An anon crypto address and the wallets of Gemini and Coinbase were involved. The amount of Bitcoin transferred equals $383 million USD. This happened a while after the leading digital currency reached a peak, topping the $48,000 level.
8,000 Bitcoin on the move
Whale Alert has spotted three crypto transfers worth 6,000; 1,000 and 1,000 BTC that took place slightly over three hours ago.
Two 1,000 BTC lumps were moved from a wallet that was tagged as "unknown" to the Winklevoss-owned Gemini exchange.
Later on, 6,000 Bitcoins worth $286,850,617 were shifted from Gemini to Coinbase. A while after that, the same amount of BTC left Coinbase, going to an anonymous crypto address.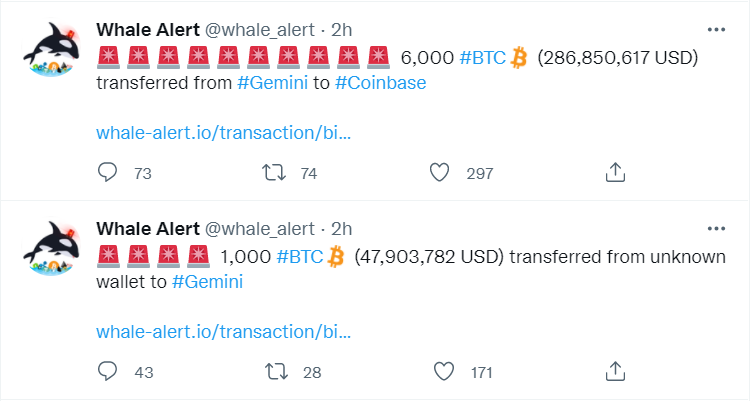 Bitcoin tops $48,000 briefly
On March 28, leading cryptocurrency Bitcoin managed to recapture the $48,000 level for the first time since January this year.
However, by now, Bitcoin has rolled back, landing at the $47,772 line.
As the price grows, Glassnode has reported that the illiquid supply of BTC is spiking as investors are moving Bitcoin to cold wallets and custodial addresses for long-term storage.
#Bitcoin illiquid supply is going parabolic.
Supply shock incoming! pic.twitter.com/rL2Uhzxihh

— Bitcoin Archive ??? (@BTC_Archive) March 29, 2022