According to Whale Alert, more than 10 substantial Ethereum stashes have been transferred over the past 20 hours by anonymous holders of Ethereum.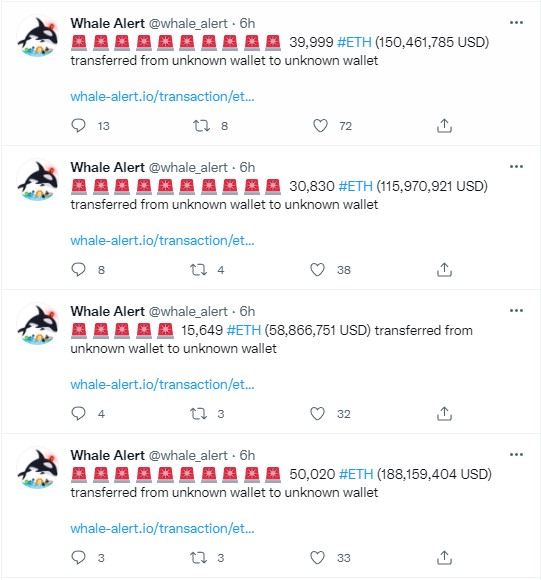 Whales transfer $1,334,293,412 in ETH again
All in all, 15 large transactions carried an astounding 1.348 billion worth of Ethereum. The smallest one carries 10,000 ETH—the equivalent of $38 million. The largest lump transferred by whales contained 50,000 ETH, worth $183,307,518.
Two crypto platforms—Binance and Blockfolio—participated in several of those transactions as well, according to the aforementioned blockchain tracking service.
In the meantime, the second-most popular cryptocurrency, ETH, surpassed the $3,820 level earlier today, following Bitcoin in its rise above the $60,000 level for the first time since April when it hit an all-time high of $64,800.
By now, however, Ethereum has dropped a little, trading at $3,783, as per data provided by CoinMarketCap.
As reported by U.Today, on Oct. 14, crypto whales also shifted a massive amount of Ethereum—over $1.19 billion worth of it.