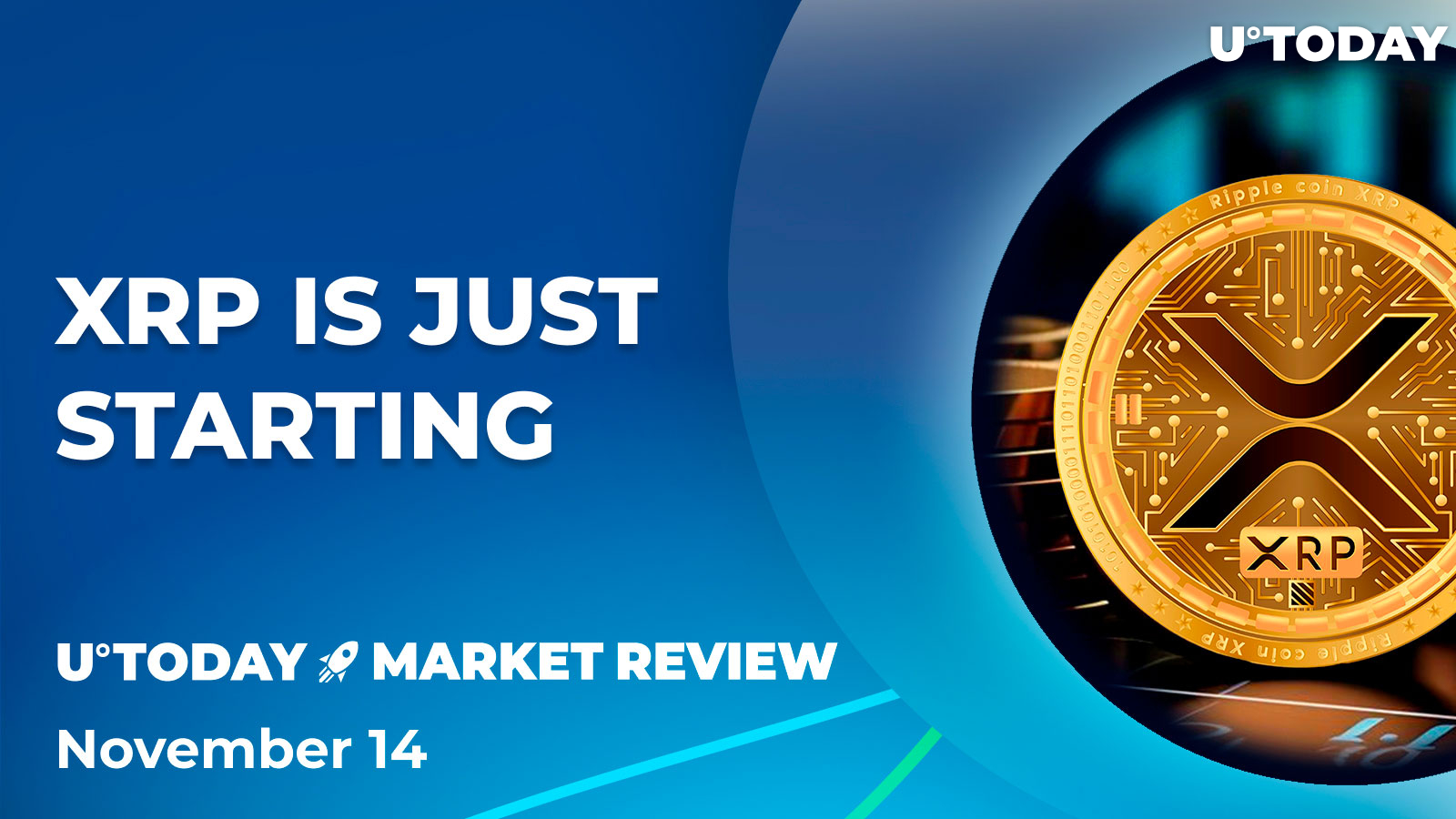 Cover image via www.freepik.com
Currently flirting with the $0.70 mark, XRP's price movement on the daily chart is hinting at a story that investors are keen to read. The question on everyone's mind is: Is the $0.70 mark just the beginning of XRP's bullish run, or are we witnessing a temporary peak?
Analyzing the daily Binance chart for XRP/USDT, we see a notable surge as XRP approaches a critical resistance level at $0.70. This price point is not just a number — it is a battleground where bulls and bears have previously locked horns, and the outcome could set the tone for XRP's market sentiment moving forward.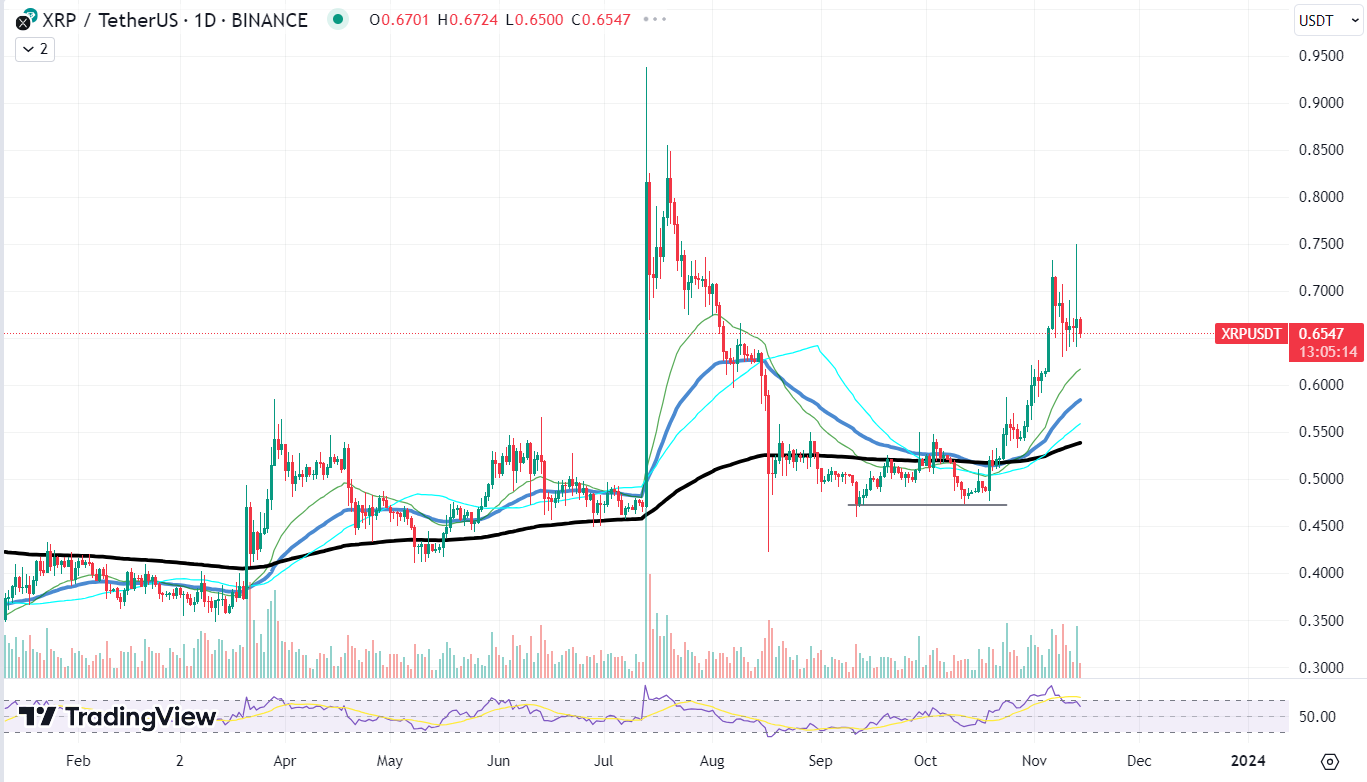 The technical indicators are revealing. The recent price action has XRP positioned above both the 50-day and 100-day moving averages — a bullish sign that indicates the potential for continuation of the upward trend. The moving averages are angling upward, suggesting a steady bullish momentum underpinning the current price.
Additionally, the Relative Strength Index (RSI) is hovering around the mid-range, neither overbought nor oversold, signaling that there could be more room for upward movement before hitting overbought territory. This provides a somewhat comfortable cushion for XRP to attempt breaking through the $0.70 ceiling without immediate pressure of a technical correction.
However, the crypto markets are as temperamental as they are exciting. For XRP to sustain a rally beyond $0.70, it will require a consistent influx of buying pressure. Should XRP succeed in closing above this level with conviction, it could open the gates for a continued rally, possibly testing the next resistance levels at around $0.75 or higher.
Conversely, if XRP fails to secure a foothold above $0.70, it might encounter a pullback as short-term traders take profits. This could see XRP retesting support levels, possibly around the $0.65 mark, where it could consolidate before attempting another upward move.
Solana ready for another push
Solana (SOL) has recently shattered the $54 mark, a price not seen since May 2022. The daily charts for SOL/USD on KuCoin illustrate a robust uptrend, with Solana's value soaring, leaving investors and traders to wonder if this momentum can sustain itself on the volatile crypto market.
The chart indicates that Solana's price has been riding an aggressive wave of buying, with its movement above both the 50-day and 100-day moving averages signaling a strong bullish trend. The moving averages are trending upward, suggesting steady buying interest over time. The price surge is accompanied by increasing volume, validating the strength of the current price movement.
In the first scenario, if Solana maintains its current trajectory above these moving averages, and the buying volume continues to rise, there is potential for the price to target the next psychological resistance near the $60 mark. This would represent an approximately 12% increase from its current level, a feasible short-term goal for the cryptocurrency.
The second scenario takes into account the possibility of a pullback. With the Relative Strength Index (RSI) being high but not yet in overbought territory, there is room for growth. However, a retest of the $54 level, now turned support, could happen before any further uptrend. If this support holds, it could reinforce investor confidence, creating a springboard for another price surge.
A new insight to consider is the pattern of higher highs and higher lows on the chart, which typically denotes a continuation of the uptrend. Moreover, Solana's fundamental strengths, such as its high-speed blockchain capabilities and increasing adoption in decentralized finance (DeFi) and non-fungible tokens (NFTs), provide a solid backdrop for its price action.