On May 27, a prominent Tron proponent Misha Lederman posted a tweet, saying that BitTorrent had entered the top 30 line of crypto assets, according to CoinMarketCap. He also wrote that TRX now is back in top 10 but CMC shows that the native Tron's coin is still on position #11.
BitTorrent #BTT enters Top 30 & #TRON reenters Top 10

Remember hearing that prediction three weeks ago... Only difference is that Justin's prediction came true earlier than predicted#BitTorrent Speed, Sun Network, BTFS, BT-Live, #TRX DApps deploying... the show has just begun pic.twitter.com/9xmfxddnZN

— Misha Lederman (@mishalederman) May 28, 2019
Justin Sun delivers on his promise
A while ago, U.Today reported that in one of his tweets Justin Sun promised that BTT would enter top 30 in Q2 this year. Another thing he announced was that TRX is to return to the top 10 V.I.P. club in June.
#TRON will be back to Top 10 in June! #BitTorrent will be Top 30 in Q2! Let's wait and see! #BTT $BTT $TRX #TRX

— Justin Sun (@justinsuntron) May 7, 2019
Apart from Lederman, the fact of BTT now taking spot #30 on CoinMarketCap was confirmed by Tronscan in Twitter. Back at the time when Sun made this announcement about BTT, the token was sitting on place #50 on CMC.
Brief History Review of $BTT on https://t.co/r14okZnmk8?

1、$BTT Holders increased to 420K
2、Number of Transfers increased to 1.6 million
3、Enter Top30 according to @CoinMarketCap #BTT completed above achievements with 130 days. Impressive! @justinsuntron @Tronfoundation pic.twitter.com/l0kX8HdUtS

— TRONSCAN (@TRONSCAN_ORG) May 28, 2019
Tronscan writes that it took BTT 150 days to complete this move from #50 to #30.
As for TRX coming back to top 10 on CMC, time will tell if Sun was right.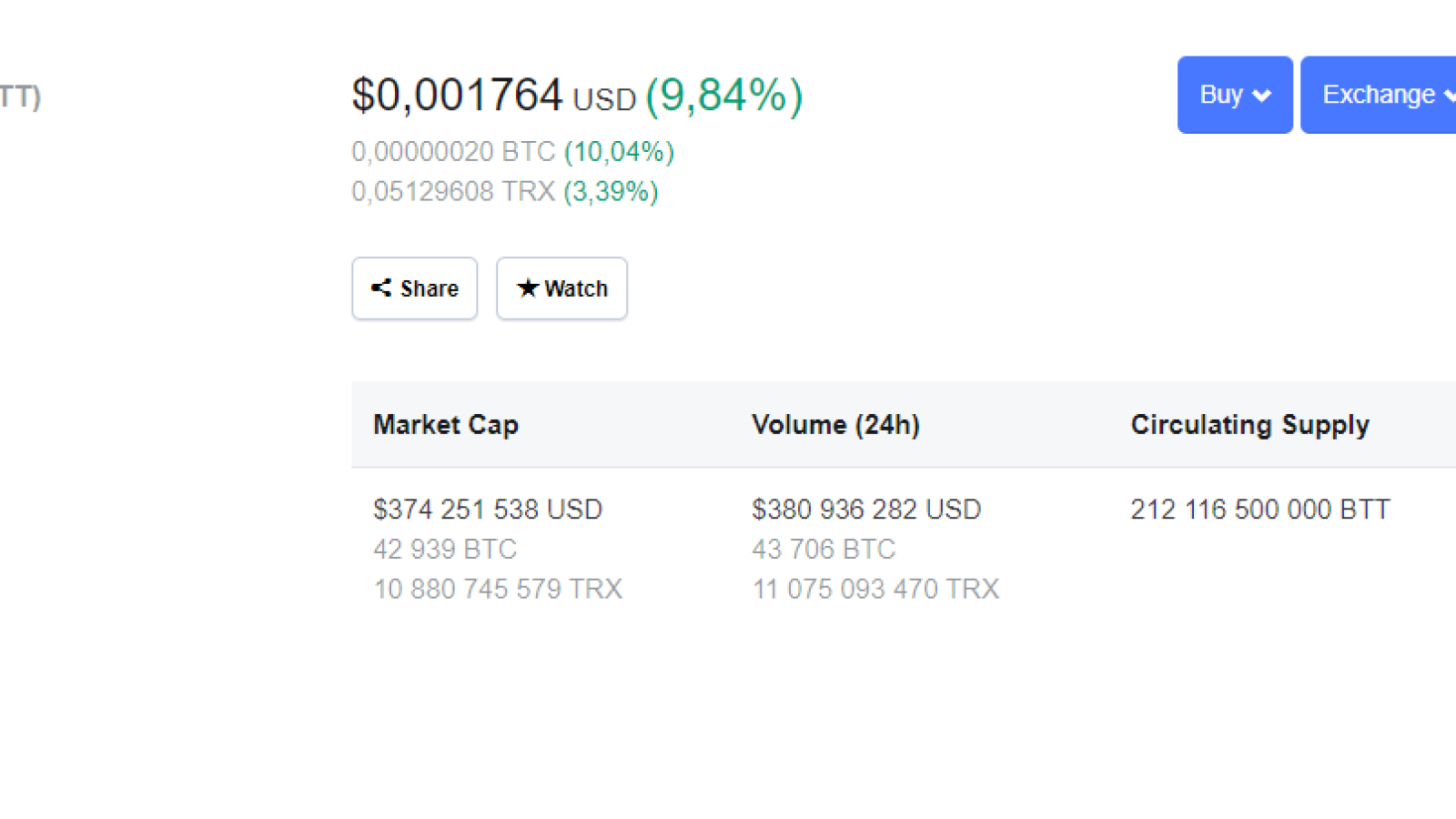 Sun network about to launch on testnet
Earlier, it was announced that Sun Network (otherwise known as DappChain) is to launch on testnet on May 30. It is expected to improve Tron network's scalability, enable users to create sidechains and make Tron-powered dApps consume less energy.
TRX is rising on CMC, thanks to Justin Sun's recent tweet
On Monday, the Tron CEO wrote on his Twitter account that "something huge and amazing going about Tron and BTT". He promised to share details on June 1.
Pumped by this news and Bitcoin growth, TRX yesterday showed a rise by 14 percent. At press time, TRX keeps rising (+5.80 percent), trading at $0.0342.