Major crypto exchange Gate.io based in South Korea is about to add support for PawSwap (PAW) meme token, one of the major coins of the Shiba Inu ecosystem.
PAW price skyrockets, Gate.io promises airdrop
To celebrate it, the exchange is giving away an airdrop of PAW tokens worth $30,000. This has propelled the price of the token to jump a whopping 154%, according to CoinMarketCap. Right now, the meme token is ranked 2,742nd on this leading crypto reference platform.
$PAW (PAWSWAP) now available on @gate_io !

Read more at: https://t.co/bIMFYNIFxL

— Pawswap - The Shibarium DEX (@PawShibarium) February 24, 2023
PawSwap is positioned as the first multi-chain decentralized exchange (DEX) that will be built on Shibarium Layer 2 solution once the latter is launched.
As reported by U.Today earlier, the same South Korean crypto giant has listed another token from the Shiba Inu ecosystem — Bone ShibaSwap (BONE). BONE has been gaining one listing after another recently and rising in price. This token will be Shibarium's fuel, as it will be used as payment for transactions. Some of the transaction fees will be converted into Shiba Inu by the developer team and get burned. The community expects this to increase burns tremendously, as in trillions of SHIB tokens.
The price of BONE jumped by over 33% percent on the news of this listing. PAW went up a lot more than that. At the time of this writing, PAW is trading at $0.00000000931.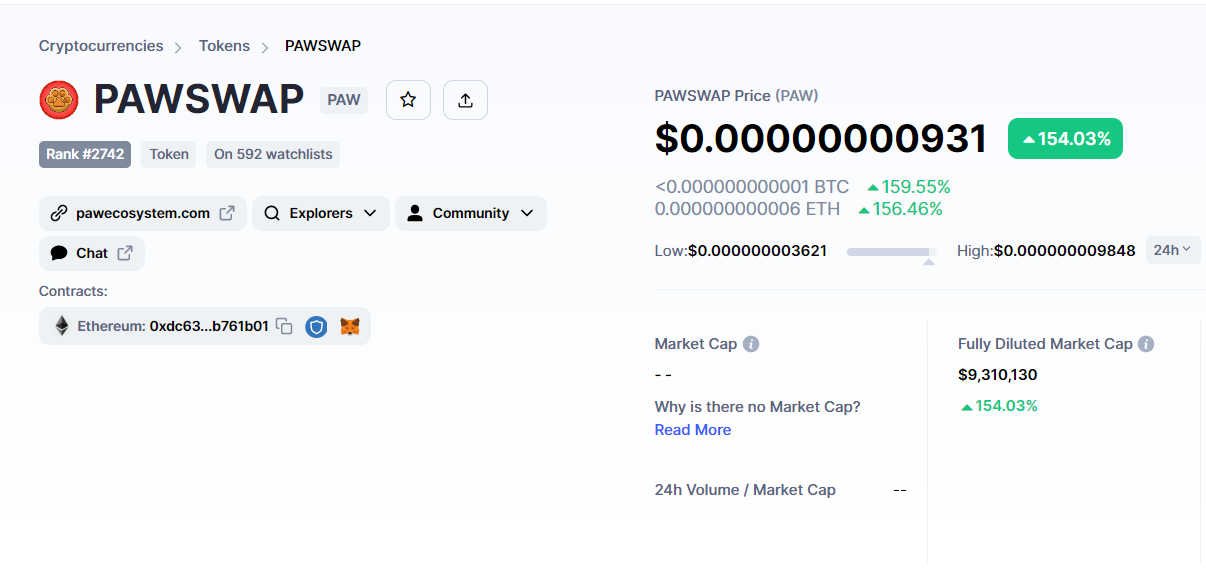 Shytoshi rejects rumors of holding PAW
Earlier this year, U.Today covered that the lead SHIB developer, Shytoshi Kusama, refuted rumors that he stands behind the PAW token or that he even holds any of it.
It should be said that there are two PAW tokens. One is associated with the PawSwap DEX described above. The other PAW belongs to the PawZone project. Currently, it is working on the creation of an NFT marketplace for Shibarium.
The founder of PawZone stated that he had begun using the PAW ticker a year ago, when he started building. But PawSwap had stolen it, along with "all the fire" that he had created in the social media space associated with PAW.
Two weeks ago, the Twitter handle of PawSwap responded to Shytoshi's tweet, saying, "We never said we are shytoshi, we are RYOSHI."
We never said we are shytoshi, we are #RYOSHI https://t.co/lTNIHGLxWl

— Pawswap - The Shibarium DEX (@PawShibarium) February 10, 2023
Ryoshi is the mysterious creator of the Shiba Inu token, who chose to delete all his social media accounts in 2021 and went under the radar, just like the creator of Bitcoin, Satoshi Nakamoto, did after launching Bitcoin.