Popular cryptocurrency website CoinMarketCap shows that at the moment two meme coins — Shiba Inu (SHIB), Pepe (PEPE) — and Ripple-affiliated XRP are occupying the top three positions on the list of trending crypto.
On Friday evening, Shiba Inu surprised the market with a major increase in its market capitalization value, which jumped above the $6.3 billion level, taking this popular canine-themed digital currency to the 11th position on the aforementioned website.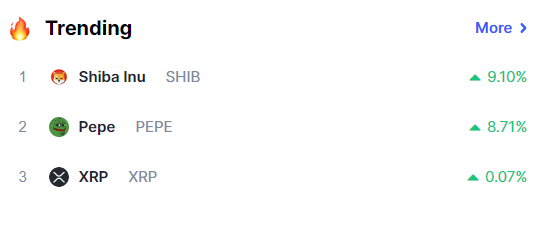 The price increase of Shiba Inu within the span of the past 24 hours has constituted more than 13% with a 3% decrease by now. Still, SHIB has jumped up the list of crypto leaders and removed one zero from its price.
At the time of writing this article, it is changing hands at $0.00001087 on the Binance exchange. This massive overnight surge can be explained by a sudden increase in traders' interest in the meme crypto SHIB ahead of the upcoming launch of the Layer-2 blockchain Shibarium on mainnet, which is expected next week.
PEPE meme coin has also demonstrated a substantial rise of more than 9% over the span of the past 24 hours.
After the recent victory of Ripple in court against the SEC, the Ripple community started showing a lot more enthusiasm than before. XRP began to be relisted on major exchanges, such as Coinbase, Binance US and now Gemini too.
Besides, Gemini has announced a 4,000 XRP giveaway to its users.
When announcing the XRP listing, Tyler Winklevoss, one of the Gemini founders, tweeted that he and his twin brother Cameron decided to oppose the SEC since rather than making clear rules for regulating the crypto industry, Gary Gensler prefers to sue crypto companies and exchanges.
"It lost its case against Ripple and a judge provided clarity when Gary Gensler wouldn't. America deserves better," Winklevoss added.
$XRP is now available on @Gemini. It's important to note how we got here. Instead of creating clear rules for crypto, the @SECGov has resorted to suing everyone. It lost its case against Ripple and a judge provided clarity when @GaryGensler wouldn't. America deserves better. https://t.co/7adpGwAyLb

— Tyler Winklevoss (@tyler) August 11, 2023