The digital currency ecosystem is seeing an impressive switch to winning ways today as confirmed by the combined crypto market cap that is pegged at $1.17 trillion amid a slight uptick in valuation. While its contribution is at best insignificant, PEPE, one of the most trending meme coins at this time, is riding the bullish wave with its price up by 8.66% to $0.000001338 per data from CoinMarketCap.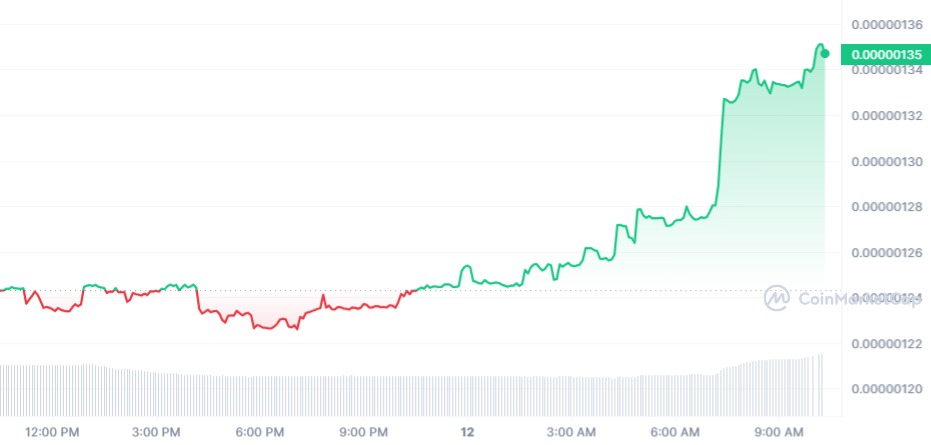 For every move toward a bull rally, the meme coin ecosystem is always on the positive end of the bargain. The growth of PEPE is one that can be likened to every other uptick the top meme coins are recording today in a bid to close the week on a very positive note.
The growth of PEPE is still being fueled by pure sentiment in the community on the grounds that it is the only formidable alternative to the duo of Dogecoin (DOGE) and Shiba Inu (SHIB).
While the PEPE project is yet to come up with an intriguing innovation or use cases to cement the loyalty of its community, the meme coin has enjoyed a massive embrace from whales who continue to stack up the token in no small way. One of the latest accumulations as revealed by Lookonchain involves 486 billion PEPE tokens acquired for approximately $604,000 over the past 24 hours.
PEPE at par with its peers
The embrace from the aforementioned whale and every other has helped place PEPE at par with SHIB and DOGE. Though SHIB has made a very remarkable effort to wriggle out of the pure tag of no utility through the launch of Shibarium, the daily trading volumes of these tokens are generally at par.
PEPE has built its own community and more than once, the skepticism about whether or not the token is a legitimate project has been cleared.