According to the Shibburn analytics website focused on Shiba Inu transfers to dead-end wallets, the SHIB army has managed to burn nearly four billion of these meme coins in the past week.
Still, over the last 24 hours, the number of SHIB locked in "inferno" wallets has also been high as it pushed the burn rate up significantly.
Burn rate spikes 135% as dozen of millions of SHIB destroyed
Recent Shibburn data shows that during the period of the last 24 hours, various members of the Shiba Inu community (both entities and individuals) have succeeded in removing a total of 12,825,901 meme coins.
Most of it was burned in a single transfer of 10,455,764 SHIB four hours ago. Also, two transactions, carrying 1,000,000 SHIB each preceded that one.
Over the past 24 hours, Shibburn notes, the community burned 3,979,631,635 Shiba Inu. In the week before that, as reported by U.Today over the weekend, roughly the same amount of SHIB had been destroyed.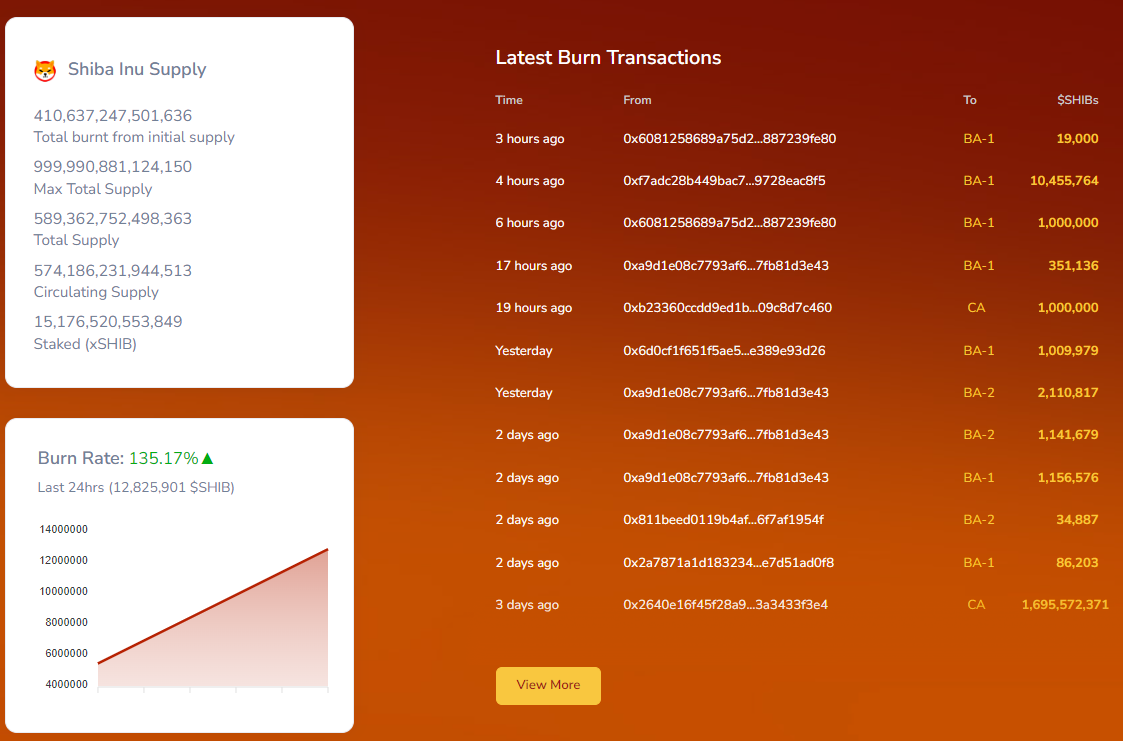 Staggering burn rate jumps noticed last week
Last week, as U.Today reported, several times the burn rate of Shiba Inu sprang high as the number of burned coins greatly surpassed that of the previous day. On May 1, the rise reached 1,400%.
On May 3, it skyrocketed by 30,940% as 2,005,265,274 Shiba Inu were burned in total.
Whales grab 10.25 trillion Shiba Inu, price still crashes
Over the weekend, the meme coin experienced a major price drop of over 10% by now. On Saturday, May 6, SHIB lost the $0.00000999 level and has now fallen to $0.00000893.
This massive price fall of the second most popular meme coin's price may be attributed to the fall of the flagship crypto, Bitcoin, which also occurred over the weekend. BTC has lost 5.64% since then, falling from $29,664 and currently trading at $27.990.
Aside from that, over the weekend, more than $120 million in liquidations were observed on the market as investors were cashing out their profits made last week on meme coins — PEPE in particular. Vitalik Buterin and the Ethereum Foundation also sold 15,200 ETH worth around $30 million. This led many traders to believe that ETH may be in a for a large price drop. Over the past 24 hours, Ethereum slumped by 3%, now exchanging hands at $1,848.
In the meantime, whales accumulated nearly 10.3 trillion Shiba Inu in the last week, according to a report provided by the IntoTheBlock on-chain data aggregator. This massive purchase, though, failed to support the big price drop of the popular meme coin.