Figures shared by the Shibburn service that tracks burned Shiba Inu tokens shows that over the last 24 hours, the SHIB community has succeeded in disposing of another big lump of meme coins.
These burns are likely to be powered by the growing usage of the Layer-2 blockchain Shibarium, which is eyeing another big utility milestone.
Almost 80 million SHIB burned, Shibarium close to new high
Shibburn has reported that within the last 24 hours, it spotted a total of 75,192,032 SHIB meme coins transferred to dead blockchain addresses.
It has taken 12 transactions with the biggest one carrying two thirds of the totally burned amount — 54,633,331 SHIB. As for the whole last week, the SHIB army burned roughly 570,000,000 Shiba Inu in 130 transfers, with the burn rate rising a mild 71%. As for SHIB burns recorded by Shibburn on Monday, that amounted to 86,429,656 meme coins.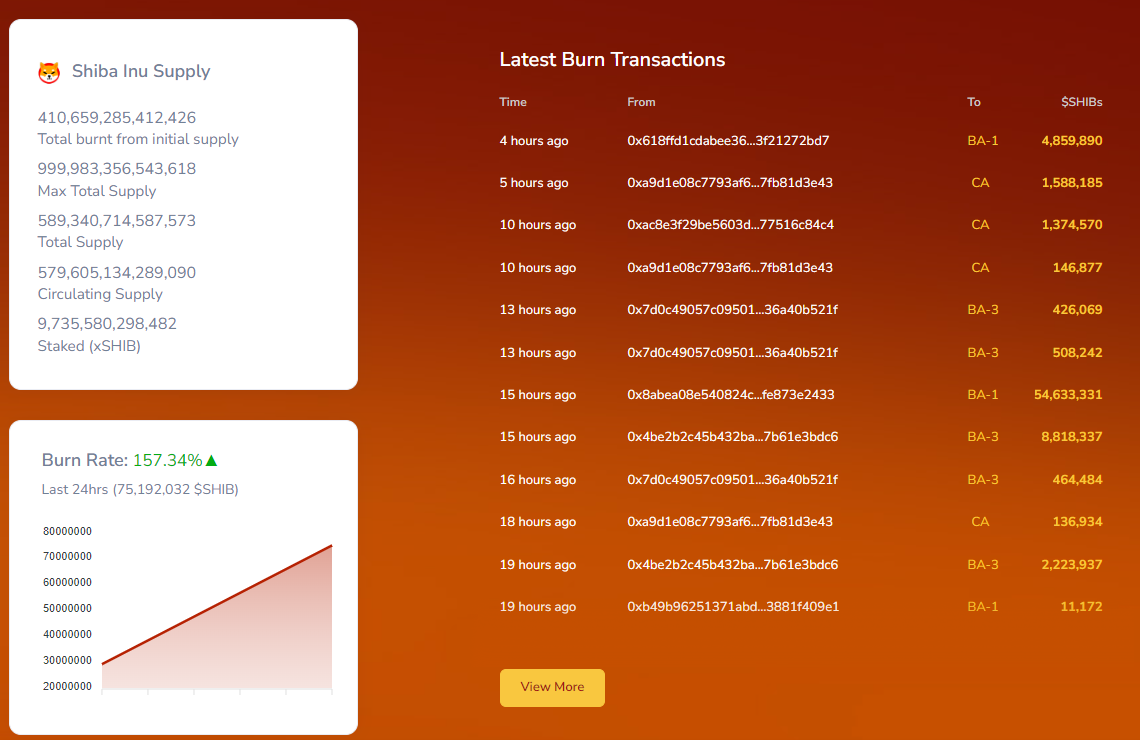 Shibariumscan explorer shows that as this week started, the Layer-2 blockchain has been making major progress, seeing its metrics rise. Currently, Shibarium is close to achieving a major new record as almost 3,000,000 transactions have been made on it.
The number of mined blocks has risen to 708,052, and the total count of connected wallets stands at 1,246,644. The number of daily transactions so far has dropped to 42,830 from a recent peak of more than 200,000 daily transfers.
Here's when large SHIB lumps will be burned through Shibarium
In accordance with a recent X post of the official Shiba Inu representative Lucie, the community, which keeps asking her when Shibarium will begin burning trillions of SHIB, should begin to use the Layer-2 blockchain a lot more actively than now.
The question here is, as Lucie worded it, not when Shibarium will begin to burn but when the SHIB army will migrate from exchanges to Shibarium. Lucie added: "The burns are set per transaction, not based on tweets about burns. With millions of holders, why not support this move?"
She warned that it is useless to pester the SHIB development team about burns, but the community should rather spur those burns since every single transaction on Shibarium makes its own contribution to burning SHIB. This is done through gas fees paid in BONE tokens; part of the fee is set aside, and when a certain limit is surpassed, these BONE get converted into SHIB and moved to an unspendable wallet.
Therefore, Lucie concluded: "To initiate burns, you need to actively use Shibarium. The more you utilize it, the more you contribute to the burns."