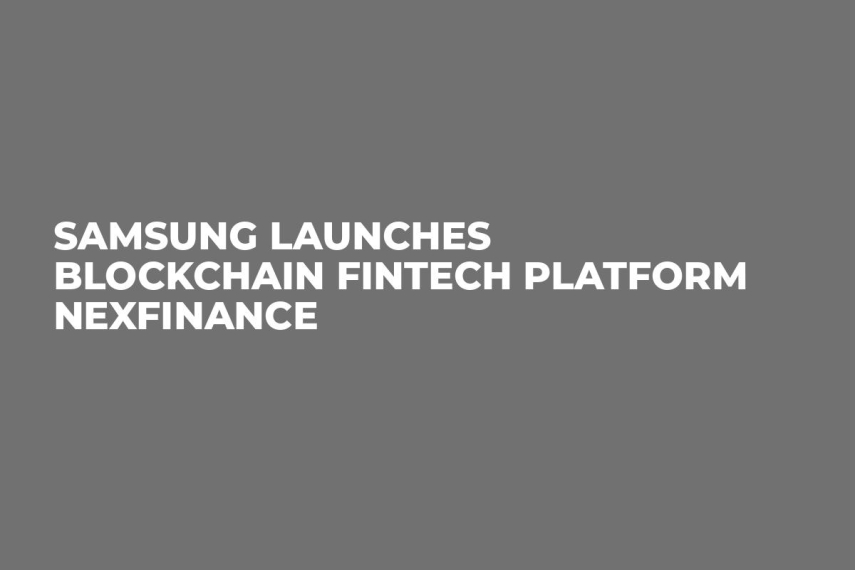 Cover image via U.Today
Tuesday Samsung SDS, a subsidiary of a world's leading electronics maker, launched its latest Blockchain platform Nexfinance for financial institutions.
The new fintech platform will offer services in digital identity management, finance concierge and automatic insurance payment by deploying big data analytics, artificial intelligence (AI) and process automation technologies, the company says.
The open-source platform will enable clients to apply third-party solutions to utilize Blockchain to ensure secure transmission of personal information for its digital identity service.
Hong Won-Pyo, CEO of Samsung SDS said a press event in Seoul:
"New technologies such as biometric, AI, and Blockchain are bringing out the urge for a fundamental innovation in the finance industry. We have completed the design for Nexfinance aimed at the insurance industry and we will continue to put in efforts to innovate the digital finance industry."
Samsung SDS will use Blockchain to identify customer information and enable permission protocols to safely access user data; while its financial concierge will deploy artificial intelligence and big data analytics to monitor assets financial institutions.
The company says it plans to provide the highest level of security by applying technology for forgery and falsification prevention and joint authentication based on Blockchain technology.
Samsung SDS has been at the forefront of deploying Blockchain-based technologies and has rapidly expanded to adopt several Blockchain initiatives, including a credit card subsidiary and a business-to-business cloud-based platform known as Nexledger within the past year.
The tech firm has also partnered with the also Seoul metropolitan government to develop a Blockchain technology for Seoul's municipal administration by 2022 and concluded a seven-month pilot of tracking imports and exports for Korea's shipping industry in December of last year. Samsung also started manufacturing ASIC chips suitable for cryptocurrency mining rigs in January.