Ripple (XRP) has been in the limelight of late, from talks about Ripple wallets to discussions about why this cryptocurrency cannot actually be mined. In spite of currently standing at only about 50 US cents a pop, XRP remains the third most influential cryptocurrency by market capitalization with close to 19 billion US dollars, following Bitcoin and Ethereum. Furthermore, XRP is also among market leaders in terms of its social popularity on Facebook.
Recently, we have looked at some of the overarching stats pertaining to cryptocurrency mentions on Telegram. Now, having gathered a substantial amount of data that corresponds to the January 1 - October 31 period, i.e. two months shy of a full year, it is time to see how these affect Ripple, and, more specifically, how XRP price and its Telegram mentions may be linked: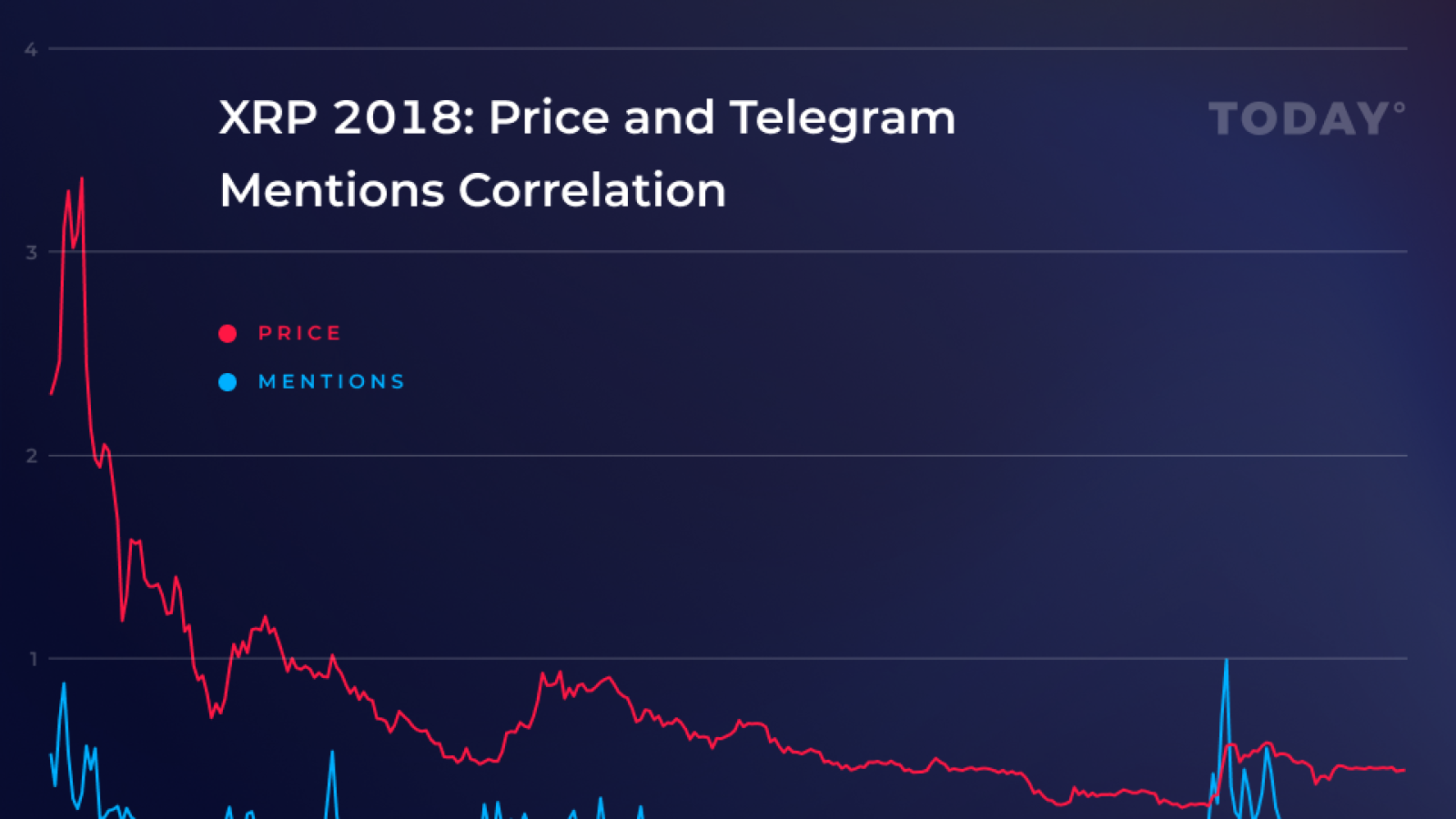 In the graph above, the horizontal axis represents time, and the vertical axis is a relative scale that corresponds both to number of Telegram mentions (in blue) and XRP price (in red). Evidently, what can be seen, for the most part, is a picture of the two lines following each other's trajectories, with the emerging pattern being a clear correlation of the two variables. The remaining question is which variable is independent and which is dependent, i.e. which one determines the movement of its counterpart.
Given that multiple factors go into price formation, it is far more likely that the changes in XRP value are determined irrespective of most activity on Telegram, though not necessarily entirely without it at all times. In contrast, one could successfully argue that changes in XRP price often fuel XRP activity on Telegram. Interestingly, this correlation is both positive and negative: when the price of Ripple goes up, so do Ripple mentions on Telegram; similarly, when the price of Ripple goes down, the number of Ripple mentions on Telegram also increases.
Since Telegram is thought to be one of the safest messaging apps around, it is plausible to assume that XRP owners use Telegram to discuss trade scenarios with various potential buyers and sellers or seek investment advice from other XRP owners. For those who wonder why the blue line crosses the red at one point, the suggested explanation is as follows: this very sharp spike in XRP mentions on Telegram is likely determined by the fact that Ripple saw a sudden increase in its price in the autumn after a relatively long period of summer stability. No doubt, this was seen by many as a big opportunity to transact business in quite some time, which subsequently resulted in the number of XRP mentions on Telegram going through the roof.
Stay tuned for more and be sure to check out this week's crypto report by our expert trader, Vaido Veek, based in Estonia.