There are many ways to measure a cryptocurrency's strength. Arguably, the two most reliable indicators are market capitalization and price index statistics.
CoinMarketCap reveals that Bitcoin is the leader by market capitalization with almost 110 billion USD, followed by Ethereum (~20.5 billion USD), Ripple (~18.5 billion USD), Bitcoin Cash (~8 billion USD), and EOS (~5 billion USD).
Price-wise, the leaders are as follows: unsurprisingly, Bitcoin is leading here as well (~6330 USD for one crypto coin), followed by Maker (~625 USD), Bitcoin Cash (~460 USD), Ethereum (~200 USD), and Dash (~150 USD).
Nevertheless, there also exists another, more "mainstream" social statistic, Facebook likes. It may seem overly trivial to some, but Facebook's influence on our lives in general, and the crypto world in particular, cannot be overlooked in spite of it being a centralized social platform. So, like it or not (no pun intended), Facebook does reflect a degree of popularity, albeit of a rather particular type, and does paint a picture of a company's global standing, albeit an incomplete one.
Be that as it may, it can still be fun to look at and consider every once in a while. So, here it is. According to the figures provided by our partner DataLight, the situation looks the following way: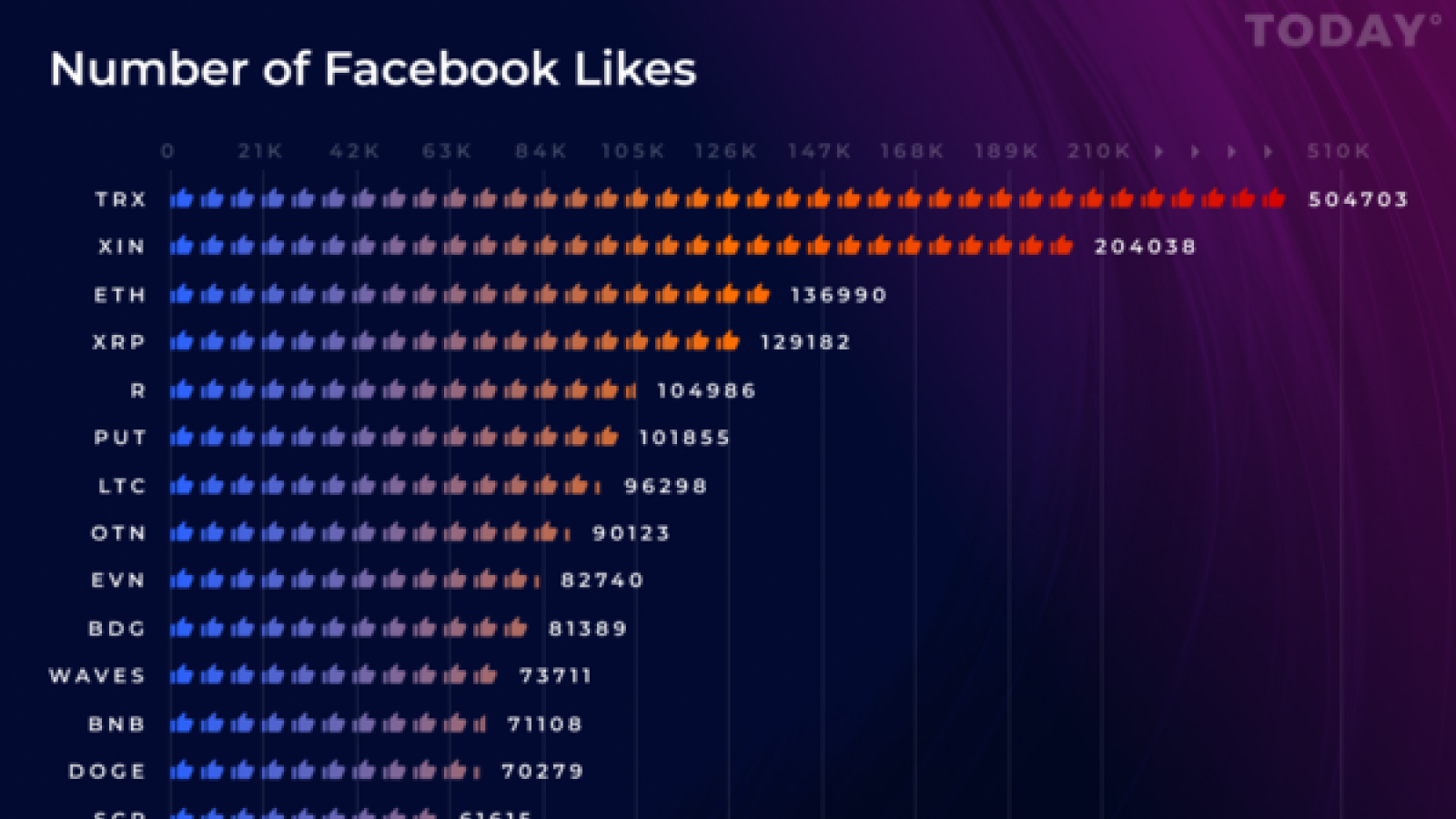 Tron is in first place, Infinity Economics is second, Ethereum is third, Ripple is fourth, Revain is fifth, Putin Coin happens to occupy the villain-like number six (naturally), and Litecoin is today's very likable lucky number seven, followed by everyone else.
Obscure players aside (clearly, marketing departments never sleep), it comes as no shock that Ethereum and Ripple are in the top five. Nor is it unusual that Tron is leading; after all, it has recently overtaken Ethereum by number of daily transactions. And deservedly so, knowing that Tron's founder, Justin Sun, tends to put some of his own profits into charity work.
From all of us here at U.Today: stay put, stay well, and have a splendid weekend!