Recently AEX Global has been in turmoil, during the 9th anniversary events there was a problem with medium and long term capital commitment and short term capital withdrawal. This made headlines in the crypto market for a while, and millions of users were bombarded with various messages. People could not help but worry if the 9th anniversary would be the last anniversary before it ran away? But AEX Global is a 9 year old exchange after all, and it has seen the ups and downs of a group of players. Some users believe that AEX, which has a wealth of experience in going through bull and bear phases, has only had to deal with a few minor problems. Around 6 a.m. GMT on June 16, founder Tame Huang announced on Twitter that a solution would be found within 36 hours and a live global broadcast would be launched on AEX Global's official Twitter on June 17 to interpret the incident.
According to the official announcement of AEX, withdrawals in all currencies will be resumed in 36 hours, but the daily limit is 500 USDT, and users who suffered this time will be provided with compensation services. At the same time, various levels of NFT have been prepared to review the rights and interests of users.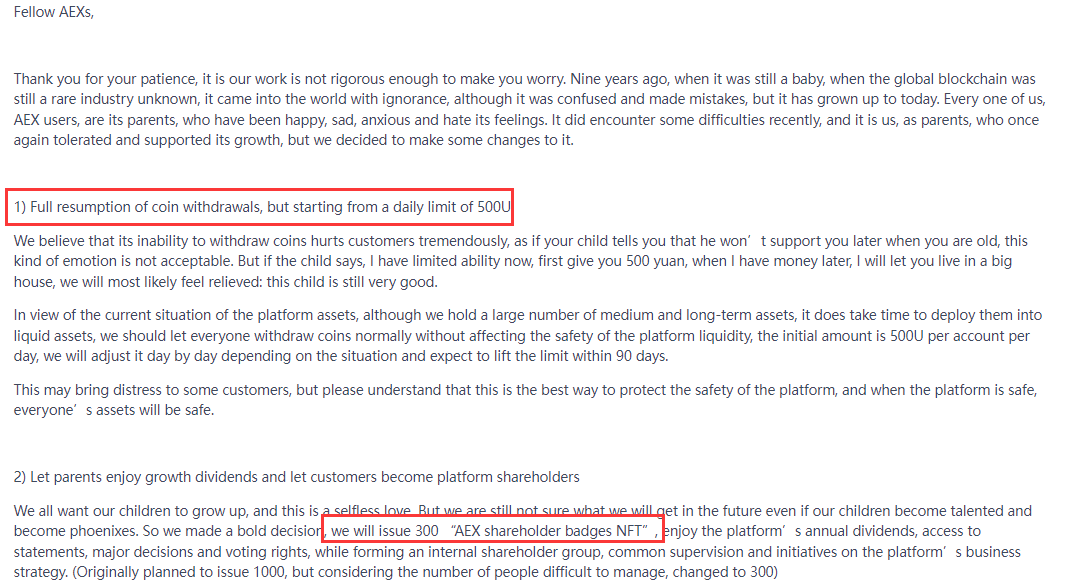 AEX also responds quickly to public relations crises. Thanks to the accumulation of 9-year users, AEX has a relatively good reputation in the crypto industry. It is reported that during the time when BTC38 was not rebranded as AEX Global, many early users who invested in Dogecoin were already active and playing a leading role in the crypto industry. After several years of changing from bull market trends to bear markets, disappointment has set in and many users have forgotten their original account names and passwords, but with the help of AEX customer support, many users have restored their original accounts. Even some users have gained financial freedom from the ten-thousand-fold rise of Dogecoin and have become loyal users of AEX financial management.
This time, the major upheaval of opinion on AEX has affected most of the high-profile users in the global crypto world. The founder @ TameHuang, who has been operating behind the scenes for a long time, even had to personally address the users on the major social media platforms. He promised that the problem would be resolved within 90 days. It is reported that the live broadcast in Twitter Space, which will take place on June 17 (UTC +8), will also be conducted by him personally to stabilize the negative emotions of users.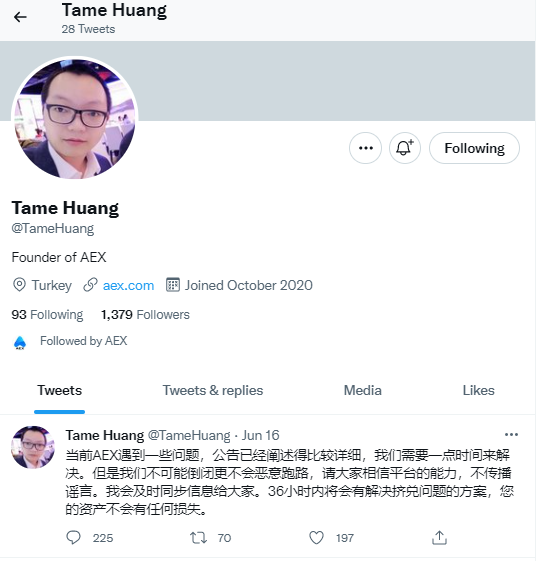 AEX's official response with specific solutions was supported by hundreds of large-scale industry users, who even shared screenshots of their tens of millions of assets stored in AEX on Twitter and Weibo, expressing their firm belief in AEX. Under the guidance of this public opinion, AEX Global might have the opportunity to be reborn this time and trigger a major event in the global crypto investment circle. In the end, if it can be successfully resolved, this event may even become a textbook for crypto world event marketing.
Maybe it's because I have witnessed the ups and downs of crypto finance, with some people getting rich overnight, others losing everything overnight, and others falling quite low only to rise again. Maybe after experiencing such a life and death storm, AEX Global can learn its lessons and sum up its experience and use this incident to reorganize its financial business and truly hold the banner of China's established exchanges.
Ancient wisdom says that young eagles must risk being crushed to learn to spread their wings and soar, and that plum blossoms must risk being frostbitten to grow into beautiful blossoms. The crypto world is fickle, and it is especially important to choose a reputable platform. We also hope that AEX will successfully survive this 36-hour life and death crisis and provide users with a safe investment experience.