Venezuela has been facing a collapsing economy for the past years, with major problems and increasing hyperinflation, political turmoil and corruption, shortages in necessities such as food and medicines for its population, and political uncertainty. In addition, there is pressure from other countries such as the US and the EU for elections, as President Nicolás Maduro is considered not to be the legal leader of the country.
Venezuela is a country with oil reserves recognized as the largest in the world, being also one of the world's biggest exporters of oil. Instead of being a very rich country offering a high quality of services to its citizens, it is a country in a financial crisis for many years. And most importantly, Venezuela is facing a humanitarian crisis. Food shortages and deteriorated living conditions have been the main cause why a significant number of Venezuelans have become refugees and abandoned the country.
Venezuela's credit rating is near bankruptcy
Venezuela has defaulted on two of its US dollar-denominated sovereign bonds issued back in 2017-2018, and the recent sovereign rating of the country has been downgraded. The recent credit rating for the country by the three largest global rating agencies is as follows:
| | | |
| --- | --- | --- |
| Agency | Rating | Outlook |
| Moody's | C | Stable |
| Fitch | RD | N/A |
| S&P | SD | N/A |
Two out of the three largest credit agencies in the world have rated Venezuela's sovereign debt as being in default. Fitch has rated the country's sovereign debt as restrictive default, and S&P as selective default. Furthermore, Venezuela's GDP has contracted for the past five consecutive years, a trend most likely to continue in 2019.
With hyperinflation very difficult to be addressed and reduced significantly, the Petro cryptocurrency is a move made by the Venezuela's government to address US sanctions and find alternative ways of financing.
Petro cryptocurrency – What is it?
The Petro, or petromoneda, launched in February 2018, is a cryptocurrency developed by the government of Venezuela. As of August 2018, it does not appear to function as a currency.
The main idea is promising as the cryptocurrency is supposed to be backed by the country's oil and mineral reserves, and its main intention is to offer financing solutions for the country and bypass the sanctions imposed by the US. Some key statistics for the Petro cryptocurrency are the following: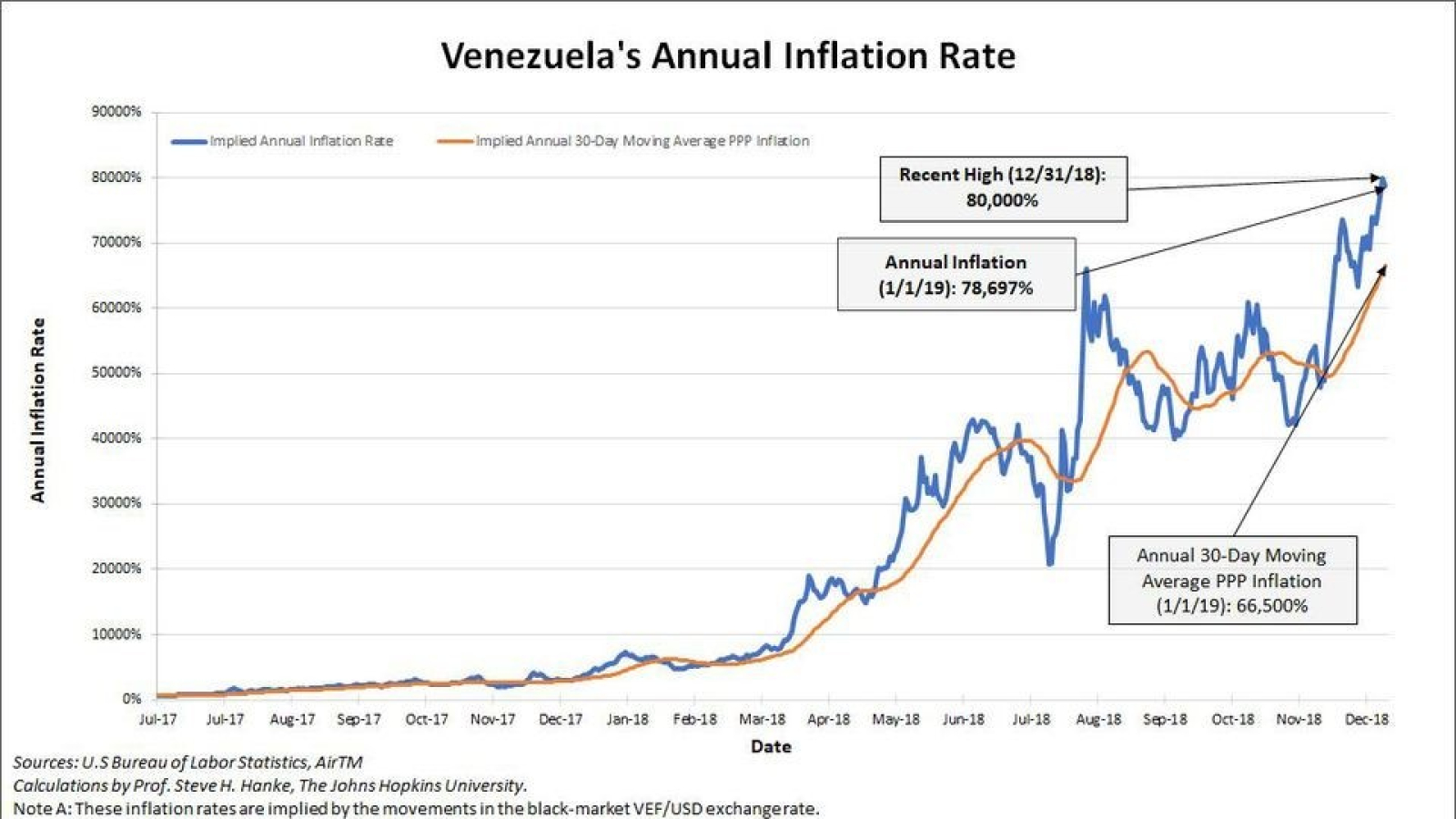 The current PetroDollar (XPD) price is $0.0172321 USD. At the moment, it has a circulating supply of 63,993,300 XPD coins and a market cap of $1,102,740 USD. The PetroDollar price is down by (-1.14%) today. $4 USD worth of PetroDollar (XPD) has been traded in the past 24 hours.
What can happen with the Petro in the event of a revolution?
The EU and US are pressuring for elections in Venezuela to change the leadership and hopefully resolve the humanitarian crisis as much as possible. A military coup is a potential risk, and the main political turmoil has to do with the large oil reserves of the country.
Any sanctions on Venezuela's oil reserves as recently announced can and did have an influence on oil prices. In fact, Venezuela is wishing for a rally of oil prices in 2019, which may make the Petro cryptocurrency more valuable and result in a larger amount of capital raised to finance domestic purposes such as providing healthcare coverage for the population.
The Petro cryptocurrency has been authorized by Venezuela to be traded on six cryptocurrency exchanges.
"The six places are Cave Blockchain (caveblockchain.com), Bancar (bancarexchange.io), Cryptia (cryptiaexchange.com), Amberes Coin (amberescoin.com), Afx Trade (afx.trade), and Criptolago"
A potential revolution should have no effect on the Petro cryptocurrency for one major reason: its trading volume for now is almost at zero level.
The government of Venezuela is seeking the support of China and Russia, a move that has already taken place to become financially independent and clearly become overall independent from the US as much as possible. But with oil prices globally expressed in terms of US dollars, this seems highly unlikely.
A revolution in Venezuela will have an impact on oil prices, most probably a spike in oil prices until the dust settles down and financial and economic stability return to the country. The idea to back the cryptocurrency with natural reserves such as oil is an innovation, as other cryptocurrencies including Bitcoin lack this fundamental principle.
But with recent sanctions imposed by the US on Venezuela, the risks for the Petro cryptocurrency are extremely high, and its adoption seems highly unlikely. With global oil futures traded on major exchanges, we see no economic reason why traders should prefer the Petro cryptocurrency to trade against oil prices fluctuations, especially given the uncertain financial prospects – a trend most probably to continue in 2019.