The digital currency ecosystem is exhibiting what looks like a consolidation, with the majority of altcoins struggling to hold support at a time when the bearish grip seems to be quite strong. Pepe Coin (PEPE) is one of the tokens with bullish momentum today as its price is changing hands at $0.0000008067, up by 7% in the past 24 hours, per data from CoinMarketCap.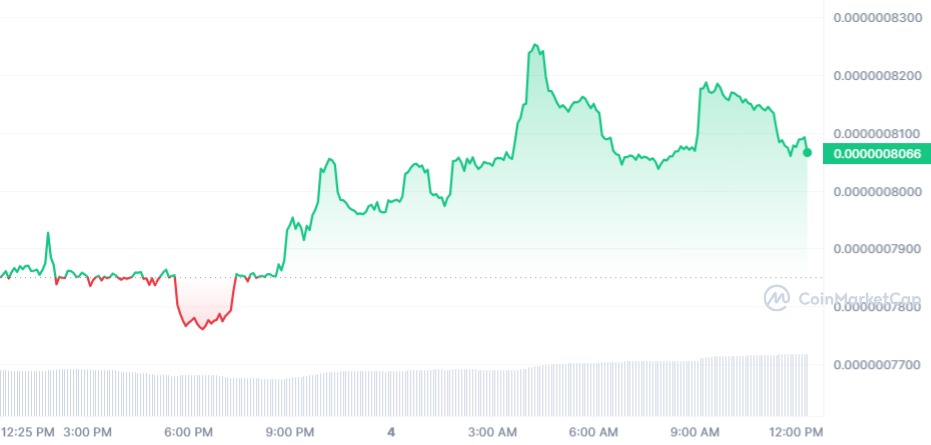 It is not uncommon to find PEPE making momentary price jumps owing to its volatility. What is, however, rare is the positive surge of almost all of its core performance metrics. At the time of writing, PEPE is boasting of a trading volume of $51.6 million, a figure that represents a more than 37% surge overnight.
This key metric shows a reenergization in the buying momentum of PEPE after weeks of uncertainty in the growth of the meme coin. While the current outlook is promising, sustaining the current trend is arduous. PEPE has maintained its luster in the community after its cataclysmic debut on the market, with new buyers hoping to catch another parabolic price run in the near term.
At the time, the core team behind PEPE was not boosting its potential usability, a feature that can help guarantee its sustainability in the long run.
Refusal to learn from SHIB
While its relative age may be considered an excuse, PEPE is not learning from Shiba Inu (SHIB), one of its two top rivals in the industry today.
Shiba Inu has changed course, and rather than being a fun token with limited or no utility, it has debuted Shibarium, its Layer 2 scaling solution, which is set to serve as a hub for smart contracts and decentralized applications (dApps) with customized utilities.
While the tide may change in the short term, PEPE has lower odds of leading the meme coin offshoot of the crypto industry due to this limited utility in the long term.