The official Twitter handle of Paw Chain has announced the launch of Paw Chain Aggregator. It ensures cross-chain swaps via existing pools of liquidity. The tweet says that through this process, PAW will be bought and then burned using transaction fees from each transfer.
Now, the developer team of the Paw Chain is sending the aggregator code to CertiK, which has been auditing the PAW staking portal and will begin doing the same for the Paw Chain Aggregator. The team expects CertiK to conduct the second audit faster than the first one; CertiK's verdict on the latter was that it meets the necessary requirements.
We're excited to present our Pawchain Aggregator, which provides cross-chain swaps using existing liquidity pools. Due to popular demand, this process will also BUY and BURN $PAW with every transaction!

As always, the security of our platforms is our top priority to better serve… pic.twitter.com/sHNcc8iine

— PAWChain (@PawChain) May 1, 2023
Over 200 trillion PAW staked via new portal
As covered by U.Today previously, Paw Chain launched a mainnet portal for PAW staking. In less than 24 hours, a whopping 190 trillion PAW tokens were staked for 13 weeks.
By now, the staked amount has increased to 200 trillion. The staking mainnet was the first major product released on Paw Chain. PAW is the native token of the PawSwap multi-chain DEX.
PAW price prints rise
According to data shared by CoinMarketCap, over the past 24 hours, the price of the PAW token has jumped by 7.20%. The rise coincided with the rolling out of the news about Paw Chain Aggregator.
On Monday, despite the news of 190 trillion PAW getting staked, the price remained down 12%.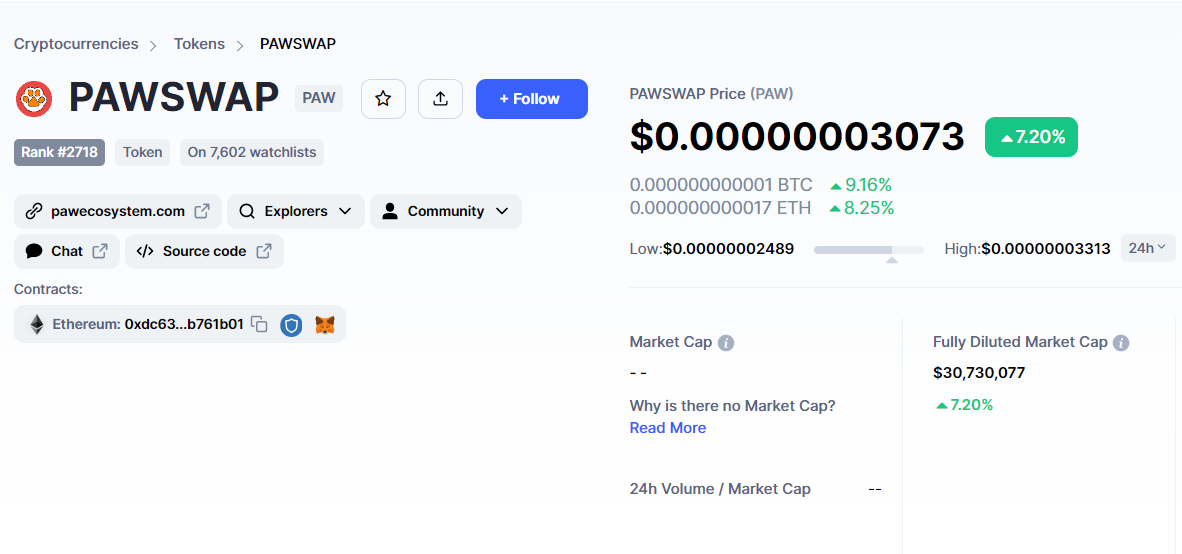 Anonymous PawSwap ambassador and validator @Dezaxe offered his explanation of that price plunge. He stated that the staking portal was released during a red crypto market when the major cryptocurrencies, Bitcoin and Ethereum, were facing a decline. The drop in BTC and ETH prices had a negative impact on the crypto market overall, the Twitter user stated.
Therefore, he stressed, the price going red was not caused by the Paw ecosystem in any way. The latter is solid, @Dezaxe insists, and will not be affected in the short term.