The founding partner of Primitive Ventures, Dovey Wan, has shared the news that China is going on another round of its crypto witch-hunt. Now it is tightening bolts on any providers of crypto transactions to local users, including crypto exchanges headquartered abroad.
China declares war on crypto again
Back in September 2017, China imposed a ban first on ICOs and later on extended it towards crypto exchanges. Some of them had to leave the country in search of crypto-friendly jurisdictions, such as Malta.
Binance even had to ditch Singapore for Malta to avoid negative Chinese attitude towards crypto trading.
After the recent statement of Chinese president Xi Jinping, many, including Tron and Binance rejoiced, believing that from now on the Fortune would turn its face on them instead of the back.
However, China has banned Tron and Binance's accounts on Weibo (the Chinese analogue of Twitter).
Now, it has been reported that the Shangai head office of the PBOC (People's Bank of China) has issued a regulatory update about tightening regulatory control over cryptocurrencies to clamp down on them and on foreign crypto exchanges that allow the Chinese to trade on them.
BREAKING ???

PBOC Shanghai Head office just made a new regulatory update as

"Strengthen regulation and control, clamp down cryptocurrency trading" pic.twitter.com/zL0BgOJBUF

— Dovey 以德服人 Wan ? ? (@DoveyWan) November 22, 2019
IEO, ICO, STO deemed illegal
Dovey Wan from Primitive Ventures writes on her Twitter page that from now on all types of fundraising for crypto projects are deemed as illegal in China. They are considered to be 'financial fraud, pyramid schemes'.
https://t.co/vdadHzjweQ

To highlight a few key points in the announcement

1/ ICO, IFO, IEO, STO are all unauthorized illegal public offering and securities issuance, and potentially illegal fund-raising, financial fraud, pyramid schemes and other illegal crimes

— Dovey 以德服人 Wan ? ? (@DoveyWan) November 22, 2019
This time the regulatory measures will even touch crypto exchanges registered overseas, Wan writes.
"Special rectification of cryptocurrency-related trading platform, which can be registered overseas, shall be immediately rectified and retired."
Finally, she warns crypto investors who were perhaps misled by Xi Jinping's blockchain positive statement. She says investors must not mix Chinese attitude towards blockchain and cryptocurrencies.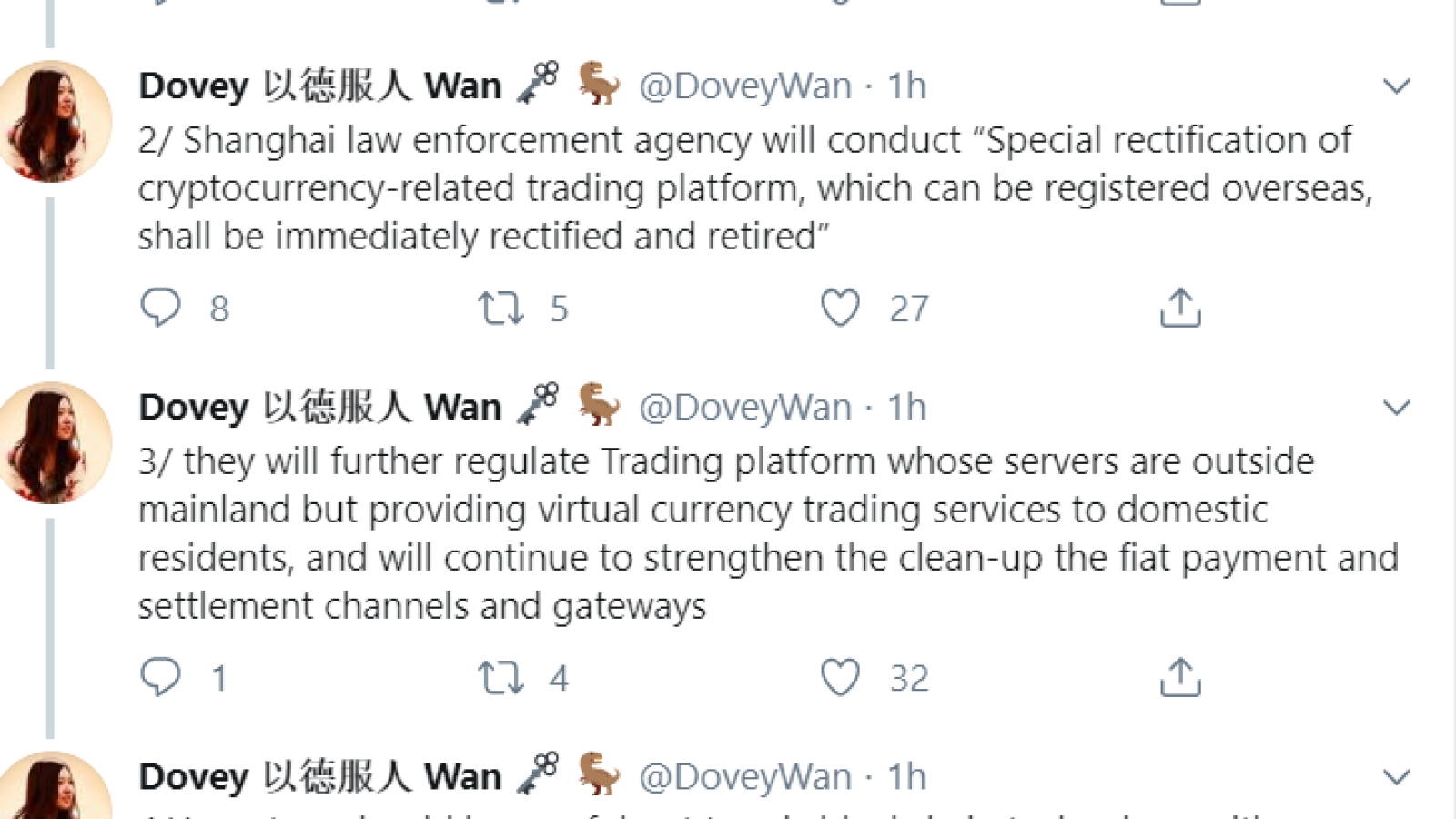 Litecoin co-founder comments on this
The co-founder of Litecoin and Coinut exchange, Xinxi Wang, reminds the community that after China commenced the crypto clampdown two years ago, a massive bull run began. He expresses a hope that this time it will work the same way.
Last bull run was immediately after China's crackdown of crypto exchanges. What will happen this time?

— Xinxi Wang (@TheRealXinxi) November 22, 2019