A major right wing and Neo-Nazi rally is due to take place this weekend and in its lead up there has been a clear spike in donations to this cause in Bitcoin and other digital currencies. This is the second time that such a spike has been seen before the 'Unite the Right' rally.
Bitcoin and other cryptocurrencies have long been trying to shake their association with less than savory causes since the major cryptocurrencies time as the currency of the dark web. However, this instance is another example of the versatility and amoral nature of the anonymous coin which can be used for good and bad indiscriminately.
'Coin of the alt-right'
Because there is no ruling body to dictate Bitcoin's use as it stands decentralized, many different groups, people, and organizations are able to utilize it. That ranges from charitable donations and funding for righteous causes, but also for dark web purchases and this example.
In fact, The US white nationalist Richard Spencer called Bitcoin the "currency of the alt-right." However, this statement is no truer than if Spencer had said that the US Dollar is the currency of the alt-right as currencies outside of banking controls are indiscriminate and as amoral as Bitcoin.
Nevertheless, there is evidence that the rally is receiving a boost in digital currency funding ahead of the gathering.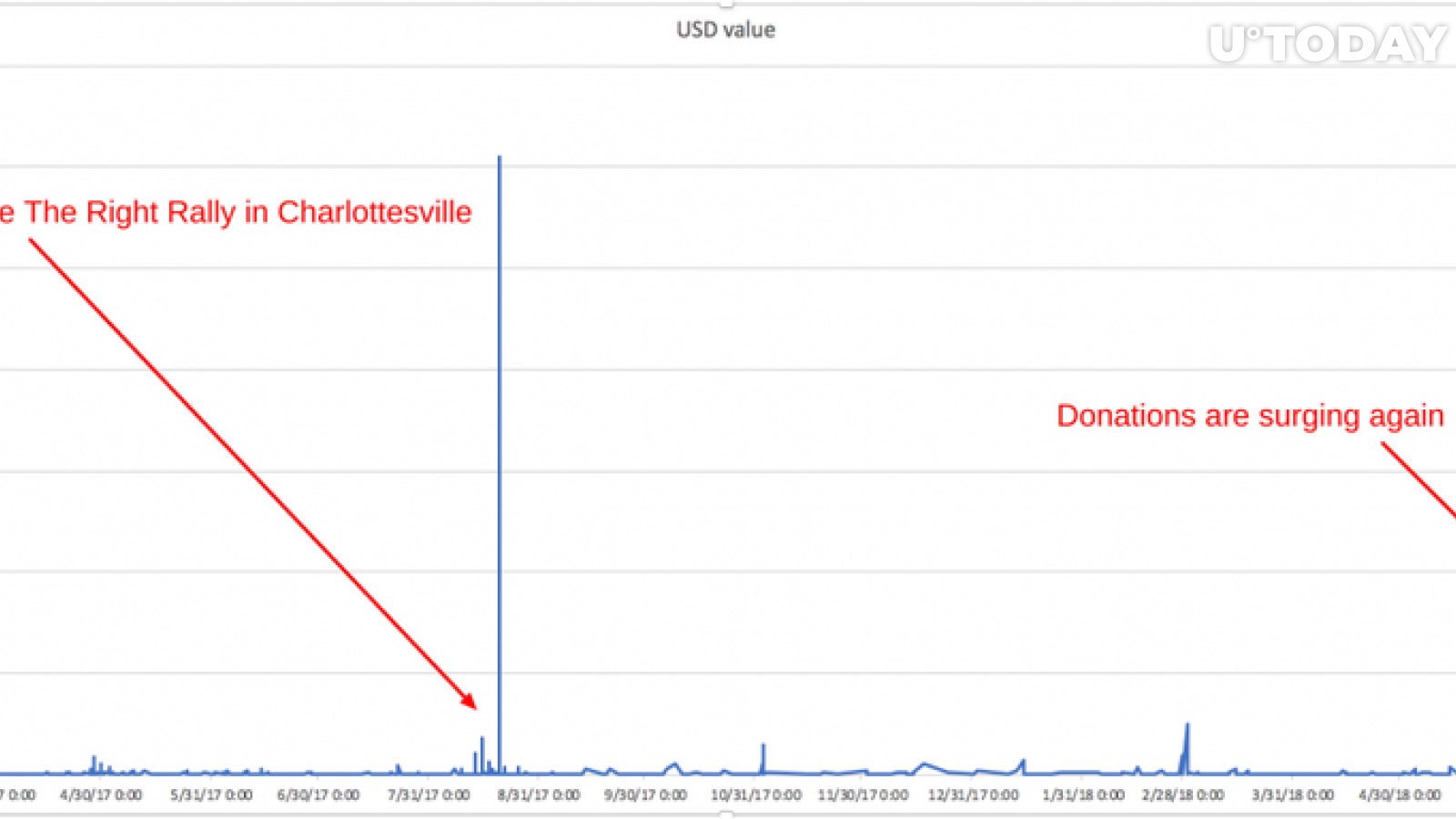 Source: Forbes​​​
Tracking Neo-Nazis
Data collected by cybersecurity expert John Bambenek through his Neo-Nazi BTC Tracker Twitter bot shows cryptocurrency donations to far-right neo-Nazi activist Weev and his website the Daily Stormer are surging in the run-up to this year's rally.
Last year the Daily Stormer attracted some $60,000 in and cryptocurrency donations just before the rally.
"Many of these known neo-Nazis had hundreds of thousands of Bitcoin and other cryptocurrencies before the massive price rises we've seen over the last couple of years," said Bambenek. "They still have a great deal, and many choose to store their crypto in Monero— which is more anonymous than Bitcoin."